Some Navy brass sailed into St. Louis this week to meet with local high school students.
The top two officers and the highest-ranking enlisted man from the Navy's newest battleship, the USS St. Louis, talked Wednesday at Soldiers Memorial with JROTC units from Cleveland Junior Naval Academy and Vashon High School.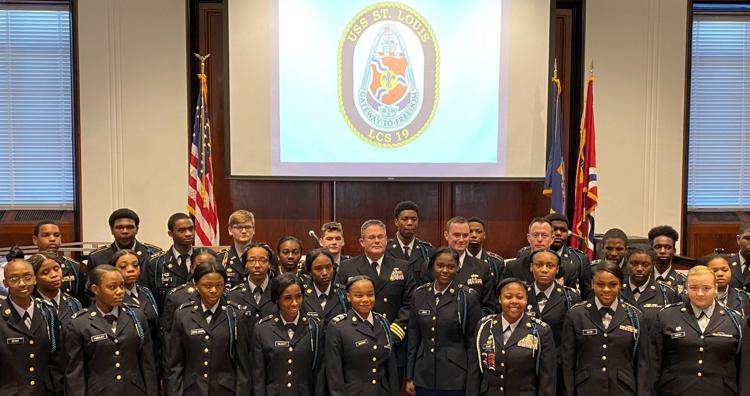 Known as the ship's "triad," the sailors were Cmdr. Kevin Hagan, commanding officer; Cmdr. Eric D. Turner, executive officer; and Command Senior Chief Brandon Ellison.
Then on Thursday, the three also spoke to students at Fort Zumwalt East and Pattonville high schools.
Ellison said the triad first hit town on Tuesday to meet with the ship's commissioning committee. He said that while no specific date has been set, the aim is to have the ship in active service by the end of the summer.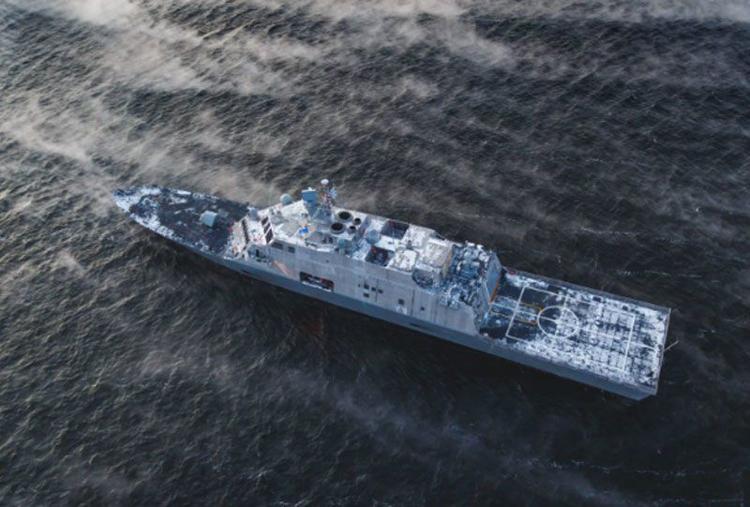 The ship, which Ellison said will carry a crew of about 70, now is in Wisconsin undergoing final outfitting and should be delivered to active service later this year. It is designed to combat surface and submarine threats in coastal waters.
The ship's official sponsor is Barbara Broadhurst Taylor, wife of Enterprise Holdings executive chairman Andy Taylor. She presided over the keel-laying ceremony in 2017 and christened the ship in 2018.
This is the seventh ship in Navy history to carry the city's name. Other vessels were a sloop of war launched in 1828; a Civil War gunboat; a Spanish-American War troop ship; a World War I cruiser; a World War II light cruiser; and a cargo ship decommissioned in 1991.