Go ahead, coronavirus, shut down schools and businesses and feel free to cancel weddings and graduations.
Just keep your damn viral mitts off the poker game.
Thanks to modern technology — not to mention the eternal tendency for guys to be guys — a poker club of now-grown St. Louis kids hasn't let the pandemic keep them from doing what they love: gambling and giving each other grief.
James "Murph" Murphy is one of about a dozen pals who show up to showdown every Thursday night in a no-limit Texas Hold 'Em tournament at PokerStars, an online gambling website.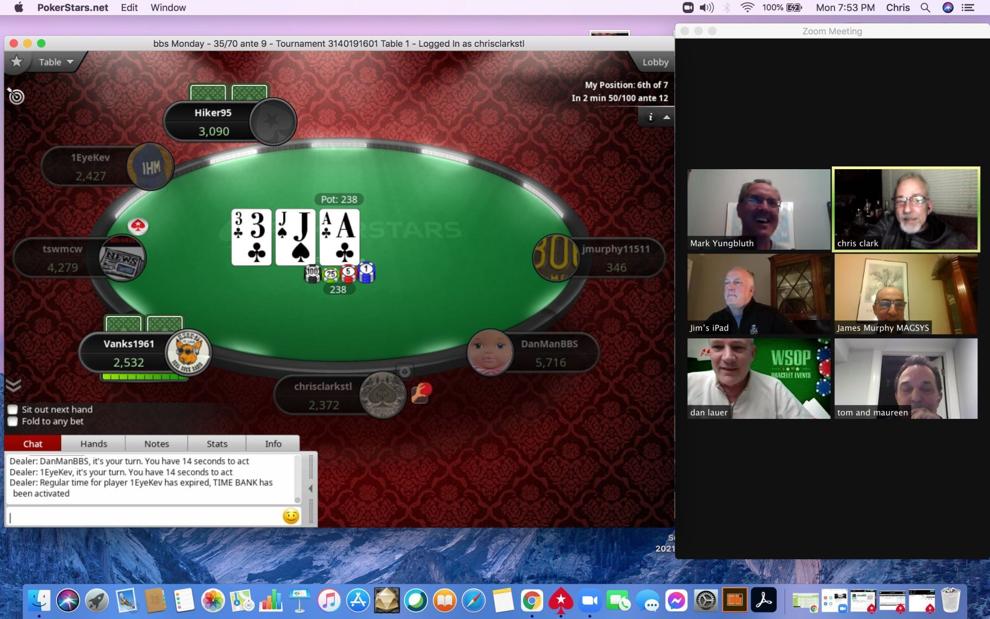 "It's the competition of the game, the math and the stats, and the camaraderie of staying connected to guys I went to grade school with," said Murphy, who is an owner of a magnetics engineering company.
And just maybe it's about the juvenile humor that grown men with families and jobs can engage in without being looked upon as, well, juveniles.
"We all act like we're 12 years old again," longtime public relations executive Mark "Neebs" Niebling said.
"And from what I can recall, being 12 was a good time."
So along with the poker played each week, the players revel in the barbs, insults and trash talk that goes with most guy-forward competition — and they have the running text exchanges to prove it.
"Oh yeah," Niebling said. "We all think we're the funniest person on earth."
The sporting life for these cardsharps began in the mid-1970s, when a passel of kids who attended Immaculate Heart of Mary elementary school near Carondelet Park in south St. Louis gathered in their parents' basements.
"I think it happened after a bunch of us saw 'The Sting' and decided that gambling was cool," said Chris Clark, giving a shout to the Paul Newman-Robert Redford classic film from 1973.
And speaking of movies, Clark is known to many as the artistic director of Cinema St. Louis, which puts on the annual St. Louis International Film Festival.
"So we'd end up in somebody's basement, pitching pennies or throwing dice or playing cards," said Clark, whose poker nickname is Puck.
(Note: The use of Puck is still being contested, given that Clark bestowed it on himself — a move some call unacceptable. "You can't give yourself a nickname," Murphy opined.)
Over the years, some of these friends would gather in person to play in home games, but life often got in the way.
"We got together religiously until we all turned 16," Murphy explained. "Then we had driver's licenses and cars and dating."
And those connections became even more tenuous as college, marriages and kids, and new jobs and relocations got in the way.
But COVID-19 concerns, for all of its negative energy, generated the positive charge of forcing the core group of gambling friends to recruit old wagering pals to fill their online game.
"A couple of people in this (group), I'd lost track of over the years and it's good to get back together with them," Dan "The Professor" Lauer said.
Lauer is the creator of Water Babies and owner of the company that makes them. He also directs an entrepreneurship program at the University of Missouri-St. Louis (hence, the nickname).
"It's kind of been the miracle of COVID," Lauer said.
Another positive of the year-old gathering is that it has revealed a certain, dare to say, affection among the players.
"Each of us gets something emotional out of it, no doubt," Clark said.
Case in point: Murphy said that his brother-in-law passed away suddenly not too long ago.
"And the guys came up with a nice memorial and donated money for gift certificates for meals," Murphy said with a conspicuous catch in his voice.
But back to the guys-being-guys factor:
The poker competition is divided into four seasons, with the "Winter Classic" wrapping up now.
Statistics include the place in which each player finished in the recent action, as well as the season's running totals.
The stats are broken down even further into a side competition pitting players who went to Immaculate Heart versus those who went to St. Louis University High School.
"It is by far the most coveted email of the week," Lauer said.
So rest assured, the club — which has no official name, or one that players were reluctant to share — will meet this Thursday: same players, same game, same stakes.
And Niebling guaranteed, "the same old bad jokes."