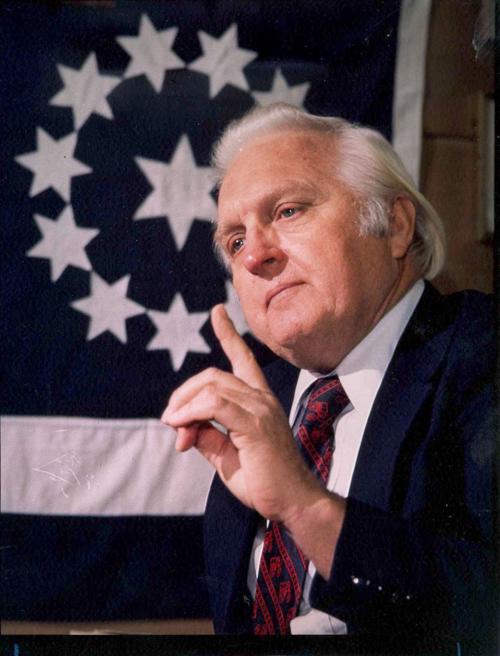 My mother told me that as a child, in the 1920s, she could see from her house into a wooded hollow along LaSalle Street in Collinsville where Ku Klux Klan members on horseback sometimes burned torches in the night.
That proximity left me with a lifelong presumption that the organized hate once literally in her backyard was probably always present, at least figuratively, in mine.
But I was an experienced reporter, in 1982, before I got a firsthand look at the magnitude. It was a visit to the "Freedom Festival" about 100 miles east, at Louisville, Ill.
A somber guard at the gate, wearing camouflage and toting an AR-15 rifle, listened through my open car window as I explained in gentler words that I was an invited guest of the racist nut who lived up the lane.
In silent horror, I recognized that the song playing softly on my radio was "Ebony and Ivory," a duet by Paul McCartney and Stevie Wonder urging racial harmony. I tried to act casual as I hastily spun the volume down.
My mission was to see if the semi-annual event really drew several thousand radicals for paramilitary maneuvers and a fresh infusion of hate. The unequivocal answer was yes.
The organizer, Johnny Bob Harrell, accepted my visit because I worked for the St. Louis Globe-Democrat, a beacon of conservatism.
"The best newspaper in America," he declared to his minions as we sat for an interview. I wanted to retch. Globe editorials were right-wing but hardly to his extreme. I wondered if he realized how many of its news reporters held more enlightened views.
Harrell was unashamed of vendors selling Ku Klux Klan robes and Nazi uniforms on the 55-acre tract used by his self-styled Christian church. Communism was overtaking America, he warned, and promoting the heresy of mixing races. His followers appeared to be training to do something about it.
I saw the kind of anti-government fervor that had flared in the same spot in 1961. He and followers had refused to hand over a Marine Corps deserter who took refuge there to escape what Harrell described as rampant sin in the military.
It ended when 24 FBI agents and 84 state troopers, using an armored truck, broke down the gate. Had the dozen or so defenders resorted to using the 100 rifles and 10,000 rounds of ammunition at their disposal, it would have been a Waco-liked massacre, even Harrell later acknowledged.
He served four years in federal prison and then emerged as a mildly prominent white supremacist who appeared to be flying high when I showed up almost two decades later.
It was a lot different when we met there one more time, in 1995. The last of the onetime millionaire's money had been spent on his cause and on the consequences of unpaid taxes. His army of intolerance had moved on. The land was overgrown and its buildings dilapidated.
The man who scorned big government told me with no recognition of irony that he subsisted on Social Security checks.
He had finally repudiated the militancy of the KKK and Nazis, and cooled his fiery oratory if not its root feelings. Where once he might have raged against betrayal by an estranged daughter whose husband was black, he quietly told me, "I hear he's a nice man. But I still think it's a mistake."
Harrell faded away and would be about 95 now if he's still alive. His brand of politics, like his life, seems to follow a cycle of aggressive and passive periods that may be dictated by how much open hatred the public will tolerate at a particular moment.
I watched from the periphery about 20 years ago when neo-Nazis rallied, with a permit, outside the Madison County Courthouse in Edwardsville. A modest crowd that seemed more curious than faithful listened as an array of angry speakers droned on, using a scratchy PA system even more defective than themselves. Then everybody peacefully went home.
It was not Charlottesville, Va., although with the right spark at the right time it could have been. In these days of supercharged nationalism and buzzing bigots emerging like cicadas, there is plenty of kindling in my backyard of Southern Illinois, as most everywhere.
The Southern Poverty Law Center, a nonprofit national legal activist organization, currently tracks 917 U.S. hate groups. Those include the Loyal White Knights of the Ku Klux Klan, in Clay County, Ill., which — I doubt coincidentally — had been Harrell's base.
The list includes two black separatist organizations: the New Black Panther Party, in Springfield, Ill., and the Nation of Islam, in East St. Louis. Also cited are the Aryan Nations Sadistic Souls, which are neo-Nazi motorcycle clubs in Taylorville, Ill., and Wood River.
It is, of course, constitutional to espouse your own superiority, unless you also break the law. Metro East harbored a dandy example in the 1990s, when the feds infiltrated and prosecuted an anti-government conspiracy. The nascent plot was to rob armored cars to finance terror, including bombings and poisoning water supplies.
There also was a plan to shoot down Morris Dees, the Southern Poverty Law Center's co-founder, at a speech at Southern Illinois University Edwardsville. Officials determined that the would-be killer took a gun there but turned back upon seeing metal detectors at the entrance.
I heard no public support for those conspirators when they went to prison. I'm not so sure of what I'd hear if it happened again today.