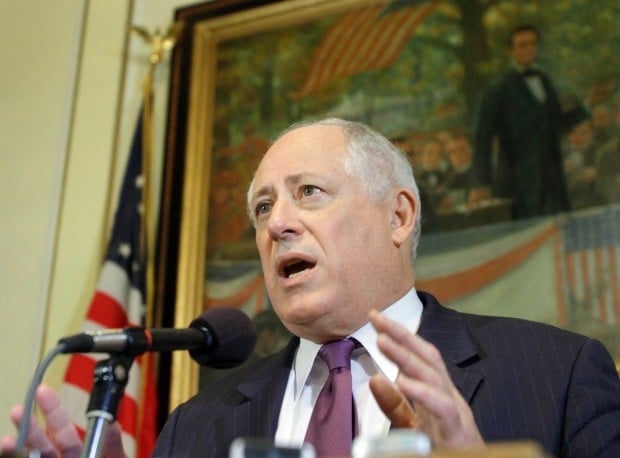 Can there be a more miserable chore for an Illinois governor than expounding on grand notions for the coming year in a flat-broke state?
The exercise feels like Old Mother Hubbard standing in front of her bare cupboard and announcing plans for a banquet.
Pat Quinn acknowledged economic problems in a general way on Wednesday. But he did not provide specifics about the challenge of trying to run a $34 billion engine on $33.5 billion worth of fuel when you already owe the gas station $9 billion. A deeper discussion of numbers will come in his budget address Feb. 22.
He spoke about doing some things to grow jobs, fix infrastructure and provide limited tax relief with what resources we have left.
Such speeches, a fixture of government, are delicate tasks. A governor who minimizes the state's obvious woes would be thought an idiot. But one who paints in colors too bleak runs the risk of splattering his own administration with the blame.
The unvarnished truth is that the state of the state of Illinois is a heck of a mess, having a lot more to do with long-term failures of many officials than of a recent few. The only realistic goal is to hold things together until the general economy rebounds, while minimizing damage to our children's education and the welfare of the needy.
Quinn couldn't very well put it quite that way.
"Now we all know that the economic storm is far from over," he did say. "While we have downsized Illinois government more than ever before, we continue to face very difficult decisions to restore financial stability to our state."
How lonely it must be to stand in the packed House chamber before a joint session of legislators who have barely been fair-weather friends, let alone foul.
Iron-fisted Speaker Michael Madigan, who has led the House for all but two of the past 29 years, has led his party in keeping a cold shoulder turned toward the fellow Democrat. Madigan leaves the clear impression that he doesn't see Quinn's decades of struggling political ascent, based partly on publicity stunts and potshots, as worthy.
Republicans have no use for any Democrat as governor, of course, and many are still smarting from Quinn's 2010 defeat of state Sen. Bill Brady, who vowed if elected governor to cut his way to solvency without the 66 percent income tax increase that Quinn led into law.
But (with apologizes to former Defense Secretary Donald Rumsfeld) let me point out that you don't go to a recession with the governor you wish you had, you go to a recession with the governor you have.
Like him or not, Quinn is a known quantity. He's the governor who was never supposed to be, a populist vaulted by the line of succession and happenstance of Gov. Rod Blagojevich's impeachment into the job during the most difficult economic period in maybe 80 years.
Lawmakers fail to try to work with him at the peril of us all, yet are understandably wary, given some of the speechmakers who have come before.
Just five years ago, Blagojevich used his second inaugural address to recognize the election "as a mandate for action" and to promise a bold administration. The Democrat's remarks did not betray the kind of bold greed that today leaves him with one foot in prison and the other scheduled to follow soon.
It has been 10 years since a defiant Gov. George Ryan used his last State of the State speech to try to emphasize accomplishments and minimize the growing flames of a corruption investigation that made it too hot for the Republican to seek a second term. Today, he has both feet in prison.
Scandals aside, a look at past oratory can be instructive.
Twenty years ago, Madigan talked briefly about plugging a revenue gap with a temporary income tax increase, while GOP Gov. Jim Edgar favored budget cuts instead. Their concern was over a shortfall of about $500 million.