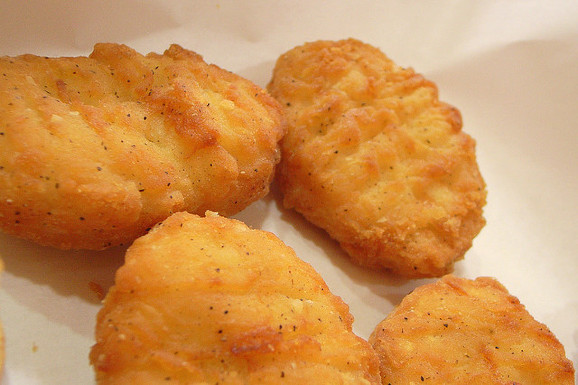 So a North Carolina mother sends a preschooler off to school with a lunch of a turkey and cheese sandwich, banana, apple juice and potato chips.
And a state agent inspecting lunch boxes decides that the lunch from home doesn't meet federal guidelines -- so the child was given a cafeteria lunch that featured chicken nuggets.
That report on FoxNews today caused me to raise an eyebrow, and I'm sure some other parents would share that reaction. A more detailed version in the Carolina Journal explains that a state requirement says all lunches served in pre-kindergarten programs must meet USDA guidelines.
An official with the Division of Child Development said she thinks the lunch would have met the guidelines. And the child's mother -- who was charged $1.25 for the chicken nuggets tray -- has contacted her state representative.
How would you feel if that happened to your child? Did a school official ever check your child's packed lunch to see if it met standards? Do chicken nuggets sound like a better choice to you than the lunch this mother packed?