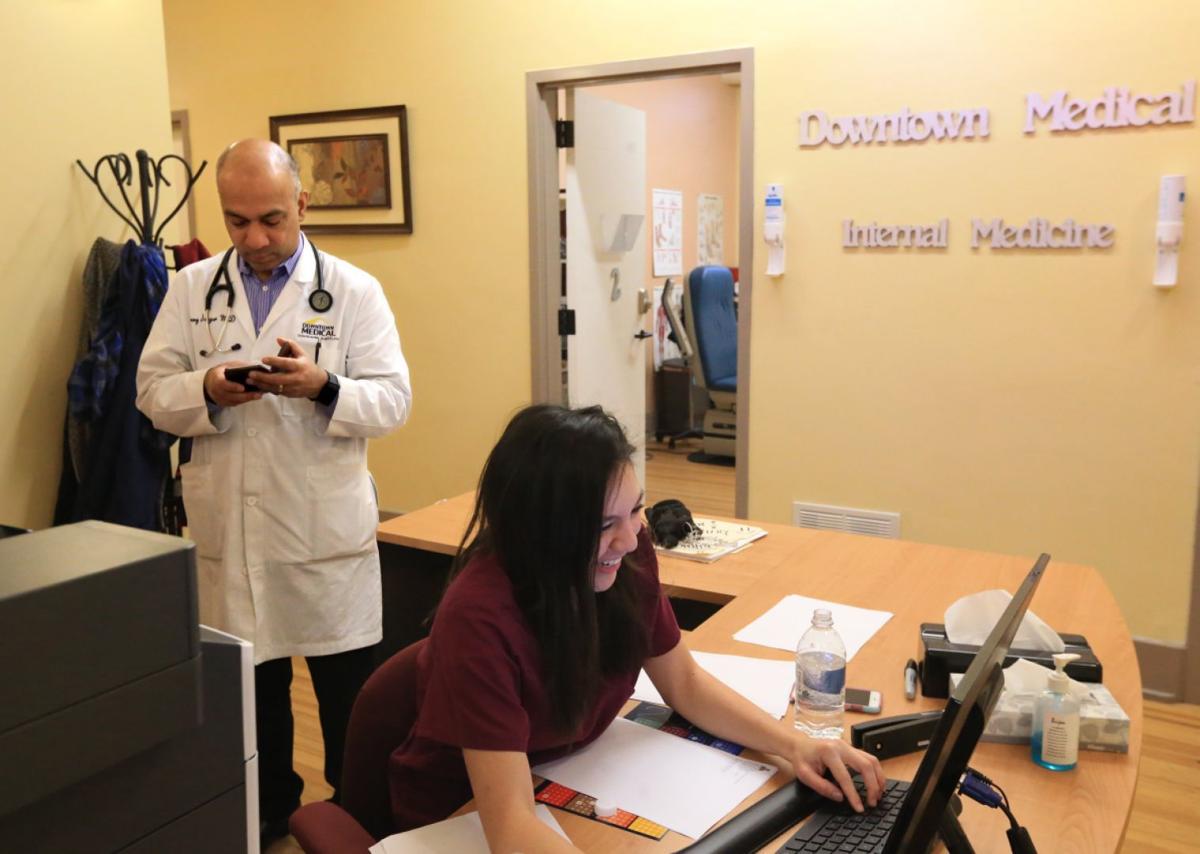 When Sonny Saggar came to St. Louis 19 years ago, he experienced culture shock.
The London-born emergency room physician grew up in an international city, surrounded by diversity.
What he found in St. Louis was the most segregated community he had ever seen.
A Brookings report from 2015 says St. Louis is the seventh-most segregated city in the country. To Saggar, the division, particularly between black and white, was obvious from the moment he moved here.
Over time, he became determined to do something about it.
So when he started his own urgent care business, Saggar was deliberate about his locations.
Even as some in the medical community told him he was nuts, Saggar put one location downtown, and another on Ridge Avenue on the impoverished North Side of the city.
Saggar, who lives in Wildwood, said that if the medical community won't serve those who need it most, then what's the point?
"If I can't make a difference in the country by doing the right thing, then I feel my life is pointless," he told me.
His quest is not without difficulties.
Recently, he made the difficult decision to close the North Side urgent care on the weekends.
The gun violence got to be too much to take.
A few weekends ago, Saggar's staff left him a series of messages on his cellphone. He was hiking with his son and didn't have reception.
The staff at the North Side urgent care needed direction. They were scared.
"There was a gang war going on," Saggar said.
His nurses described what they saw, men crouched behind vehicles in the parking lot and street shooting wildly at each other, bullets whizzing in the air. Eventually, they abandoned ship.
Saggar had been afraid this day might come.
Over time, he noticed difficulty in keeping his employees on the North Side. Employees didn't come out and say why they were looking for other jobs, but eventually, Saggar figured it out.
"It's very taboo to just say, 'I'm afraid for my life.' But some of them were," he said. "It's a real concern."
So now, folks in the far northwest St. Louis neighborhood are out of luck if they need emergency medical care on the weekends and don't want to be stuck in a hospital ER all day. Saggar is pained by the decision, and he wants city leaders to be aware that violence on the North Side has more casualties than just the people who are shooting at themselves.
"I'm not a scaredy-cat," he said. "We opened in a place where even the hospitals weren't going. But at some point, you have to wonder where the commitment to the North Side is. Are we just all alone, sitting on an island where everybody has abandoned ship?"
This is often the sentiment shared by North Side African-American aldermen whenever there is high-profile violence in other areas of the city, like downtown or on the South Side. They see immediate pledges to do something, anything. Patrols are stepped up. Attention is paid.
Anybody who spends much time downtown has seen an increased police presence at various times, for instance, since the May shooting of 21-year-old Brandi Hill on Washington Avenue.
Meanwhile, violence continues unabated in many neighborhoods on the North Side.
When will the city invest there, Saggar wonders? When will it spend money on the streets, on business development, on the welfare of the poor?
When will his colleagues and his neighbors come to realize that in abandoning the city's North Side, the entire region loses?
The root of the city's problems, Saggar believes, goes back to what he first saw 19 years ago. St. Louis is a city divided, by race and by wealth, by geography and arbitrary political boundaries. The people who live where he does (and I do) have easy access to any number of urgent cares and top quality hospitals any day of the week.
And for now, at least, the poor, black residents who live around his facility in the city's 22nd Ward are down to five days a week.
Is it a gun problem? Is it a black community problem? An economic one?
Saggar sees it as a St. Louis problem.
"St. Louis needs to address its segregation," he says. "We have to bring the city from 1955 to 2016."