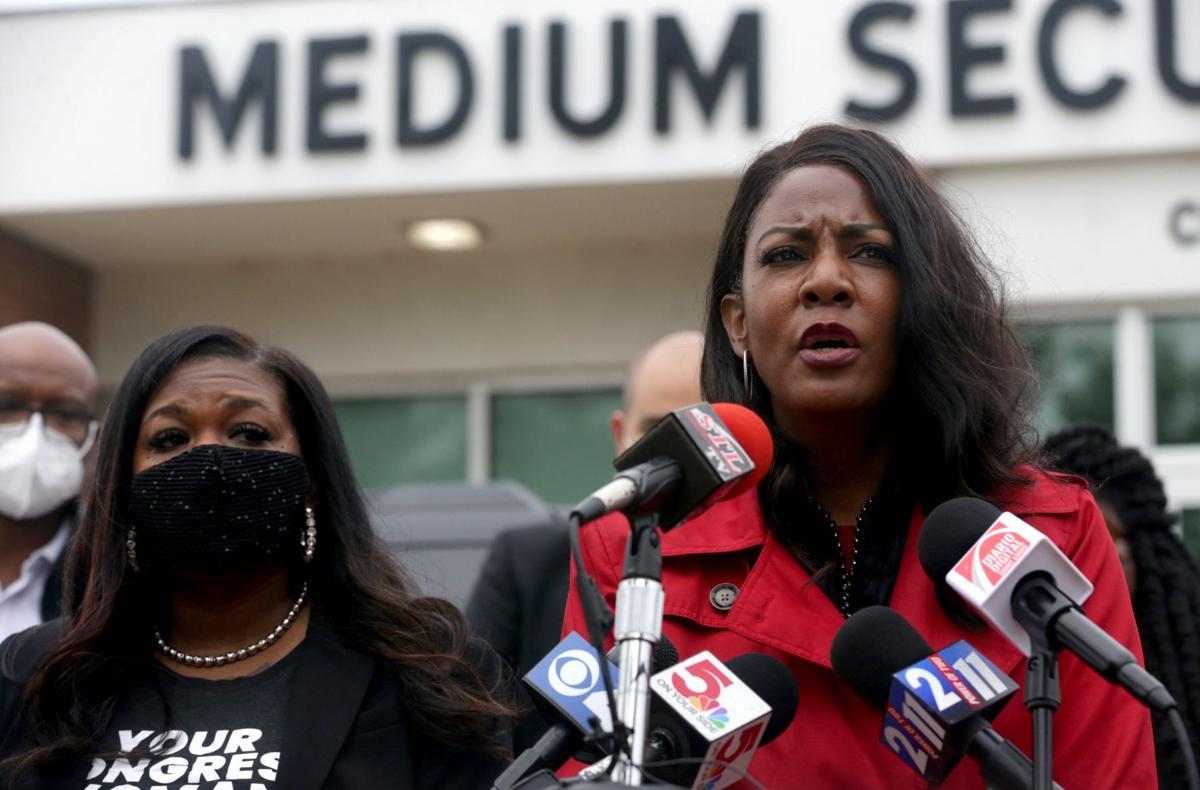 Congresswoman Cori Bush is all passion.
Mayor Tishaura O. Jones is reserved grace.
The dichotomy between the two women struck me during a recent meeting. Last week, Bush and Jones met with fellow Post-Dispatch columnist Aisha Sultan and me to record a series of videos for our weekly "The Chat Room" feature on stltoday.com.
We wanted to meet with Bush and Jones together because they both won such important, historic elections — Bush in November and Jones in April — becoming the first Black women elected to their respective offices.
Since their elections, they've made a point of appearing together at various events — after a tour of the Medium Security Institution known as the workhouse; at a news conference in Denver after studying a program that sends mental health workers to calls that used to fall to police officers; or at a Juneteenth event where both announced plans to support reparations for African-Americans as a result of the country's history of slavery.
Indeed, the two elected officials share many of the same progressive political positions. They are both single mothers who know what it's like to struggle, who keep their children in mind while discussing policy, who maintain strong connections to the north St. Louis city and county neighborhoods they aim to improve with policies that shift funding to mental health services, affordable housing and other efforts to lift people out of poverty.
But Jones and Bush are different in a way that stands out while they sit side-by-side answering similar questions. Take the "defund the police" phrase that Bush helped turn into a hashtag after protests following the murder of George Floyd. The first-term congresswoman has been criticized daily by Republicans for her use of the phrase, and by some members of her own Democratic Party (particularly white ones) afraid of crossing the police. But she is unapologetic.
Her use of the phrase, she says, along with some of the other unbending language on social media platforms that earns her criticism, brings attention to issues and helps drive debate, so that other people (enter Jones) can accomplish policy goals that have long been discussed but not acted upon.
Indeed, in her first 100 days in office, Jones did what she said she was going to do — shifting money from a police budget for officers who hadn't been hired in years to affordable housing, and emptying the workhouse. That was part of her effort to change priorities in a St. Louis that has for too long been tied to the failed policies that led to its distinction as one of the most violent cities in the country.
Jones is quietly going about her business while Bush is attracting the sort of attention and criticism not very often heaped on a first-term member of Congress. Together, they make a good team. In fact, they might be the most important team in Missouri politics. A few days after our interview with Bush and Jones, there was another round of media speculation about whether former Gov. Jay Nixon might throw his hat in the ring for the Democratic nomination for the 2022 U.S. Senate race.
Make no mistake, Nixon is an accomplished Missouri politician who would become the instant frontrunner. But in an era in which the most energy among Democrats comes from the wing of the party that recently elected two Black women who take an entirely different approach to politics than he does, that strikes me as the wrong decision at the wrong time.
Yes, Nixon knew how to talk to working-class families. Bush and Jones are working-class families. There is nothing more credible than listening to Bush recall standing in line at a payday-loan facility talking about making ends meet for her family, and rising from that humbling experience to being elected to Congress and then finding out she was going to struggle to afford the types of clothing people expected a person in her position to wear.
Cori Bush can have that conversation in a dollar store in any community in Missouri, if only some of the rural white people listening to her speak can get past the color of her skin or the hashtags on her Twitter account.
There has never been statewide success in Democratic politics in Missouri without winning the votes of St. Louis-area residents in high numbers. That future success now goes through Bush and Jones, two very different politicians who absolutely will not apologize for their blackness.