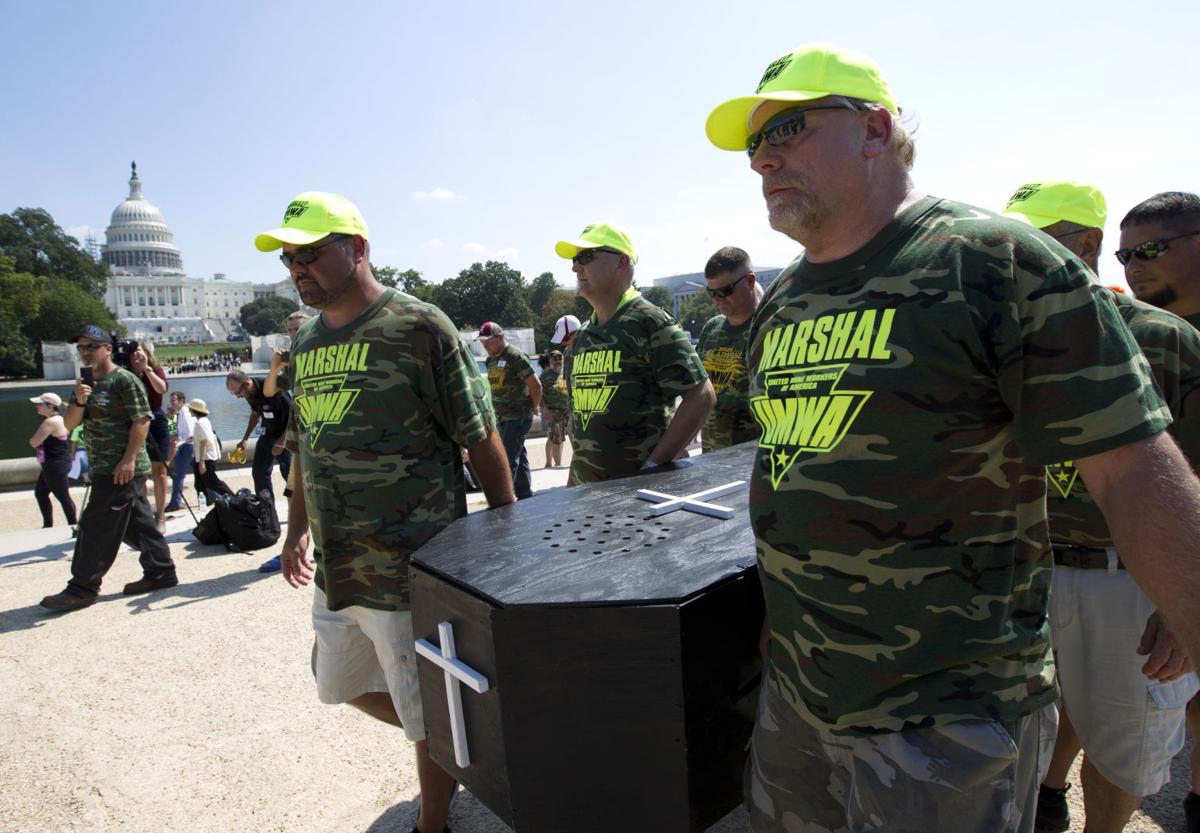 Linnie Moyers was a coal miner.
And not just any kind of coal miner. He was a one-legged coal miner.
Shawna Williams relays the story of how her father lost his leg in a hunting accident.
It's the sort of tale that has been told for decades, sometimes with embellishments, perhaps. She figures it's more true than legend.
One thing is clear. At age 11, Linnie Moyers lost his leg.
He and a friend were walking home in Southern Illinois after a day of hunting. Moyers grew up in Valier, a tiny town of less than 700 people. It's coal-mining country, and, indeed, Moyers would end up spending his entire adult life in that trade. Moyers' friend was carrying his shotgun by his side, but his finger was on the trigger. There was a loud noise that startled the boys. Moyers' friend turned and accidentally shot. Moyers' leg was shattered.
The story is important to remember, Williams says, because despite living most of his life with a wooden leg, Moyers wasn't the sort of man who would complain much.
"It never really stopped him," Williams said. "He was a pretty balanced guy."
That balance took a tip for the worse late last year. The downhill trend has its genesis in the summer of 2015. That's when Moyers retired after 48 years in the coal industry. He spent part of that time in underground mines, and some of it up top as a welder. The industry was good to him. He supported his family in tiny Valier, raised two daughters, lived a simple life hunting and fishing and going to church on Sunday.
In retirement, he started to fret.
One of his main concerns was one shared by his fellow members of the United Mine Workers of America. Bankruptcies in the coal industry, particularly of St. Louis-based coal giants Arch Coal and Peabody Energy, and its spin-off Patriot Coal, had put the promised health care benefits for coal workers in jeopardy.
Moyers wasn't one to complain. "He wasn't very outspoken," Shawna says. But he started talking frequently about what would happen if he lost his health insurance. In September last year, he did something that seemed out of character for him.
He hopped on a bus with dozens of other Southern Illinois coal miners and headed to Washington to urge passage of the Coal Miners Protection Act, a piece of legislation meant to put the weight of the federal government behind the decades-old promise to coal miners to be taken care of in retirement.
In December, the coal miners won a short-term victory. Congress passed a continuing resolution that would guarantee the benefits through April 28.
Moyers wouldn't last that long.
"Around Christmas, it was really evident that something was wrong," said Craig Williams, Shawna's husband. The couple would travel to Valier most weekends from their home in University City to see "Paw Paw." That's what their 20-month-old son calls his grandfather still today, as he sits at the dining room table thumbing through a photo album.
Craig and Shawna urged their father to seek medical help for depression, and in April, he did.
On April 12, Moyers called Centerstone, a mental health provider about 20 minutes away, in West Frankfurt. He set an appointment for April 21.
On that day, he went to his appointment, but somewhere, there was a mistake in his insurance paperwork. Craig and Shawna Williams believe somebody typed in a wrong birth date. But Moyers was told he couldn't be seen, so, not one to complain, he just went home.
Shawna still has the text from her father that day.
"Went to Centerstone," it said. "Insurance foul up."
Two days later, he was dead. Moyers' wife of 49 years, Suzanne, was in the other room calling for help, as Linnie put a gun to his chest and shot himself.
Like many families who deal with suicide, the Williams have more questions than answers.
Why didn't the mental health facility make sure someone saw Moyers that day, knowing he was depressed? Did his physician prescribe medicines that contributed to the depression or the suicidal thoughts? Why didn't they just put him in their car when they visited on April 9, and his hugs goodbye seemed extra long?
"This wasn't an act that this guy would have contemplated on any normal day," Craig says.
For men who toil underground and then have to fight for the promise that was made to them, perhaps there is no normal. The National Institutes of Health reports that coal miners are the second-highest occupation at risk for suicide, and the rates rose significantly in the past two decades. Add to that the paucity of mental health care options in rural America, and it's a recipe for something that is less than normal.
The Williamses tell the story of a man they call their hero because they want others to be prepared if they have a loved one in a similar situation. "He didn't come to Centerstone by accident," Craig says. "People who walk through those doors may be hanging by a thread. Mental health needs to be taken seriously."
On May 4, the U.S. Senate passed the Coal Miners Protection Act. It was too late for Paw Paw.