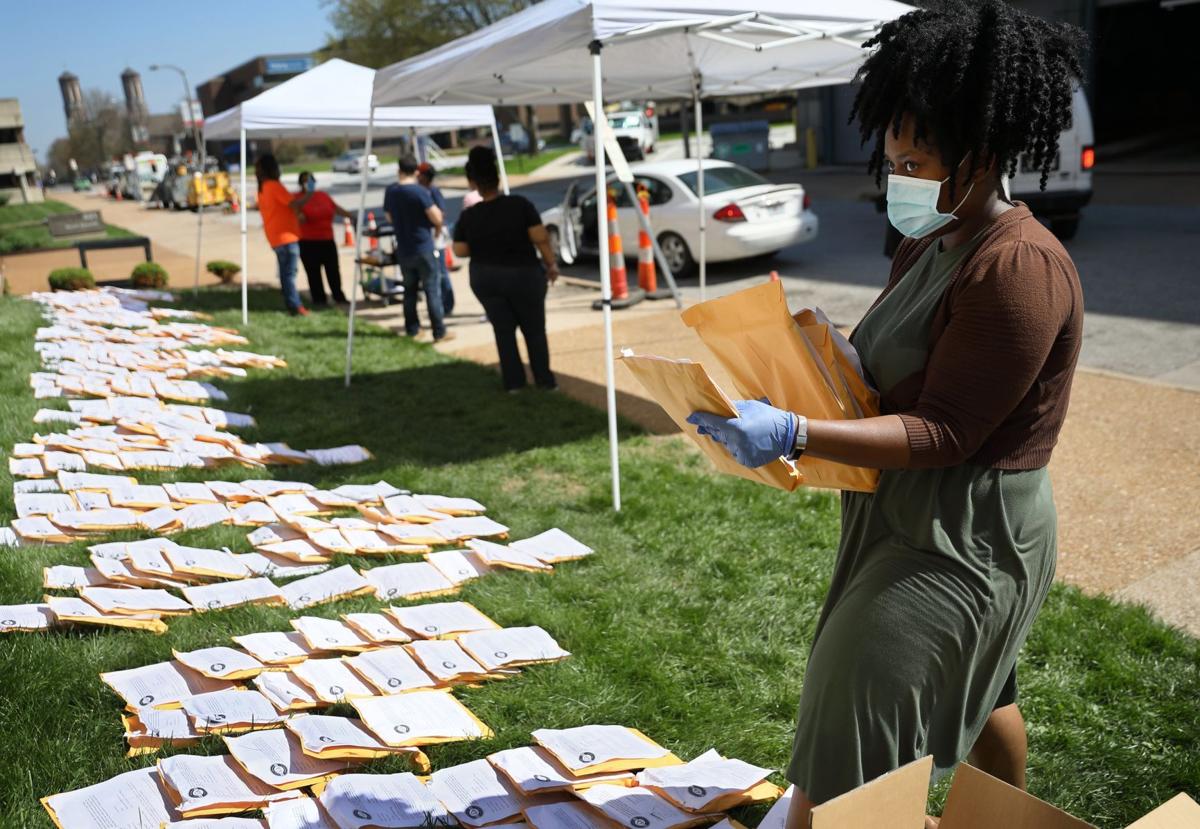 John Gaddy saw something on Facebook that didn't ring true.
It was a post by a friend about the schools in St. Louis.
Gaddy, who works for the state government, lives in Jefferson City, but he reads the Post-Dispatch and pays attention to things here. The post said that the superintendent of the St. Louis Public Schools, Kelvin Adams, was going to pawn shops in the city to buy Chromebooks intended for virtual learning sold by parents who had taken them from their children.
It's not true. But more on that later.
Gaddy, frustrated by the amount of disinformation he sees on social media, decided to do something about this post. He traced it to a Facebook page from a man named Gary Leggans in Potosi. Leggans, who says on his Facebook page that he grew up in Carbondale and founded a couple of Christian ministries, is a full-on member of MAGA nation. His Facebook posts are constantly updated with the latest pro-President Donald Trump memes put out by the OAN network, Breitbart or Gateway Pundit. There are racist posts about Democratic vice presidential candidate Kamala Harris, and posts condoning the violence of Kyle Rittenhouse, the alleged 17-year-old vigilante shooter in Kenosha, Wisconsin, who has been charged with murder.
Predictably, the people who responded to the post about St. Louis schools, on Leggans' feed, included all sorts of racist assumptions about Black parents and their children. Worse, the post got shared more than 5,000 times after Leggans shared it. In all, the inaccurate post was shared more than 30,000 times, shared by various networks.
This is the reality of actual "fake news" in the Facebook era. As the old saying goes, a lie goes halfway around the world before the truth has put on its shoes. Gaddy asked Leggans where he got his information and didn't get much of an answer. So he emailed the school district, and me.
Gaddy got a quick answer. The post wasn't true.
In fact, SLPS Director of Communications Meredith Pierce wrote in an email, the school district doesn't even use Chromebooks. High school students in the St. Louis Public Schools receive Dell laptops; elementary and middle school students receive iPads.
"This is not factual," Pierce wrote.
That's not to say there isn't a problem in the city's public schools related to technology in the time of COVID-19. Indeed, the district, like many districts across the country, faced a shortage of the various mobile devices and hasn't yet procured enough for every student this quarter. Then there is the reality of living in the district, where the majority of the children are Black and living in poverty, and some don't have access to Wi-Fi, and they face violence and other trauma in their neighborhoods. The children in the city, and their parents, face enough challenges. They don't need fake rumors being passed around by people on Facebook with little regard for the truth.
This is why Gaddy, a guy "who just believes that misinformation is dangerous," got involved. To his credit, when I called Leggans and told him that the post was inaccurate, he took it down and posted a note on his Facebook page apologizing. He showed me the Twitter feed where he first saw the post. That was from a Black woman who lives in north St. Louis County named Tiarra Banks, who also professes on her social media to be a member of "MAGA" nation, and regularly shares posts from the right-wing disinformation factory.
Banks told me she got the post from a parent in the St. Louis Public Schools. That woman didn't respond to a request for comment. Like so many Facebook posts, there was just a sliver of truth, which helped it spread.
In August, an administrator at a school in the city did call pawn shops looking for mobile devices as some of them hadn't been returned after the spring COVID-19 shutdown. It wasn't student technology but staff laptops that the administrator was looking for. She found one laptop at one pawn shop.
It isn't often I go down the rabbit hole of trying to disprove the lies that get perpetrated on social media, though people send me information on such posts nearly daily. Frankly, it's exhausting, and depressing, but it's particularly worrisome, it seems to me, when such posts get shared about our local schools, as has happened where I live with a group of west St. Louis County parents angry with the Rockwood School District over deciding to conduct virtual school in the first quarter to limit the spread of COVID-19.
Gaddy wasn't the only person to speak up on Facebook, when the false post about nonexistent Chromebooks started making its rounds. Some folks recognized that it was highly unlikely that pawn shops would buy such devices when they are marked as owned by local schools. They, too, asked for sourcing and information, a good strategy in the era of disinformation, but never got any.