Just thinking about making the drive to Lafayette County gives Precious Jones the kind of anxiety that causes her body to shake, knees knocking, voice trembling, tears getting ready to fall.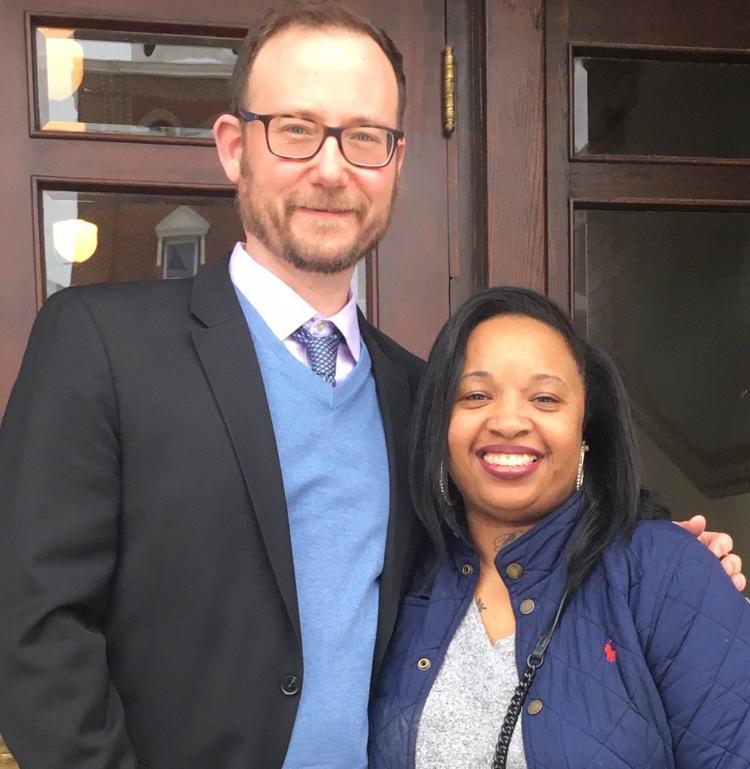 Last summer, she had to make the almost four-hour trek to the jail there 10 times.
She couldn't drive, so her teenage son did that. He'd drop her off at jail, where she was doing 20 days — two days at a time on the weekends — for speeding. Then he'd head farther west to Kansas City to stay with family. Sometimes he'd have to sleep a bit in the car.
On Jan. 16, she had to make the drive again.
But this time, attorney Michael-John Voss was with her.
Voss is a lawyer with ArchCity Defenders, the nonprofit public-service law firm based in St. Louis. He started representing Jones after I wrote about her a couple of months ago. Jones is an example of how poor people are treated differently in the court system than those who have more financial means. That's particularly the case in rural Missouri, where counties charge room and board for time spent in the county jail, and then use private probation companies that have an incentive to find violations that will send defendants back to jail.
Jones is 34 and lives in the Baden neighborhood of St. Louis. She works at the United Way of Greater St. Louis. On Mother's Day weekend in 2017 she was arrested for speeding in Lafayette County. She was going dangerously fast — 120 miles per hour — and was put in jail. She pleaded guilty and was sentenced to six months in jail but execution of her sentence was suspended if she served 20 days of shock time.
Jones lost her driver's license because of the ticket, and asked Associate Circuit Court Judge Kelly Rose if she could serve her time in the St. Louis jail. Rose said no. Then, on one of those long drives to Lafayette County, her car broke down. She was late to jail. The prosecutor sought to violate her probation because of it and send her to jail for six months.
For Voss, this was a story he had seen all too often in the municipalities in St. Louis County. He and his law firm helped draw attention to a similar scheme after the unrest in Ferguson. Those efforts led to reforms handed down by both the Missouri Legislature and the Missouri Supreme Court to try to limit the number of people being tossed in jail because they couldn't afford traffic fines.
But the scheme — or versions of it — continued in circuit courts throughout Missouri.
When most poor defendants are brought before a judge on a probation violation, after their case is adjudicated, they often no longer have attorneys. That would have been the case for Jones, had Voss not taken her case.
He argued that her alleged probation violation was not intentional. She did all the time she was supposed to do. He asked the judge to recall the warrant that had been issued for her arrest.
Jones is now free. Well, as free as a person can be who is still on probation until May 2020. She still has to pay the private probation company $30 a month, and send a form certifying her address and that she hasn't gotten in trouble.
"There never should have been a warrant issued for her arrest," Voss says. "The same kind of abuses of due process are happening at the circuit court level that we've seen in the municipal courts. … The legal system works a certain way for people with money. It works a certain way for people without money. It's designed that way."
Jones is a perfect example.
She knows what she did was wrong. She knows she should have been punished.
Justice, however, isn't always blind.
About a week after I wrote about Jones, who is black, a white attorney from St. Louis County was convicted in a drag-racing case in which he and a friend were going 114 and 121 mph, respectively. One of them plowed into another car, driven by 73-year-old Kathleen "Kay" Koutroubis, who later died.
The driver, Scott Bailey, was sentenced to do 60 days in jail. He'll spread them out over 30 weekends. His attorney said he plans to appeal.
For Jones, the entire process left her stressed as she worried the past few months whether she'd lose her job and end up in jail. She thought she might get fired after I wrote about her, but instead her United Way colleagues rallied around her. Former United Way President and CEO Orvin Kimbrough wrote a letter of support that Voss gave to the judge.
"It drained me of everything," Jones says. "They didn't take ownership of anything they did."
That includes sending paperwork to the Department of Revenue to reinstate her license after she served her sentence. Voss had to take care of that.
While in court with Jones, he noticed a pattern that is all too familiar. People with attorneys went first. Others had to wait. One man went to jail on a seat belt ticket. Another faced bail he couldn't afford.
"Missouri has a debtors prison problem," Voss says. "It has a justice problem."
Jailed for being poor is Missouri epidemic: A series of columns from Tony Messenger
Tony Messenger has written about Missouri cases where people were charged for their time in jail or on probation, then owe more money than their fines or court costs.