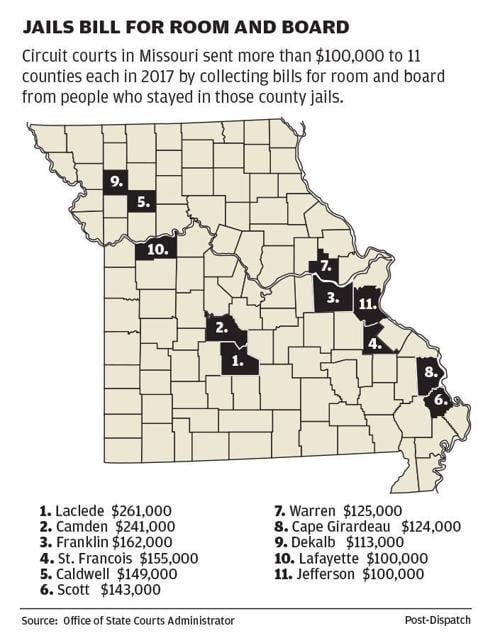 Eleven Missouri counties last year took in more than $100,000 each by using the state's circuit courts as a debt collector.
In some cases, that's enough money to pay a judge's salary, or a prosecutor's, or hire a few jailers.
The money came from inmates in the county jail, many of them poor people.
Every week in Missouri, a judge somewhere holds a crowded docket to collect room and board from people who were recently in jail. The judges call them payment review dockets, or show cause dockets, because calling them what they really are — debtors prison dockets — hurts too much.
For the elected officials who work in most of Missouri's historic courthouses that sit on small-town squares near empty storefronts, show cause day is pay day.
Two counties that border the Lake of the Ozarks took in the most money from "board bills" in 2017. Laclede County collected more than $261,000; neighboring Camden County took in just $20,000 less.
In southeast Missouri, Scott County took in $143,000 and Cape Girardeau County collected $124,000. North of there, St. Francois County pocketed nearly $155,000. Some of the collar counties around St. Louis played the game, too. Franklin County added $162,000 to its coffers and Warren County took in $125,000. Near Kansas City, Lafayette County collected $100,000.
The biggest winner on a per capita basis was tiny Caldwell County in northwest Missouri, which used its circuit court judges to help pull in $149,877, or $16.47 for each of the 9,100 people who live in the county. There, Associate Circuit Judge Jason Kanoy has become the poster child for how to turn the judicial branch of government into a tax-collecting subsidiary of the executive branch.
Once a month he schedules his debtors on the docket. If they pay, they don't have to show up. If they don't, he issues a warrant for their arrest. Many of them are like Nicholas T. McNab, men or women who long ago served their time. Now they're paying for it.
In May 2008, McNab stole some candy. Then 17, he and some buddies broke into a concession stand in the city of Polo. They took candy bars, taffy and beef jerky. He was arrested and put in jail with a $10,000 cash-only bond.
He pleaded guilty to misdemeanor stealing and was given time served for the eight days he already spent in jail. McNab was put on probation for two years, and a 60-day jail sentence was suspended.
Almost two years later, right before his probation was to have ended, he tested positive for marijuana. His probation was revoked and he went to jail.
By the time he was released, McNab's board bill was more than $2,000.
So the payment hearings started. Miss one. Get arrested. Go to jail. The cycle would repeat itself year after year. Each time, his bill would rise, $45 for one visit, $270 for another, then $900, and $945.
His latest hearing was Thursday.
Attorney Jim Rust doesn't get it. He represents McNab in a misdemeanor marijuana possession case in another county.
"This kid is not a criminal," Rust says of McNab. "He's a small town guy trying to get by."
But here he is, 10 years after doing his time, still tied to Kanoy's court because he owes the county money. Rust calls it a form of double jeopardy, with poor defendants punished over and over for the same crime.
"This kind of thing happens a lot around here," Rust says. "It's not just Judge Kanoy. This stuff has got to stop."
In one small Missouri county, it has. Or maybe it never started in the first place.
Almost 400 miles southeast of the Caldwell County Courthouse is the one in Stoddard County. It's across the street from the funeral home owned by Greg Mathis, who doubles as the presiding commissioner. For 16 years, Mathis has led Stoddard County, and during that time, the county has never collected a board bill from people who stay in its jail.
"We have never, ever charged room and board for our inmates," Mathis says. "It's never been brought up."
Southeast Missouri is among the poorest parts of the state. Like many areas of rural Missouri, it is struggling with opioid and meth use. Its jail, built for about 40 people, is crowded. Taxpayers approved a bond issue recently to build a new jail.
But Stoddard County is one of only two rural counties in Missouri — McDonald County in the southwest part of the state is the other — to not charge board bills. None of the state's primarily urban counties charge them, including Boone County, home of the University of Missouri.
Missouri lawmakers who want to address the state's debtors' prison problem can hold up tiny Stoddard County as a place that does it right.
"Why would I want to overcrowd our jail with people who would be there just because they couldn't pay their jail bill?" Mathis says. "It's just a never-ending vicious cycle that targets poor people."