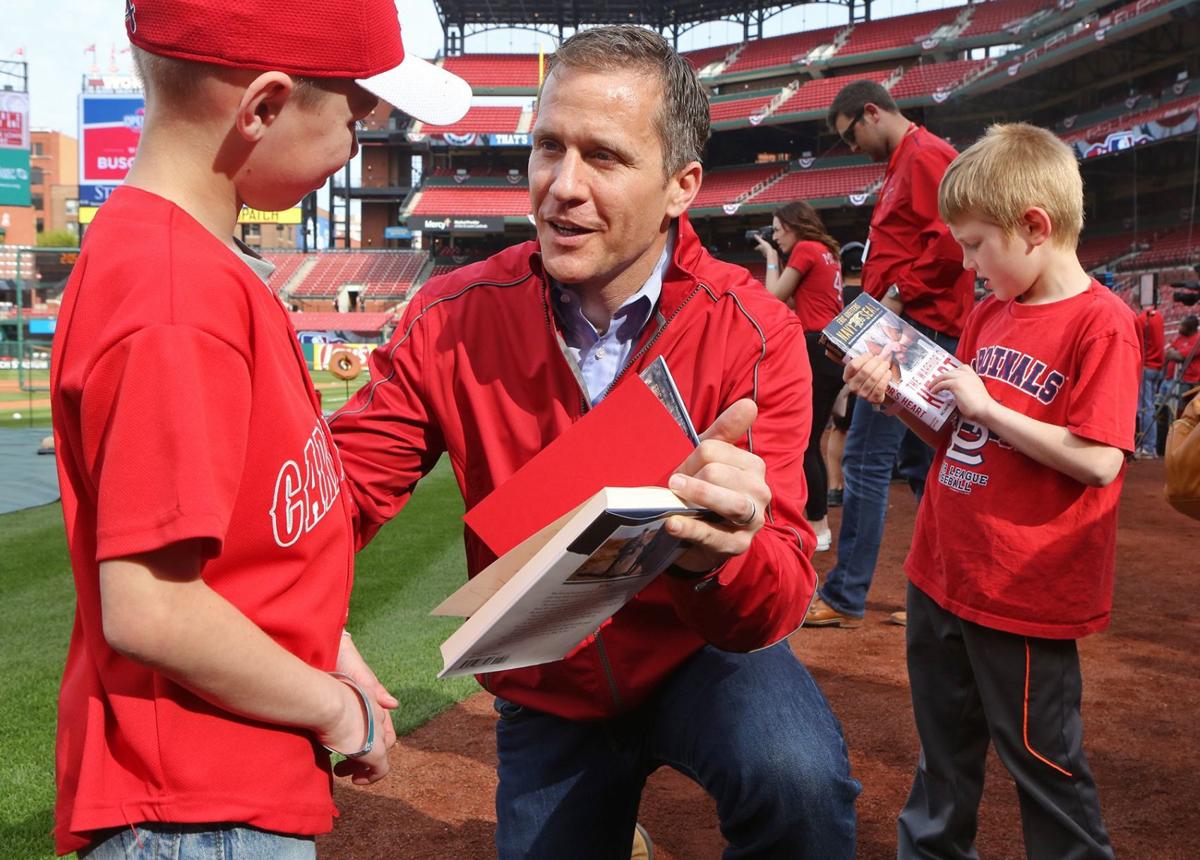 It was the shiny, new, red jacket with the sharp gray piping that grabbed my attention.
A year ago this month, just three months into his term, Gov. Eric Greitens was at opening day for the Cardinals. Walking around the field before the game, he shook hands with players, owners and other dignitaries. He took selfies and posed for photos with the people he had brought to the game, three children whose parents were serving their country overseas as part of the Missouri National Guard.
The moment, especially seen in retrospect, was vintage Greitens, the so-called Republican "outsider" who campaigned as a spit-and-polish Navy SEAL tough guy with a humanitarian soul. He was the former Rhodes scholar who founded a nonprofit called The Mission Continues, to help veterans re-enter their communities after their service.
Here he was, helping the children of veterans. He was so kind he even gave them each their own copy of his highly acclaimed book, "The Warrior's Heart," which is a rewrite of his previous memoir, "The Heart and the Fist," this time written specifically for young readers.
Behind the veneer of goodness was something else: an astounding sense of hubris and hypocrisy.
What struck me about that Cardinals jacket was that on his first day in office, Greitens signed an executive order banning lobbyists' gifts for members of his administration. It was a follow-up to his promises during the campaign to "blow up" the culture of corruption in Jefferson City and rewrite the ethics laws.
So I wondered. Who paid for the jacket?
"The jacket was also purchased with private funds and was not a gift from the Cardinals or anyone else," Greitens spokesman Parker Briden told me at the time. The statement wasn't entirely true. In fact, the governor's campaign paid for the jacket (and the baseball tickets), and that money comes from other people, a gift from the very donors seeking favor with government officials that Greitens campaigned against. His campaign, of course, depended on a series of secretive nonprofits that protected many of his donors from disclosure.
The move was classic Greitens: Do as I say, not as I do.
The children probably enjoyed their day at Busch Stadium.
But make no mistake: They were props, there mostly for the benefit of a man so ambitious he reserved a "Greitens for president" website before he even ran for governor.
On Friday, that ambition took another massive blow, as the governor was charged with, in effect, using veterans as props for his campaign.
Circuit Attorney Kim Gardner, a Democrat, charged Greitens with felony computer tampering for allegedly taking the donor list from The Mission Continues and using it for his benefit. The charge came days after Attorney General Josh Hawley, a Republican, said his investigation into the allegation had uncovered evidence of a crime.
Greitens is already scheduled to go to trial on May 14 for the felony charge of taking a photo of a half-naked woman without her consent. The woman, like the children in the opening day photos that the governor posted to his Facebook page, and the veterans he created The Mission Continues to help, was a prop in his warped, self-centered world.
In the book he wrote that he gave those children on opening day, books that may well have been bought with money from The Mission Continues, Greitens presents young people with a series of challenges. He tells them to imagine themselves facing daunting circumstances, and then asks: What would you do?
When facing his latest legal challenge as his fall from grace played out on a national stage, Greitens offered up his own answer to that question.
The day before he was charged with scheming to defraud the veterans' organization he founded, surely knowing what was about to come, the governor visited the state-run St. Louis Veterans Home in north St. Louis County to pose for pictures with aging veterans. It was a secret trip, so that there would be no prying media eyes. The governor likes the public to wear a blindfold.
For months last year, as veterans at that home complained of bad management and abusive treatment, Greitens brushed off the problems. He went so far as to tell Missouri's two U.S. senators to mind their own business when they asked for an investigation.
But, eventually, the governor capitulated. The veterans and their families were vindicated. And, before he used them as props in an attempt to distract voters from his dastardly behavior, Greitens did move to replace the management and improve conditions at the home.
He did some good, but only after he figured out an angle that might benefit him as his political career comes crashing to the ground.
In responding to the latest felony he faces, Greitens dodged and deflected, like the boxer he used to be.
"The truth is coming," he said.
Most of us can already see it in the record left in the governor's wake.
Greitens is an empty jacket, soon to be discarded like a prop whose value has run its course.