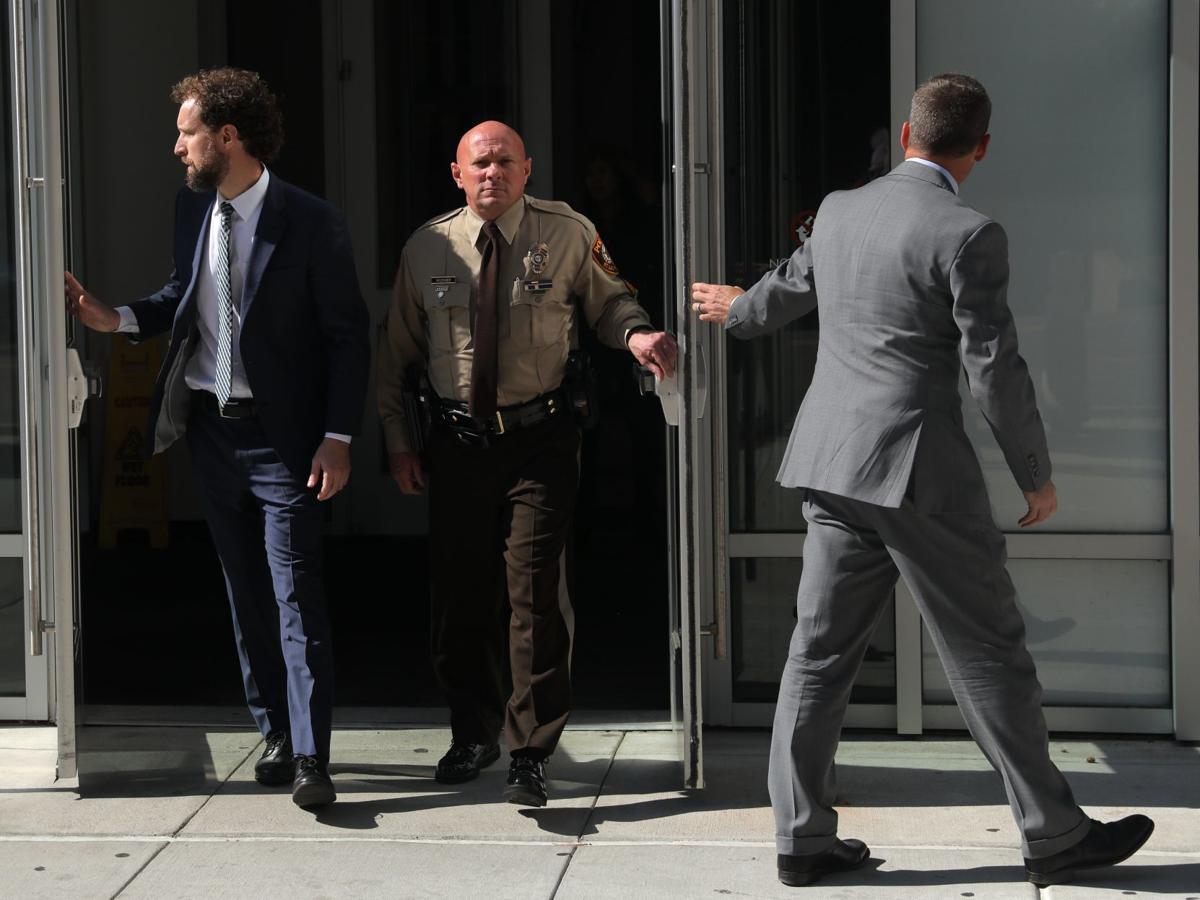 CLAYTON — Until Dennis Engelhard died, Keith Wildhaber was just a cop.
Not the cop who filed an equal employment opportunity complaint.
Not the cop who sued the St. Louis County Police Department for discrimination.
Then tragedy struck. Engelhard was a state trooper who died on Christmas Day in 2009 while pulled over on the side of an icy Interstate 44 near Eureka helping a stranded motorist.
The 49-year-old was gay. His partner of 15 years, Kelly Glossip, was later denied surviving spouse benefits in a case that went all the way to the Missouri Supreme Court. At the time, Missouri outlawed gay marriage. The two men were not married, and so, the state ruled, Glossip was not eligible for benefits.
When Engelhard died, then-St. Louis County police Chief Tim Fitch wanted to send a contingent to the funeral, but he hadn't received any information on the services through normal police channels.
Wildhaber knew the details.
He, too, is gay, though at the time he was closeted at work. Wildhaber told Fitch about the funeral arrangements. He also told the chief that Engelhard's partner wasn't receiving death benefits. Fitch asked Wildhaber if he knew the chief's brother, who is gay. Wildhaber said yes. He confided to the chief that he, too, was gay.
Fitch made Wildhaber the department's LGBTQ liaison with the community. He promoted the police officer to sergeant. His career was trending in the right direction, Wildhaber testified at his discrimination trial before St. Louis County Circuit Court Judge David Lee Vincent III this week.
At the chief's retirement party, Wildhaber had a conversation with Terry Roberds, a retired member of the command staff who gave him an ominous warning:
"Your biggest career mistake was coming out of the closet," Roberds said, according to Wildhaber's testimony.
The warning proved prescient.
After Fitch retired, and Jon Belmar was promoted to chief, Wildhaber's advancement hit a "glass ceiling," his attorney, Russ Riggan argued.
The LGBTQ liaison position was gone. Despite scoring third-highest among 26 applicants for a promotion to lieutenant in 2014, Wildhaber was not promoted. He was passed over again in 2015, when he again ranked third, this time among 34 applicants. He's been passed over "again and again and again" Riggan argued, as 23 of his colleagues, nearly all ranked below him, became lieutenants.
"In 2014, the culture of the police department changed," Riggan told the jury.
On Wednesday, jurors heard multiple witnesses — current and former members of the department and the widow of a former county cop — explain how anti-gay some members of Belmar's command staff have been.
"He's never going to get a white shirt," Capt. Guy Means said of Wildhaber, at a department fundraiser, according to the testimony of a woman at the event who is the widow of a longtime police officer. "He's too gay."
Another police department employee, Mary Beth Ruby, told jurors that her former boss, Lt. Col. Ken Gregory, once said in a conversation about homosexuality that, "The Bible says it is an abomination."
Ruby is a lesbian. When she later filled out a personnel form that listed her fiancee and domestic partner as her emergency contact, Ruby testified that, "after that, my life at work became a nightmare."
Assistant county counselor Mike Hughes, who is representing the department in the lawsuit, asked Ruby why she never filed a complaint up her chain of command?
"I didn't complain because the only person able to remedy the complaint would have been the chief," Ruby testified. "I would have faced more retaliation and worse treatment than I was receiving."
That's what Sgt. Jenifer Williams told jurors happened to her after she complained about an inappropriate hiring practice in which the lowest-ranked applicant was hired for a job at the Police Athletic League despite the recommendations of the panel that conducted the interviews. Williams was transferred to the north precinct, given what she and Wildhaber called a "geography lesson," the sort of involuntary transfer to an undesirable assignment that is given as punishment for those who speak up.
Williams filed a union grievance and got her job back.
Wildhaber filed a lawsuit and put his fate in the hands of a jury of his peers.
Out of the closet and sitting in his tan sergeant's uniform just a few feet from the chief who stands in the way of the white shirt he covets, Wildhaber is asking that St. Louis County jury to send a message to law enforcement everywhere: