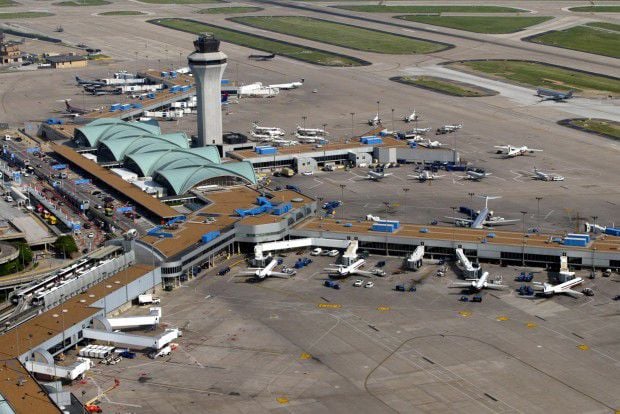 Allow me to channel my inner Mike Jones.
The longtime St. Louis pol, a former top aide to administrations in both the city and the county, was most recently a member of Rex Sinquefield's passel of highly paid consultants working toward an airport privatization scheme that died and then miraculously revived itself.
Jones loves sports metaphors. So I shall use one.
There is an old saying in basketball that has an application to the airport privatization debate in St. Louis.
Live by the jump shot, die by the jump shot.
Sometimes the shots fall, sometimes they don't.
So it is when it comes to seeking opinions from the city counselor's office.
Like a tight rim at Chaifetz Arena, the city counselor giveth, and he taketh away.
On Monday, a day before the Board of Aldermen was scheduled to debate the latest airport privatization measure, the one sponsored by board President Lewis Reed that mimics a similar proposal contained in an initiative petition submitted to the St. Louis Board of Election Commissioners, city counselor Julian Bush called a technical foul on the process.
Bush, who works for Mayor Lyda Krewson, issued a legal opinion that had been requested by Alderman Cara Spencer. His letter to Spencer said the initiative petition had been written incorrectly.
"In this instance," wrote Bush, who is a former circuit court judge and graduate of the Washington University School of Law, "the proposal should not be submitted to the voters twice, or once, or at all."
The opinion wades into the deep waters of legal interpretation of the city charter and its interaction with the state's constitution. In effect, it says the petition was written poorly and shouldn't go before voters in November. Opinions from city counselors are like opinions from state attorneys general, in that they sometimes have to be read as much in a political context as a legal one.
And in that regard, Bush's letter is significant in a couple of ways. First, it gave momentum to Spencer and the other aldermen who have been opposed to the secretive nature of the airport privatization process, and the clear attempt by the group of lobbyists tied to Sinquefield to make sure that Team Rex gets reimbursed about $44 million for the money it spent on consultants during the first round of the privatization effort, the one that fell apart when Krewson pulled the plug.
Ahead of Tuesday's meeting, nine aldermen signed a letter to Reed asking him to put the "brakes" on his bill because of Bush's letter. "Aldermen cannot continue in good conscience to allege we're representing the best interests of our constituents if we rush this to the ballot," they wrote Monday night. "There is absolutely no reason that the Board of Aldermen should capriciously expedite a charter amendment of this magnitude."
The last-second shot, heaved from half-court, is balancing precariously on the rim, destination unknown.
Reed pulled his bill from the Tuesday agenda. Maybe he didn't have the votes. Bush's letter might have swayed some minds. Aldermen received a competing letter, signed by attorneys working for a pro-privatization political action committee, Tuesday morning. That letter disagreed with Bush's analysis.
After the meeting, Reed indicated his plan to pass his bill on Friday, pressing forward with haste so that voters can have not one, but two privatization proposals to vote on in November.
The irony is that the speed that fuels Reed today exists as a factor because of the actions of the city counselor's office more than three years ago. That's when then-acting city counselor Michael Garvin signed a memorandum of representation with Sinquefield's nonprofit, Grow Missouri, and a Washington, D.C., law firm to advise the city on airport privatization. That memo was signed — under the administration of former Mayor Francis Slay — with no public input whatsoever because the city charter allows the city counselor to contract for outside legal services. Because there was no upfront city cost there was no need for other prying eyes to weigh in.
So here we are. The city counselor's office hired Team Rex to design a process by which the city sought airport privatization advisers. While under that contract with Team Rex, the city awarded the winning bid to advise the city to, of course, Team Rex. At the time, all the airport privatizers found that action to be imminently competent.
Now that same city counselor's office might be standing in the way of Team Rex getting paid, prompting pro-privatization lobbyist Jane Dueker, herself an attorney, to call Bush "stupid" on the social media platform Twitter, and suggest he should be "sanctioned."
Dueker is prone to thoughtless hyperbole, but her rant against Bush reminded me of that television interview Mike Jones gave to Fox 2's Elliott Davis early in the privatization process. Davis was inquiring about the wisdom of the consultants costing about $800,000 a month.
"Is this a good deal for the city of St. Louis?" Davis asked. "It's a good deal for me," replied Jones.
Indeed it was. Jones made his money, now Team Rex wants more.
They're running out the clock in a game that seems designed for one man to win.
On Friday, Lewis Reed takes the team's last shot.
From City Hall to the Capitol, metro columnist Tony Messenger shines light on what public officials are doing, tells stories of the disaffected, and brings voice to the issues that matter.