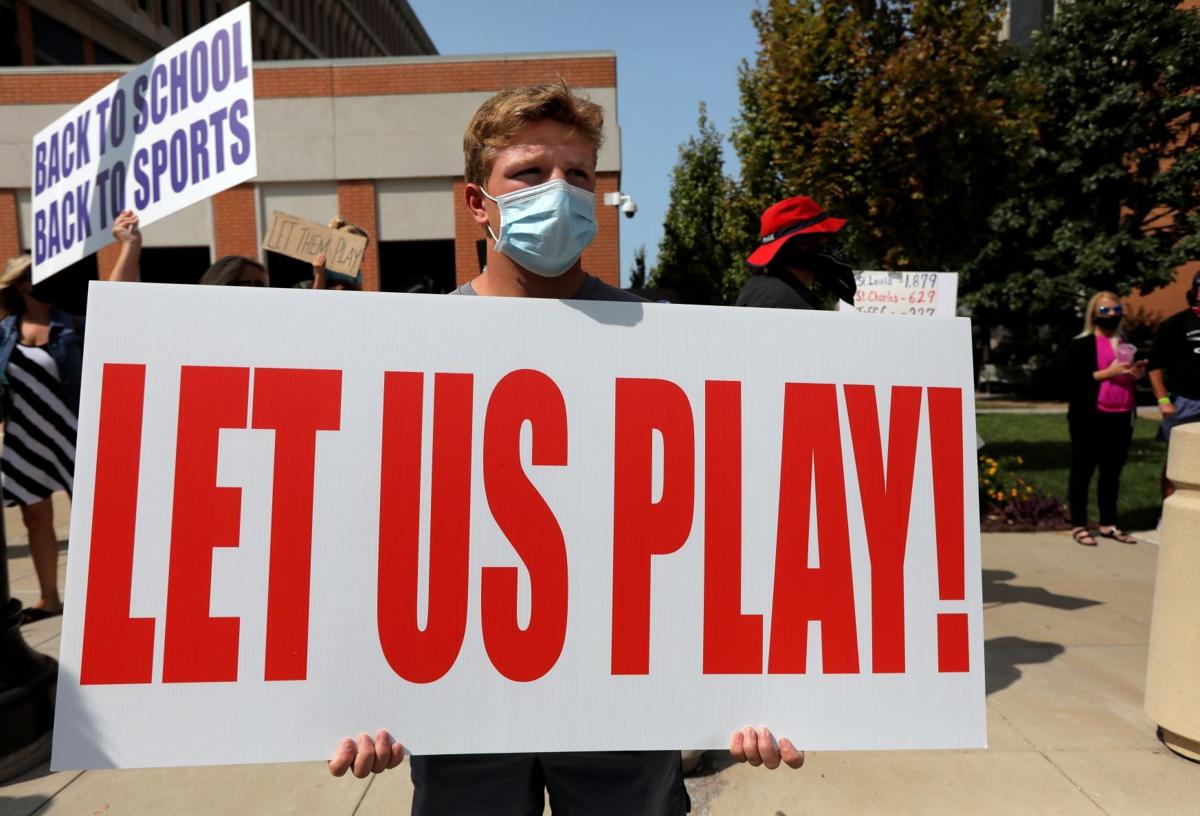 If you have struggled to understand the phrases "systemic racism" and "institutional racism" as they have gained prominence amid the rise in police brutality protests across the nation, perhaps a sports context will help.
Institutional racism, remember, is the phrase that cost former University of Missouri system President Timothy M. Wolfe his job in 2015 amid racial strife on campus, because he struggled to define it in the context of the university's history of failing to treat Black students and faculty the same as white students and faculty. Earlier this year, it was systemic racism that caught up St. Louis County police Chief Mary Barton, as she refused to apply the phrase to her department despite a clear history of discrimination against Black officers, including in the very recent past.
For a lot of white people, the phrase stings because it implies that specific people involved in organizations that suffer from systemic racism might themselves be racist, but that's not necessarily what the phrase means.
Buried in the back of the Post-Dispatch sports section on Wednesday were a couple of paragraphs that should give all the context you need to gain a new understanding of historic racial divides in St. Louis, for example.
"MSHSAA released its complete list of schools opting to participate in the 'alternate fall' season this coming spring," the sports brief reads. "The list is predominately made up of St. Louis City and St. Louis County teams. The teams that will play spring football are Bishop DuBourg (in co-op with Hancock), Cardinal Ritter, Carnahan, Confluence, Gateway STEM, Hazelwood Central, Hazelwood East, Hazelwood West, Jennings, Lift for Life, McCluer, McCluer North, Miller Career Academy, Normandy, Pattonville, Ritenour, Riverview Gardens, Roosevelt, Soldan, St. Mary's, University City and Vashon."
What the story doesn't say, but everybody in St. Louis should know, is this: Nearly every one of those schools has a majority population, if not a predominant one, of Black students.
Meanwhile, with an overwhelmingly white football team, the Rockwood School District in west St. Louis County is so intent on making sure that their privileged student athletes get to play football in the fall, instead of the spring, when it might be safer for the entire community, that they are willing to ignore St. Louis County restrictions against such games and play in surrounding rural counties where there are no such rules, and, by the way, COVID-19 is on the rise.
This is what systemic racism looks like. Let me be clear about something: I know many of the Rockwood coaches and players. My son has played football with and for some of them. I know they love their children and their students. I know they are trying to do what they absolutely think is best. I am not accusing any of them of being racist.
But should they step back and look at the reality of their white and economic privilege in the context of how the coronavirus pandemic is affecting the entire region? Absolutely.
"They do have privilege," says St. Louis Public Schools Athletic Director Teron Sharp. "COVID has impacted more people who look like our students than their students."
The racism is baked into the very system that produces a reality in which many white kids are playing football and most Black kids are not. Four years ago, I wrote a column about the water fountain as a symbol of our region's racial divide. In St. Louis Public Schools, water fountains were cordoned off because they had lead poisoning that in some places was at levels worse than the crisis in Flint, Michigan. Meanwhile, the Ladue School District was selling off naming rights to new water fountains to raise money.
Now it's football as a further sign of our division. The high schools in my district all have fancy new artificial turf stadiums that will sit empty this fall as athletes travel to surrounding counties to play. Most of the school districts that aren't playing this fall don't have such expensive digs, and they'll be empty, too, but for different reasons: Because our economic and racial disparities are inherent in a system in which there are 24 separate school districts with separate and unequal tax bases in a county in which white kids and Black kids don't get the same opportunities.
Sharp said she and other SLPS administrators did everything they could to get their kids available to play in the fall, but there are challenges of transportation and amenities, as well as COVID-19 rates, that made the difficult decision to move football to spring the right one for the district. She says there have been few complaints from parents, unlike the nonstop pressure placed on administrators in other districts, like Rockwood.
"It does look bad that we're living in the same community and a certain group of kids can play, and a certain group of other students are not playing," Sharp says.
There was a time, in the late 1960s, during the last big civil rights movement, in which a statewide commission recommended that all of those districts, and even some in surrounding counties, be wrapped into one district, so that the entire tax base of the region would be invested in the success of all of its children. Racism killed that proposal before it ever got off the ground.
Now, amid a deadly coronavirus pandemic that is also targeting people of color who live in disadvantaged communities at a higher rate than white people who live in the suburbs, COVID-19 again provides clarity on the systemic racism that St. Louis simply can't escape.
From City Hall to the Capitol, metro columnist Tony Messenger shines light on what public officials are doing, tells stories of the disaffected, and brings voice to the issues that matter.