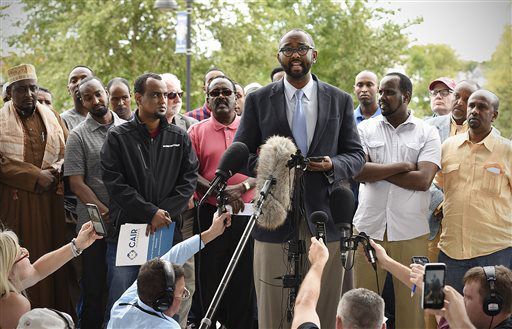 Once a year, I flip through the pages of my mom's old Bible.
It sits in a wooden case on a shelf next to the television in the living room. The Bible was given to her when her father died. "Our deepest sympathy, United Steelworkers of America, Local Union No. 3029" is embossed in gold lettering on the back. I got it after she died.
Usually it's October when I take my walk down memory lane. My mom kept death notices from all of her relatives, going back two or three generations, tucked into the pages of the Bible. Once a year, in remembering her, I remind myself where I came from.
Disturbing news caused me to pull the Bible off the shelf early this year.
About a week ago, a Somali immigrant who had moved to the United States as a baby stabbed 10 people in a mall in St. Cloud, Minn. The man, a Muslim, was shot and killed by an off-duty police officer at the mall in the city northwest of Minneapolis. The FBI is investigating to determine if the man had ties to terrorism. In the wake of the killing — the same week a bomb exploded in New York — the large Somali-American population in St. Cloud faced bigoted backlash.
As a child, my mom lived in St. Cloud.
But she was born south of there, on a farm near Butterfield. Her father came from a family of Mennonites. I didn't know this until she died, when I first flipped through the Bible and saw relatives all buried at the First Mennonite Church of Mountain Lake.
There was Diedrick Harder, born in 1905. He shelled corn and drove a truck. His mom, Mrs. John D. (Anna) Harder, was born in 1877, the daughter of Diedrick and Anna Seamons Heppner.
"She grew to womanhood on the family farm and in 1897 was baptized and upon confession of her faith received into membership of the First Mennonite Church," says her death notice. She lived to be 92 years old.
The Mountain Lake Mennonites, like the Somalis of today, were refugees who came to Minnesota seeking a better life. Their route to America was a long one. According to various histories of the Mountain Lake area, nearly all the Mennonites in Mountain Lake started in Holland, and left to live in the Crimean region of Russia when they faced religious persecution. Things changed in the early 1870s when Czar Alexander II sought to press the Mennonites into military service. They were pacifists. So they fled Russia and ended up in Minnesota.
Their story here is the story of immigration in America.
They came to farm, and faced fear and disdain from the local population early on. Over years and decades, they became part of the region's fabric. There are still Harders in the Mountain Lake region today.
To the north, in St. Cloud, there is unrest. A business owner posted a "Muslims get out" sign on his restaurant. Somali-Americans have complained of increased harassment.
As it is across the country, including in St. Louis, there is tension between those who were here previously, and those who seek the latest opportunity.
Once it was Anabaptists and Mennonites. Then Catholics, Italians and Irish. Now it's Muslims, and, of course, the nation's growing Latino population. Fear of "others" is driving a national narrative, fueled by the candidacy of Republican Donald Trump, that to make America great again, the nation has to drive out its most recent immigrant populations and put up a wall to keep them out.
It's a naked betrayal of our shared history.
Immigrants have always fueled economic growth in the United States, while adding to the country's rich tapestry of cultural diversity. It's why St. Louis business leaders are cheering news in the most recent Census Bureau reports.
St. Louis has shown the largest percentage increase of immigrant population of any major metropolitan area in the nation in 2015. The region benefited from the influx of more than 10,000 new foreign-born residents last year, an 8.9 percent growth rate.
Until after my mom died, I never thought much about my immigrant past. I was a typical American mutt, born to the daughter of a Mennonite farm family and the son of a Colorado clan that included an early railroad engineer.