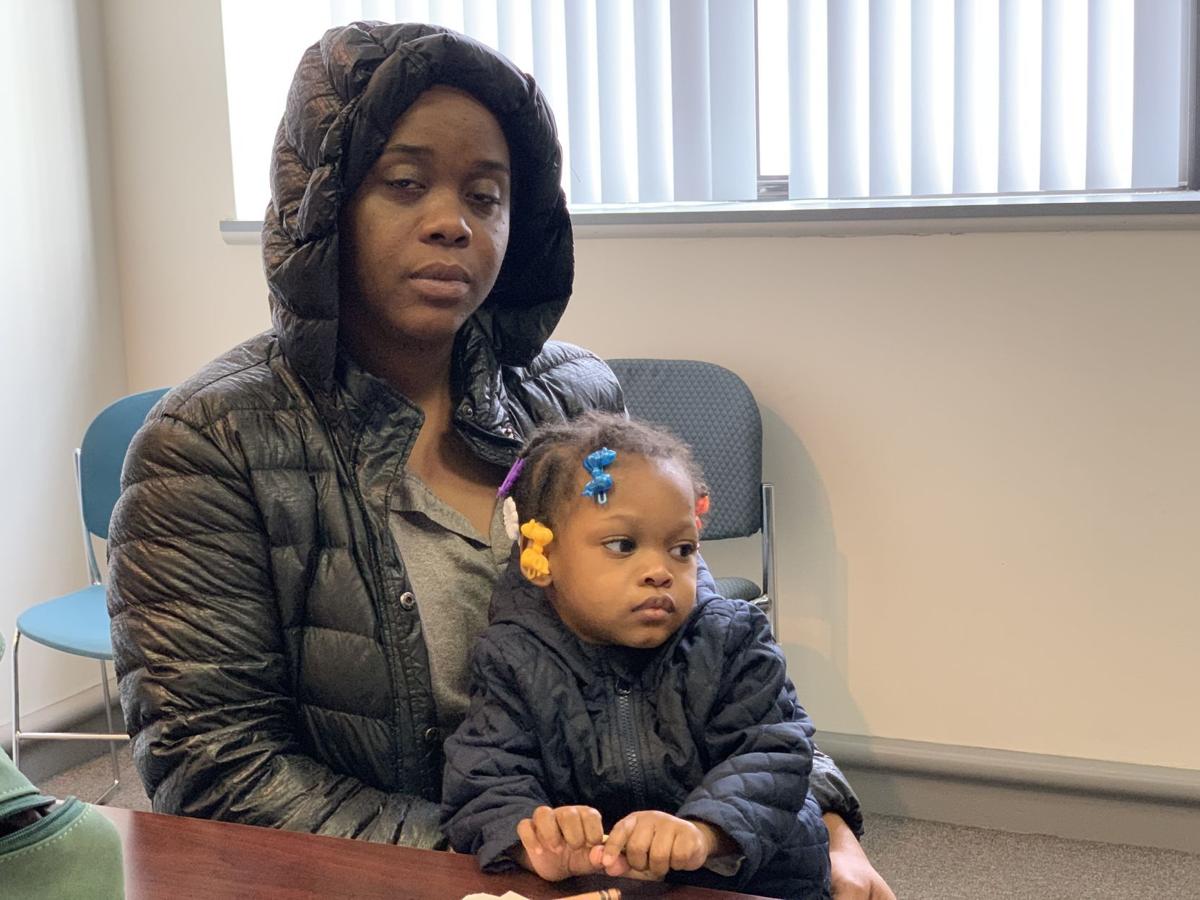 It was the weekend after Thanksgiving, and Ebony Jackson stopped at her apartment in Dutchtown to pick up a few things.
Jackson and her two daughters, 7 and 1, had been staying with her sister for a few days.
Jackson had lived in the apartment on Meramec Street for three years, but in November, she couldn't make ends meet. Her electricity was turned off for lack of payment. She missed rent for the first time. On cold nights, she stayed with her sister.
She had been in the apartment the night after Thanksgiving. But a couple of days later, her key wouldn't work on the lock. So she knocked on the landlord's door, who didn't answer. She called the police and went back to try to get into her apartment.
This time, the door started opening.
A man she didn't know appeared in the doorway.
"My heart jumped into my chest," Jackson said. "I pushed him and said, 'This is my house.'"
"I think they wanted to help me," Jackson said. "But they said it was a civil matter and there was nothing they could do."
Until late 2017, that was true.
But that year, the Board of Aldermen passed a law sponsored by former Alderman Terry Kennedy that makes it illegal in St. Louis for a landlord to lock out a tenant without proper due process through an eviction proceeding. Sadly, such actions by landlords have been rampant in St. Louis, where, like much of Missouri, there is a paucity of affordable housing, and people who fall behind in rent too often find themselves taken advantage of by landlords seeking shortcuts.
The law in the city now offers police a criminal charge of illegal eviction to threaten landlords with if they lock out a tenant without due process, and the law carries a penalty of up to a year in jail and a $500 fine.
But, say some of the advocates who pushed for the law, the St. Louis Police Department doesn't seem to have trained its officers about use of the new law to protect tenants like Jackson.
"None of this would have happened if (police) knew about the ordinance," said attorney Robert Swearingen of Legal Services of Eastern Missouri. He's representing Jackson in court against her landlord, Rebecca Feldewerth.
Three times early this month, Jackson went back to try to get into her apartment. Each time she called police. The third time, Feldewerth got arrested, but not for an illegal eviction. She became irate at Jackson's attempts to get her belongings in her apartment, and she was arrested on suspicion of a peace disturbance and other outstanding warrants, according to the police report.
Feldewerth, who initially declined comment for this column, called after an online version of it was published.
"I'm not trying to break the law," Feldewerth said. She said she filed both a notice of abandonment and an eviction notice, and that she believed that Jackson had abandoned the property. The man in the apartment was Feldewerth's father, who was "helping me to move her stuff out."
Feldewerth said she believes she had a right to change the locks when she didn't hear from Jackson.
"As far as her saying she was illegally evicted, that never happened," Feldewerth said. A court date on the eviction is set for Friday. Swearingen says Jackson never received the notice of abandonment, as is required by law, and that it directly contradicts the eviction notice, which says that Jackson still lives in the apartment.
Such volatile situations — common in landlord-tenant disputes — are one of the reasons advocates pushed for police to have a new tool when responding to such incidents, so landlords knew that, in the city, at least, illegal eviction is no longer just a civil matter.
"All of this could have been avoided," Swearingen said. "It's not a question of resources. It's a matter of training."
"We've been trying since the ordinance passed to get training for the police," Lander said, "but we haven't been successful."
For now, Jackson and her daughters are living with her mother.
The trauma of being locked out of her apartment continues to cause her stress. She had already been in contact with the Urban League to get help with her utilities, and was making plans to get caught up on the one month in back rent, but showing up to her home and finding a strange man in there, while being given no opportunity to even gather her belongings, threw her a curve ball she wasn't expecting.
"I was scared," Jackson recalled. "I was panicking. I couldn't even think. I didn't have any resources. My mind was on overload. I was just overwhelmed. It was the worst feeling in the world."
This is the reality for too many people struggling to make ends meet in the St. Louis region. They find themselves on the outside of their home, locked out by a rogue landlord, or stuck inside with no heat.
Lawmakers have tilted the scales slightly in favor of tenants in St. Louis.
But if a new law passes, and nobody enforces it, what is the point?