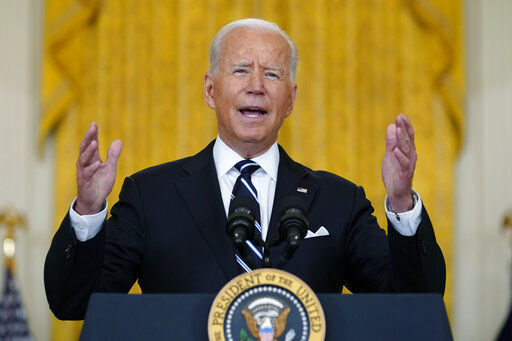 The Wright City School Board made a decision as the school year started that separated it from many of its rural brethren. The district, which straddles Warren and Lincoln counties about 45 miles west of St. Louis along Interstate 70, passed a mask mandate for its students.
In an area that has seen few mandates during the coronavirus pandemic, the 6-1 vote didn't generate much controversy, even as it stood apart from the adjacent school districts, including some in St. Charles County.
These days, the decision is looking prescient. On Thursday, the state of Missouri issued a COVID-19 "hot spot advisory" for Lincoln and Warren counties, as infections from the delta variant of the coronavirus rise, and vaccination rates remain stubbornly low. Only 35% of people who are eligible are vaccinated in Warren County; and the percentage is 5 points worse in Lincoln County. The increasing cases of COVID-19 in both counties are contributing to hospital crowding in the St. Louis region.
For Chris Berger, Wright City school superintendent, the decision to recommend a mask mandate came down to keeping kids in class. With a mask mandate, there are still positive cases among students, but other students wearing masks are generally not required to quarantine at home after contact tracing.
"Educators are concerned about the loss of learning during absences and always have been," Berger says. "Modified quarantine keeps our kids in class. But without universal masking, students using masks would fall to about 10%. It is only settling in on our parents now that our neighbors are experiencing massive quarantines that modified quarantine avoids, keeping our kids in school. Every modified quarantine saves six days of absences."
In neighboring Wentzville schools, with no mask mandate, about 5% of Duello Elementary School's student body has tested positive for COVID-19, forcing an emergency meeting by the School Board to consider options. Other districts in the St. Louis region, including in Jefferson and Franklin counties, are reporting similar spikes in some schools.
For the members of the St. Louis Metropolitan Pandemic Task Force, the options are clear: Mask up. Get vaccinated. That's been the consistent theme of the medical professionals who have been guiding the region through the pandemic, and continued on Thursday, when Dr. Clay Dunagan, the chief clinical officer at BJC Healthcare, reported that there were four children in area ICUs with COVID-19, and more than two dozen children in area hospitals with the potentially deadly virus.
"It's affecting many schools and the trend has been on an upward trajectory," Dunagan said of the growth of cases in the region. "There have been quite a number of cases, in the hundreds of students across the metropolitan area, who have tested positive."
As a result, some school districts, or individual school buildings, are now considering the mask mandates that were passed at the beginning of the school year in Wright City, and in the city of St. Louis, and in every school district in St. Louis County.
About an hour after Dunagan gave the task force's daily briefing, President Joe Biden took to the national airwaves to announce a new front in the battle against the pandemic, pushing sweeping federal mandates to require vaccination. Biden will require a vaccine for all federal employees and contractors, and also has instructed the Department of Labor to issue a rule requiring all businesses in the country with 100 or more employees to meet a vaccination mandate of their own. The president will require vaccination for all health care employees in American hospitals, and expand access to testing.
"We have the tools to combat the virus if we can come together as a country and use those tools," Biden says. "Many of us are frustrated with the nearly 80 million Americans who are still not vaccinated, even though the vaccine is safe, effective and free."
The president directed some of his own frustration at Republican politicians who have been working against the government and civic attempts to end the pandemic, including those who have made it harder for school boards to protect their children. In Missouri, for instance, Attorney General Eric Schmitt has filed a lawsuit that he claims applies to every school district in the state that has issued a mask mandate, trying to overturn such rules.
"Making matters worse are elected officials who are actively working against vaccination," Biden said, in a message that should resonate with those who have been subject to verbal abuse at a recent school board meeting. "These pandemic politics are making people sick … and causing unvaccinated people to die."