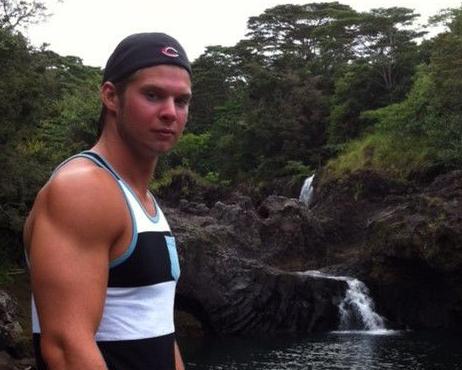 Every few days John Gaal sends me a link to a story or a study about concussions and football.
There's the one, for instance, that found that 110 out of 111 donated brains from ex-NFL players had CTE, a degenerative brain disease often connected to multiple concussions.
The latest was about a study that found young, healthy athletes showed brain differences as teenagers after competing in sports where concussions were common.
Gaal knows my seventh-grade son plays tackle football.
Gaal's not trying to be mean or give me sleepless nights.
John Stefan Gaal Jr., died in his father's arms on March 24. The former football and soccer player at John F. Kennedy Catholic High School was 24. He killed himself after a years-long battle with concussions and mental illness.
"He was a good kid," Gaal says. "He was a kind and gentle soul."
Gaal fights back the tears with every sentence. It's only been five months since he discovered his son in the family's home in Ballwin. As he was dying, John pushed his father back with his strong, muscular arms and shook his head. "He wanted me to let him go."
The field — both soccer and football — was his place of glory.
Like any dad, Gaal can remember his son's athletic triumphs like they were yesterday. There was his first game on the JFK gridiron, his junior year. The school had been in a long losing streak. John, a safety, had gambled on a play late in the fourth quarter and only got fingers on the ball that instead floated into a receiver's hands for what looked like the winning touchdown. But on the next series, he blitzed, sacked the quarterback and created a fumble. The offense scored. JFK won and the stands emptied.
Then there was his last home soccer game, the one where he back-heeled the winning goal off of a corner kick, sending his team to the final four of the state playoffs. It was his only goal in high school.
In between there were the concussions, four of them in total.
The third was the worst. It was John's senior year and the football team was playing at Herculaneum. John took a hit and was flat on the ground.
"He looked like a boxer who was down for the count," his father recalls. After he got up, John started stumbling toward the wrong huddle. A teammate pulled him into the right one, and then signaled to the sideline to get John out of the game.
Gaal and his wife, Mary, were worried. But like many people who grew up watching or playing football, the thought of long-term damage caused by concussions wasn't in the forefront of his mind.
"When I was in high school, it was a badge of honor to get your bell rung," says Gaal, who is 58. Athletes, urged by parents and coaches, would rush back into battle after taking a shot to the head. "Now we know that is the worst thing you can possibly do."
A month ago, before the football season started, my son got a test.
It's a baseline brain test given to many young athletes these days so that if they experience concussion-like symptoms, they can re-test and determine if the injury is causing actual changes to the brain.
Like "heads-up" football, the new tackling training techniques, it's one of those things being implemented as the science of concussions offers parents more information as they make decisions about what their children are doing.
In memory of his son, Gaal is hoping to do what he can do to raise awareness so that more parents recognize the symptoms and make good decisions the first time they see that tough hit to the head. He's starting a foundation — he hopes to call it 2114 after his son's high school jersey numbers — to raise concussion awareness in high school sports.
Gaal grew up on the south side of St. Louis. He graduated from Bishop DeBourg and has degrees from St. Louis University and Washington University. He runs the training and education programs for the carpenters' union. Education and study are in his DNA.
"I'm not trying to preach to a parent or a child that playing football or soccer or ice hockey is wrong," Gaal said. "I just know there are costs. The science is becoming clearer and clearer that the costs outweigh the benefits."
About 1,000 people filled the church for John's funeral, where his father found the composure to give the eulogy. He talked of his son's heart, how after graduating from Westminster College, he used to make peanut butter and jelly sandwiches to give to the homeless in Columbia, where he lived for a while. He recalled gridiron glories and friendships formed in the heat of athletic battle.
Those memories can't be erased. But now, Gaal says, he has a new mission to honor his son.
"Shame on me if I were to remain silent on this issue," Gaal says. "I think we need to stop the stigma of mental illness and raise the awareness of concussions in sports. John paid the ultimate price. I'd give all that pride and glory back to have him here."
From City Hall to the Capitol, metro columnist Tony Messenger shines light on what public officials are doing, tells stories of the disaffected, and brings voice to the issues that matter.