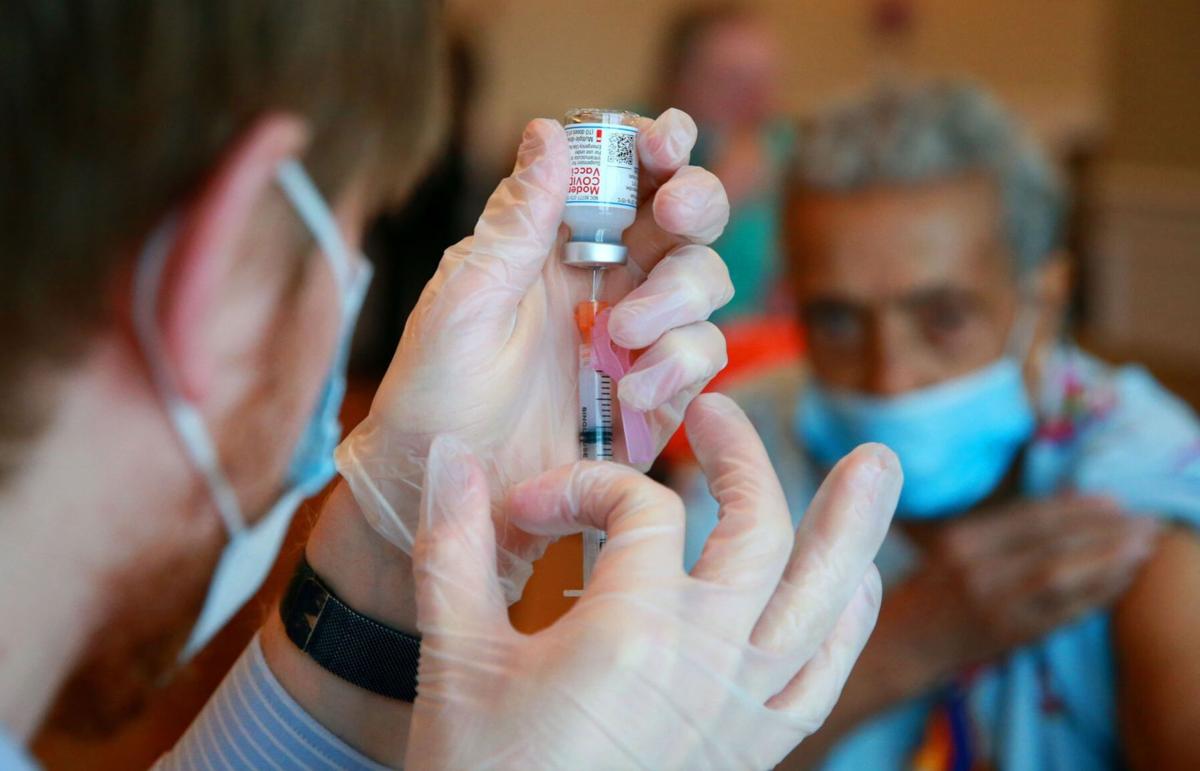 Wayne Worland wants to take the COVID-19 vaccine.
He's in a health category that should make him a relative priority.
Worland, a retired auto worker, is 70. He has high blood pressure and an irregular heartbeat. He lives in Florissant. So when Worland saw that there was going to be a mass vaccination event at the UMSL campus near where he lives, he tried to sign up.
"I tried to reserve an appointment for the vaccine but got bounced around from the county to UMSL to the state and I couldn't get any straight answers from anyone," Worland told me.
No straight answers. That's been a recurring theme in Missouri's rollout of the vaccine under the leadership of Gov. Mike Parson and his health director, Dr. Randall Williams. And when the experts trying to lead local efforts — like Dr. Alex Garza of the St. Louis Metropolitan Pandemic Task Force — raise serious questions about the lack of vaccine availability in the state's most populous areas, Parson attacks the messenger instead of fixing the problem.
He accuses head of St. Louis pandemic task force of spreading 'false information … to once more spread fear and panic.'
In St. Louis, the problem with vaccine distribution is that there isn't enough of it, so those who can, drive to rural Missouri, where the vaccine appears to be plentiful.
That's what Mary Ann Zaggy, and her husband, Alan, did. Zaggy is 71 and is a retired speech pathologist. Her husband, 68, is a retired physician. They live in University City. A little more than a week ago, frustrated at the lack of vaccine distribution in the state's most populous region, they drove more than three hours southwest, to Springfield, where they had no problem getting vaccinated. They'll make the drive for the second shot early next month.
"We are very lucky to have a reliable car, money for gas, and internet access with which to secure appointments," Mary Ann told me. "What about so many people in the city and county of St. Louis — many who are frontline workers who are exposed to COVID-19 daily on the job — who are not so privileged?"
That's the question being asked all across St. Louis and Kansas City, the areas of Missouri with the largest concentration of Black residents, and, even according to the state's flawed data, the least amount of vaccine distribution by population.
The vaccine hunter game now seems to populate every discussion among adults in St. Louis. Did you get the vaccine? Did you hear about the one in Cape Girardeau? My friends went to Mexico, Missouri. I hear the Walgreens in Rolla has it. Try this website. No, call this number.
Mary Ann Zaggy didn't plan to play this game.
"My story is not at all unique, and I would have probably just bided my time with getting the shot except that since I work with refugees and asylum seekers," she said. "And with the new information coming out about possible increased transmissibility of COVID variants, I was becoming concerned about possibly transmitting COVID to these folks: they live in relatively small apartments, with medium-to-large families, limited access to health care and healthy food, and many are working jobs with lots of public contact."
After 10 weeks of statewide vaccine distribution, which Parson and Williams promised would be handled by population, Cape Girardeau County in southeast Missouri has received enough vaccine to cover more than 54% of its population; St. Louis County has received enough for 8.6% of its population. The problem is bad enough that, perhaps accidentally, the governor finally acknowledged the state's failure. On Wednesday, Parson tweeted a photo of National Guardsmen helping to administer vaccines in the "vaccine deserts" of Kansas City and St. Louis.
Our targeted vaccination teams are working tirelessly to support critical populations in former "vaccine deserts" in St. Louis and Kansas City. pic.twitter.com/MR9PvByKri

— Governor Mike Parson (@GovParsonMO) February 24, 2021
Yes, governor, they are deserts. That is precisely what Dr. Garza was trying to let you know early on in the vaccination efforts. They are deserts because you have been sending too much vaccine to rural areas and not enough to the cities.
So the Zaggys drove to Springfield. And Worland continues to wait, hoping that eventually, the governor will send more vaccine his way.