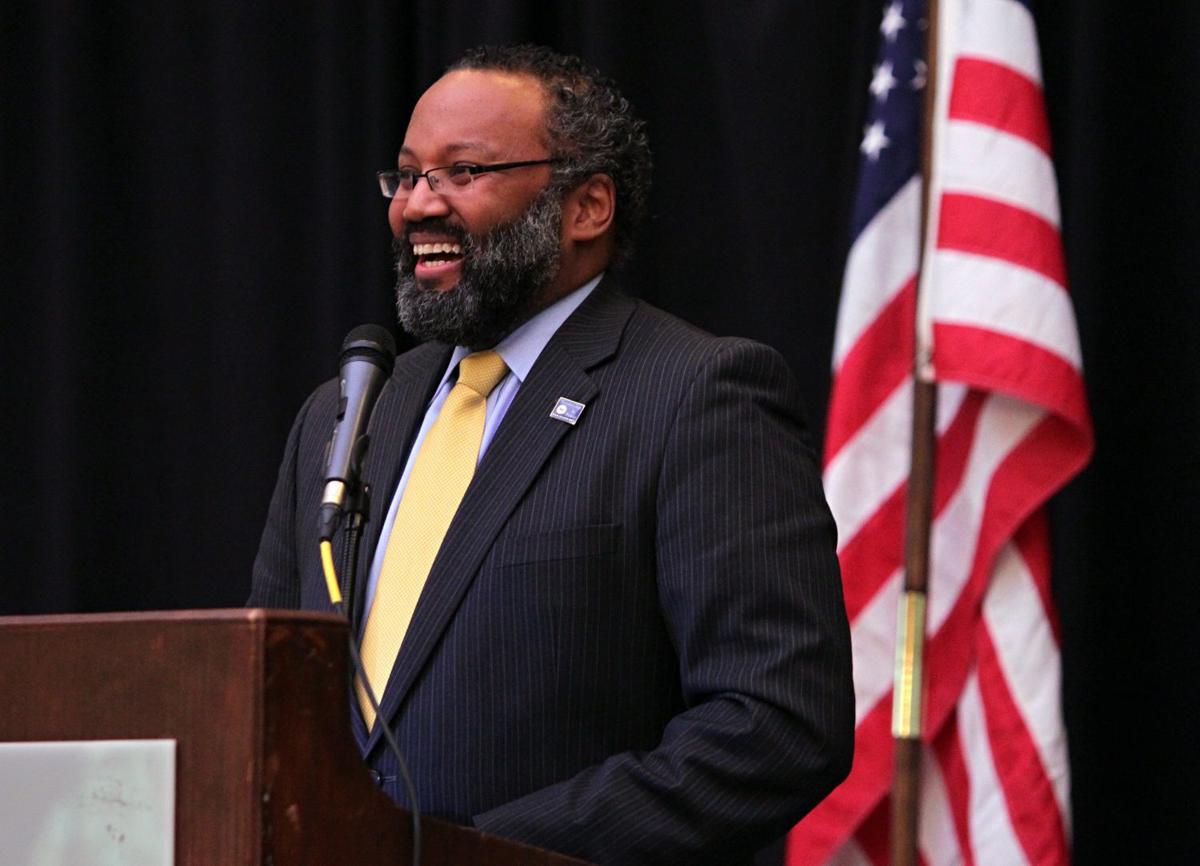 On a day when 20,000 members of the Urban League from all over the country were gathered in St. Louis for the group's annual convention, a sister civil rights organization issued a warning to African-Americans and other marginalized citizens:
Beware of traveling in Missouri.
That's the message in an emergency resolution passed by the NAACP on Wednesday.
The resolution is signed by interim president and CEO Derrick Johnson; chairman of the national board of directors Leon Russell; and senior vice president for advocacy Hilary Shelton.
Citing the signing of Senate Bill 43 by Gov. Eric Greitens, a law that rolls back discrimination protections for employees in the state, the NAACP resolution said the organization "shall warn people of the dangers of travel through the State of Missouri and nation."
The resolution is not a boycott but a "travel advisory," and it cites more than the controversial legislation that will make it easier for employers to discriminate. The document is a reminder that three years after Ferguson and the death of Michael Brown, being black in Missouri can get you killed.
That's what happened to Tory Sanders in March when he died at the hands of jailers in rural Mississippi County. His crime? Driving While Black. Sanders, who lived in Nashville, Tenn., and was mentally ill, was driving in the rural Missouri county when he ran out of gas. Stuck in Missouri, he called his mom.
"If I go to the police, will they help me?" he asked, according to a story by reporter Doyle Murphy in the Riverfront Times. "Sure, they'll help you," she replied.
Hours later, he was dead. Sanders was pepper sprayed and hit with a Taser at least three times. Now the sheriff, Cory Hutcheson, is being investigated by Missouri Attorney General Josh Hawley. Hutcheson was already facing 18 criminal charges in two unrelated incidents.
The resolution cites two men from India who were shot near Kansas City this year because a white patron in a bar thought they were Muslim. Srinivas Kuchibhotla died from his injuries. He was 32.
"Missouri fosters racial and ethnic disparities in Education, Health, Economic Empowerment, and Criminal Justice," the resolution reads.
The travel advisory is the brainchild of Jefferson City attorney Rod Chapel, president of the NAACP in Missouri.
In February, Chapel was silenced by the chairman of a Missouri House committee when he appeared to testify against a bill that was similar to the discrimination-rollback measure that became law. As Chapel recounted recent Missouri history, from Ferguson, to the University of Missouri protests, to the annual racial profiling numbers issued by the attorney general, he said the state had become a national "laughingstock" when it came to discrimination.
The chairman, Rep. Bill Lant, R-Pineville, cut off his microphone. He didn't want to hear what Chapel had to say.
"I've never seen anything like it," Chapel told me at the time. "It's nuts. He invited me to give public testimony at his committee and then wouldn't let me talk."
Chapel and other anti-discrimination advocates urged Greitens to veto the bill. They told him there would be national consequences. Now one of the nation's largest and most prominent civil rights organizations is warning its members.
Be careful in Missouri, it says.
Be aware that according to the state's own numbers, if you are black, you're 75 percent more likely that a white person to be searched if you get pulled over for a driving infraction. If you're Hispanic, you are more likely to be arrested in Missouri after a traffic stop even though you are less likely to be found with "contraband" than a white driver.
In Missouri, a state senator whose private business was being sued by black employees for discrimination filed a bill to make such lawsuits much more difficult to file. The Missouri Legislature passed it. Greitens signed it.
The governor had been invited to speak Wednesday at the Urban League's conference. (His office said he declined because of a scheduling conflict.) Chapel, the NAACP leader, had a message for his colleagues in civil rights advocacy who were at the conference: