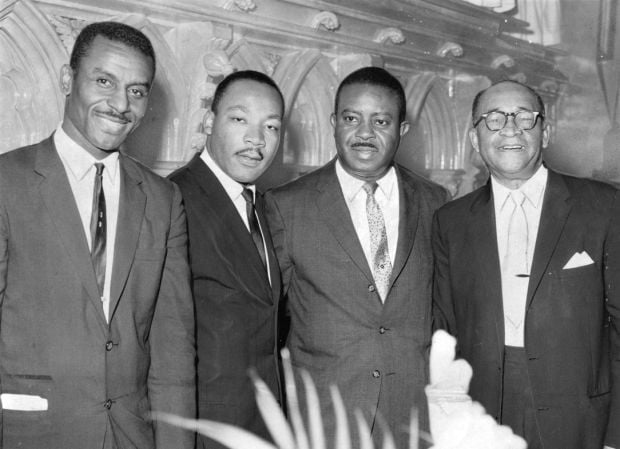 The Rev. Ralph D. Abernathy had the blues.
It was May 28, 1963, and the Atlanta pastor and civil rights leader was speaking at the Washington Tabernacle Baptist Church in St. Louis along with the Rev. Fred L. Shuttlesworth and the Rev. Martin Luther King Jr.
More than two decades before President Donald Trump would tell four women who are elected members of Congress to "go back" to the "crime infested places from which they came," Abernathy explained to a crowd of 3,000 why such language was so deeply offensive and un-American.
"I've got the St. Louis blues," Abernathy said. "I'm as blue as I can be. There is something wrong in America today. There is something wrong in this nation today. And I know that if the wrong is ever to be made right that you and I must rise up and assume our duties and responsibilities in making that wrong right."
A recording of his remarks was sent to me this week by lifelong St. Louis resident Victoria Ryan-Bailey. Born in the segregated St. Louis Maternity Hospital in 1955, Ryan-Bailey grew up in the West End.
She graduated from Lindenwood College in 1977 and received a master's degree from St. Louis University in 1983. Recently, her brother was helping the Rev. Earl Nance Jr. move to a new condo. Nance was 9 when Abernathy and King came to town to preach at his uncle's church. Sifting through some items left behind in the move, Ryan-Bailey found a cassette marked "King."
It was Abernathy who addressed the racism that once again is bubbling up at Trump rallies with chants of "send her back."
"I bring you greetings from a people today that are no longer afraid. People who realize that this is their nation. People who helped to build this nation with their sweat their blood and their tears," Abernathy said.
"I had a letter the other day from a white lady who said to me, Rev. Abernathy, what you must do is organize a movement to take all the Negroes back to Africa. And if you will do that I will be the first one to make a $5,000 contribution. I try to be nonviolent and follow the advice of my leader, but I wanted to write this lady who gave no return address … and I wanted to raise one question with her and then I wanted to make one statement. The question was something like this: How in the devil can you go back to where you've never been? Africa is not our home. We are citizens of the United States of America. Africa was the home of our ancestors. We don't know of a single jungle in Africa but we do know something about Washington Boulevard in St. Louis, Missouri!"
Abernathy built to a crescendo: "And then the next thing I wanted to tell her was something like this: Until the Englishman goes back to England, until the Frenchman goes back to France, until the Italian goes back to Italy, until the German goes back to Germany, until the Mexican goes back to Mexico, until the Filipino returns to the Philippine Islands, and until the white man returns this country to the Indians, the Negro is here to stay."
For the entire history of our country, nearly every immigrant group, including all the ones mentioned by Abernathy, has at one time or another been stung by the "go back to where you came from" slur.
So pardon Ryan-Bailey if she doesn't give politicians who refused to strongly rebuke Trump, particularly Republican senators like Missouri's Roy Blunt and Josh Hawley, the benefit of the doubt.
"When people say 'go back,' it's the same as saying you don't belong, you're not part of us, we don't value you, your gifts nor your very existence," Ryan-Bailey says. "I can't imagine how a man who says he values me as a citizen and a descendant of a slave can ask me to 'go back' to any nation other than America."
Hawley in particular appears to be auditioning for a job as Trump's court jester.
Last week he could be seen smirking behind Vice President Mike Pence as the men viewed migrant men and children in cages at the border. Clear video and on-site reporting documented abusive and inhumane conditions, and then the two sheepish and disingenuous politicians offered statements that belied what Americans could see with their own eyes.
Then, following Trump's racist rant against the four Democrats of color, Hawley, a graduate of Stanford and Yale, doubled down, giving a speech to a conservative group in which he quoted Jewish professors out of context, and lamented the elitism of the "left", marked by "globalization" and "cosmopolitan consensus."
Many Jewish scholars and activists recognized the speech as a dog whistle to white supremacists, using the same language long affiliated with anti-Semitism.
"The senator's speech in its entirety raised real concern for members of the Jewish community who are and should be acutely sensitive with increased incidents of anti-Semitism in the U.S. and beyond," said Karen Aroesty of the Anti-Defamation League Heartland.
"We asked the senator for an apology for even unintended harm caused — for the senator and all who have a public platform that is powerful, context matters, words matter."
They mattered in 1963, a pivotal time in the civil rights movement. They matter again today, when so many of the lessons of King and Abernathy are being trampled upon by a racist president and his silent enablers.
"One day," says Ryan-Bailey, they will answer for their misdeeds. "All of these so-called leaders, who are only human, will have to answer or repent for their inaction on this very human topic. No money or party will save them from judgment."