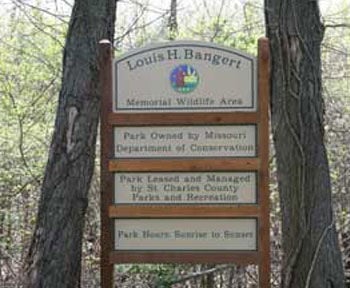 Bill Eigel has a problem.
The problem isn't that such an earmark in a tight budget that can't find enough money for schools, roads, health care or prisons is a stray from the stated beliefs of the new "conservative caucus" that Eigel helped form, though it is.
The problem isn't that Bangert Island is in the Missouri River, floods regularly (as it should), and was donated as parkland to be kept in a wild state, even though all those things are true.
The problem, history tells us, is that Eigel isn't thinking big enough.
Here, the memory of one of the most delightfully ambitious members of the Bangert clan would be an example of what should guide Eigel and his friends in the city of St. Charles who envision a commercial and entertainment district in and around the island that is flooded even as lawmakers debate the budget.
Bill Bangert was the mayor of Champ, a municipality he created.
He was 6 feet, 5 inches tall, a 265-pound strong man who first gained fame as a Golden Gloves champion. In the 1950s he bought some floodplain land on the St. Louis County side of the Missouri River and incorporated the region's tiniest village. Bangert thought big: He planned to build a massive 115,000-seat stadium for professional sporting events, maybe even an Olympics.
The idea never made it off the ground.
But Bangert kept dreaming.
In 1997, he came up with an even bigger idea.
He wanted to build a new island at the confluence of the Missouri and Mississippi Rivers as a tribute to the Lewis and Clark Expedition. In the middle of the island would be a fountain that would shoot water 1,000-feet in the air. There would be lasers and holograms and hovercraft! And a big hotel, of course. "It would be something spectacular!" Bangert said at the time.
It was just a few years after developers had pitched the city of St. Charles on an idea for the former Willow Island, which was later named for Louis H. Bangert after it was deeded to the Missouri Department of Conservation by Edwin and Anna Luise Kurtz.
In 1994, Vegas came calling, with a riverboat gambling project, including a three-deck floating casino docked to the island. Other gaming companies also eyed the land.
One of them was owned by none other than Donald Trump.
This is where Eigel is missing his opportunity.
In today's Republican Party, there is nothing more "conservative" than whatever it is Trump decides to do on any given day. Bankrupt farmers with a tariff war? Conservative. Bail them out with a taxpayer handout? Conservative. Use taxpayer funds to hang out at his own properties while campaign donors — and Chinese spies — flock there for one-on-one meetings? What could be more conservative than that?
St. Charles officials suggest their new vision for Bangert Island is more akin to the San Antonio Riverwalk, or the shops at Branson Landing (which also end up under water every now and then).
Perhaps they're not thinking big enough.
How about a Trump Tower, with a nightly laser show featuring holograms of America's 45th President?
And when the yearly flood comes, the patrons could ride hovercrafts to safety, perhaps across the river to the landfill in Champ.
If only there were a sports stadium there to keep everybody dry.
That idea, of course, never came to fruition. Neither did the big island on the confluence nor the Bangert Island casino.
But the spirit of developing floodplain land in the region — Floods? What floods? — continues unabated.
"This is precisely the type of floodplain development we have seen over and over in the St. Louis region for decades, and it is an indisputable fact that the combined effect has been to make flooding worse, put lives at risk, and harm our environment," Stokes said.
The Greenway Network, dedicated to preserving watersheds in the St. Louis region, is also opposing the Bangert Island development, instead recommending that St. Charles officials recognize the value in preserving the natural area for trails and other conservation purposes.
Greg Poleski, a co-founder of the Greenway Network, calls the commercial development proposal a "boondoggle."
Maybe some lasers would change his mind.