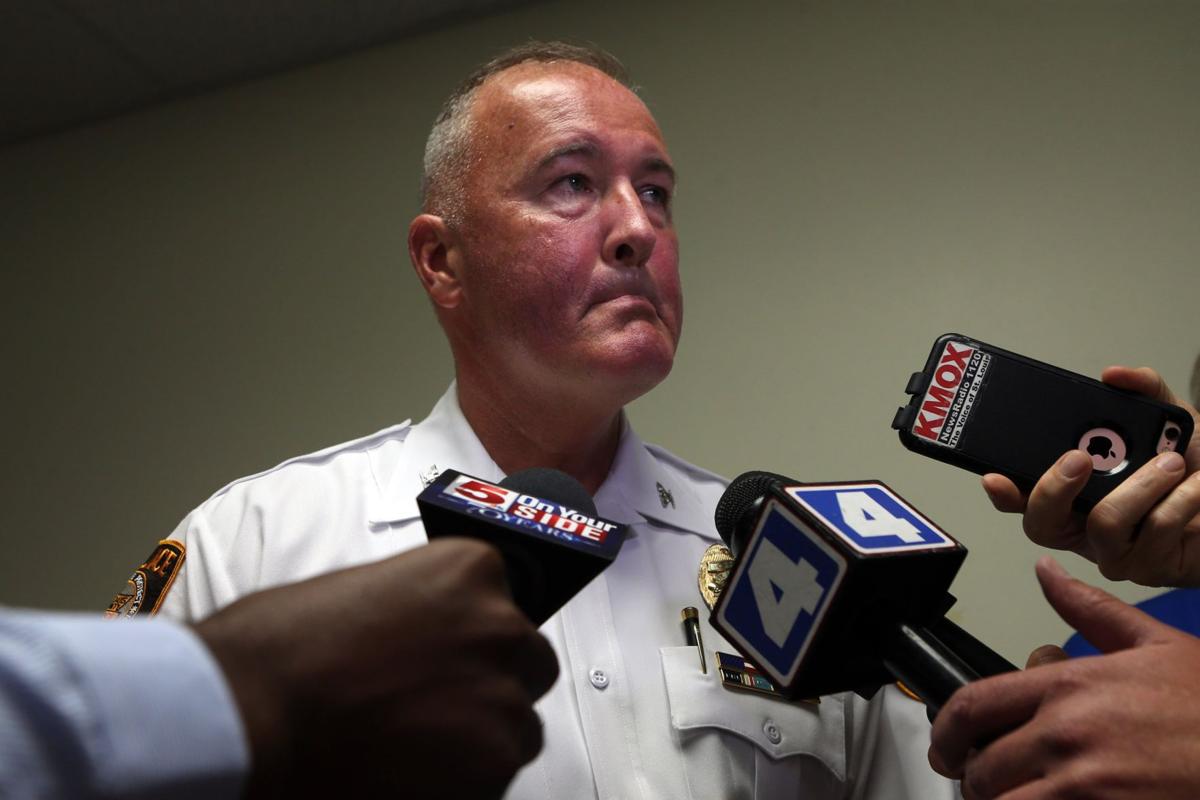 St. Louis County Police Chief Jon Belmar has a $5,000 secret.
That's how much he wants to charge me to see public documents that verify that the county police officers under his command had an "unprecedented" year in 2016 in terms of protecting citizens on MetroLink transit.
Belmar makes the claim of never-before-seen success in a commendation he issued to the entire MetroLink unit on Nov. 22. That same day, he told the police board that 11 officers in that unit would be reprimanded for various violations of county police policy. They were caught on videotape loitering in offices when they were supposed to be patrolling platforms, covering up the video cameras that were ultimately used against them, and potentially other violations of policy.
We don't know what the reprimands say because Belmar won't provide them. Nor will he provide the investigation that led to the reprimands.
But here's where things get weird:
He also won't provide the "700 arrest reports" and "750 police reports" that he cited as evidence for the unit's extraordinary work, not unless I write him a check for $4,932.95.
That's what Lt. Juan Gomez, the custodian of records for the department, wrote me after I filed an open records request for the documentation that underlies the commendation.
• All 2016 arrest reports and police reports produced by the MetroLink unit.
• All daily or weekly duty rosters for the county officers assigned to the MetroLink unit in 2016 and 2017.
• All activity or summary reports produced by Capt. Scott Melies for 2016 regarding the MetroLink unit.
Gomez, surely at Belmar's direction, won't provide the duty rosters at all, even though I received similar documents from Metro transit when I asked for them. Those rosters and other Metro records raise questions about Belmar's claims of massive law enforcement activity.
So I asked for the county's records. But Belmar wants to charge me nearly $5,000 for the documents — all of them clearly public records. The charges are "to compile and perform any potential appropriate redactions," Gomez wrote.
Here's a question: If the documents weren't already compiled, how did Belmar know how many arrests and reports there were when he issued his commendation?
Answer: It's simply a ruse by a department that is hiding from the truth.
Sadly, such a move is not an uncommon strategy deployed by government officials seeking to avoid disclosure of public documents. By charging outrageous sums of money for compilation and redaction, officials can delay releasing potentially embarrassing documents or avoid them altogether.
Dave Roland knows the scheme well. The attorney and director of the Freedom Center of Missouri says such attempts are becoming "increasingly common."
"Faced with such exorbitant costs, many citizens simply forego their requests," Roland says. "It seems that the St. Louis County Police Department is doing something along these lines. … Lobbing up fairly ridiculous objections to producing records is yet another way that government entities tend to discourage citizens from pursuing their rights under the Sunshine Law."
Belmar, of course, is simply following the example of other St. Louis County officials, such as prosecuting attorney Robert McCulloch. In 2015, McCulloch was sued by Guardian journalist Jon Swaine, who was seeking emails and other documents related to the killing of Michael Brown in Ferguson and the grand jury process that followed. McCulloch delayed and ultimately sought exorbitant costs for redaction. Swaine sued, and he won.
The attorney who filed the case, Jean Maneke of Kansas City, points out the the ruling, reached in January by Circuit Court Judge Barbara W. Wallace, found that public officials can't charge for redaction.
I sent a copy of the ruling to Gomez. It didn't change his mind.
Eventually, a court will.
Attorney Dan Kolde believes his case could set the stage for a new statewide standard. Last year, the Clayton attorney filed a lawsuit in Boone County against the University of Missouri after it tried to charge his client, the Beagle Freedom Project, more than $82,000 for inspection records kept on animals used for research and testing.
Kolde, Maneke and Roland all believe the Sunshine Law doesn't allow for such charges. Kolde hopes his case sets that precedent once and for all.
Until then, it's as if Belmar is standing on the chair in his office, putting tape over the metaphorical camera that allows the public to see how he is spending their money. He says his officers are doing a great job, but he's not so confident that he's willing to show us how he reached that conclusion.
It's an odd position for a lawman. You might even call it unprecedented.