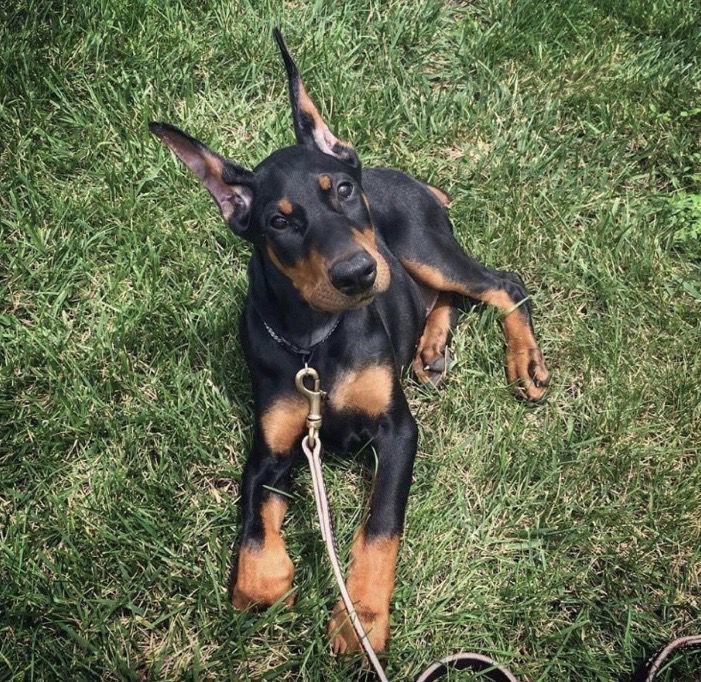 Stanley didn't die in the fire.
In his last bit of humanity before allegedly shooting his wife, setting his house ablaze and killing himself, Michael C. Boal put Stanley in the car on the street in front of their home in Wildwood. He texted his daughter, Kaitlyn, and told her where Stanley was.
Stanley is a Doberman. He was the beloved pet of Bobette Everhart-Boal, who was found shot outside her Chesterfield apartment earlier this month. Police believe her estranged husband — she had filed for divorce — killed her.
Stanley ended up at the St. Louis County Animal Care and Control Shelter. That's where Heather Budwell and Connie Kroenung went two days after their good friend, Bobette, died. On behalf of her kids, Kaitlyn and Andrew, both young adults grieving the death of their parents, they sought to retrieve Stanley, the family pet.
In a letter to St. Louis County Counselor Beth Orwick, animal rights attorney Dan Kolde, who represents family and friends seeking to regain possession and ownership of Stanley, outlined what happened.
"Unfortunately, St. Louis County and its Animal Care and Control employees have actively thwarted the attempts of Ms. Everhart-Boal's friends and family to regain custody of Stanley," Kolde wrote on Thursday. "They have ignored the most basic principles of trust and estates law and substituted their judgments for those of our lawfully empowered probate courts."
According to Kolde's letter, Stanley's friends, as representatives of Everhart-Boal's children, tried to explain to an animal control employee the tragic circumstances. The employee said the dog could only be released to an owner on the microchip. "I know the story," the employee allegedly said. "I watch the news. I know they're dead."
So the Friends of Stanley contacted a Chesterfield police detective, who, after investigating, told Budwell and Kroenung that animal control intended to return the dog to another person listed on the microchip record, the original breeder who sold Stanley to the Boals.
That's what happened the next day.
The breeder is Bob Hallahan of RMH Dobermans in Ohio.
"There is no dog named Stanley anymore," Hallahan told me when I called. "He's been renamed and sold to a new home."
(After this column was published online, Hallahan called back and said that the dog had not been sold.)
Told the children of Stanley's deceased owners wanted him, at least to have an opportunity to say goodbye, Hallahan was unapologetic.
"That's not going to happen," he said. "They really should have read the contract. If the owners are unable to keep the dog, then the dog comes back to the breeder. End of story. It's nothing personal."
It is to the Friends of Stanley.
"Bobette was a bright light who brought joy to everyone she met," Budwell said. "She loved Stanley so much and I know what has happened to Stanley would break her heart. We are fighting for our friend who has lost her voice and for Stanley who is also a silent victim in this horrific tragedy. The children want to see their beloved family pet again, and this injustice can not be allowed to go unnoticed or be tolerated."
The county, which has been aware of previous issues in management at the animal control facility, says it is looking into the situation regarding Stanley.
"We take this issue seriously and we are actively looking into it," said Doug Moore, a spokesman for County Executive Sam Page. "An audit earlier this year of the Animal Care and Control Center identified several concerns that had been ignored for years and we are working diligently to implement those recommendations."
This is not Kolde's first battle with animal control in the county. He fought against the previous director of the facility before she was fired. He stood up for the volunteers who were told to "reapply" for the jobs. He's frustrated that the facility acted so quickly to get rid of Stanley when holding on to him would have been the prudent move.
"St. Louis County taxpayers spend millions of dollars on this shelter each year," Kolde says. "But the shelter is in total dysfunction, mostly due to a longstanding crisis in leadership. … This is actually a pretty easy and straightforward legal question about property. The county had a piece of property with multiple potential claimants alleging right of possession and ownership. It is the court's job to figure this out. So all the county had to do is keep Stanley safe in its care until things got sorted out."
That's not what happened.
Instead, Stanley, or whatever name he goes by today, is somewhere else, likely in another state, possibly living with another family, as the children who helped raise him mourn the deaths of their parents, and the loss of a family pet taken from them amid tragedy.
It's possible that the children of Everhart-Boal would not be in a position to keep and care for Stanley. But that's not the point, Kolde says.
"In their mourning, they wanted Stanley with them," Kolde wrote to the county counselor. "He is part of their family, and should be grieving with them, too."
From City Hall to the Capitol, metro columnist Tony Messenger shines light on what public officials are doing, tells stories of the disaffected, and brings voice to the issues that matter.