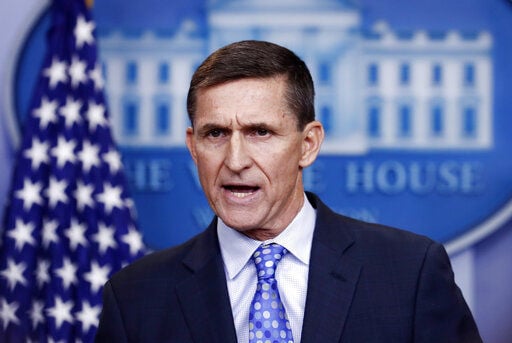 Eric Schmitt is a prosecutor's prosecutor.
That's the message Missouri's attorney general is sending by signing his name to an amicus brief with 14 of his Republican counterparts in the ongoing dispute over former Gen. Michael Flynn's lying to the FBI.
That Flynn, the former national security adviser, lied isn't in dispute. He already pleaded guilty to it. But under increased pressure from the administration of President Donald Trump, who is understandably tired of many of his top advisors pleading guilty to or being found guilty of committing federal crimes, U.S. Attorney General William Barr has decided to rescind the prosecution of Flynn.
Judge Emmet Sullivan has not dismissed Flynn's case, as Barr requested. Instead, he's appointed a former U.S. attorney to file an amicus brief advising him on the decision, and he's requested other amicus briefs from interested parties.
This is where Schmitt and his fellow Republicans, no doubt solidifying their Trump loyalist bona fides, come in.
The state AGs, their brief argues, each understand "the complex nature of the decision to pursue, or not to pursue, a criminal conviction. And each understands the importance of allowing prosecutors to make this decision — a decision that may well be immensely unpopular — free from judicial interference. … The decision to charge is often a prosecutor's most-noticed act, but the most consequential decision is often the decision not to pursue charges. Our system depends on prosecutors' ability to make this decision unimpeded."
Schmitt and his colleagues make a solid point. What Sullivan is doing is rare, and an appeals court has ordered him to explain his actions.
But for Schmitt, the argument poses a problem.
He's made the exact opposite one in a case in Missouri.
Last year, St. Louis Circuit Attorney Kim Gardner filed a motion seeking a hearing for a new trial for Lamar Johnson, who has spent 24 years in prison for a crime that Gardner says he didn't commit. She accused a former prosecutor of prosecutorial misconduct, police of lying, and said that a report from her Conviction Integrity Unit found that Johnson was innocent of the murder for which he had been convicted.
The judge, not trusting Gardner to exercise her prosecutorial discretion, appointed Schmitt to represent the state's interest. Schmitt said Gardner had no right to seek Johnson's freedom. He specifically argued against prosecutorial discretion. The case is now pending before the Missouri Supreme Court.
Gardner is asking the Missouri Supreme Court to take note of Schmitt's apparent contradiction:
"The Attorney General's positions are inconsistent. His position in the Flynn case — that it is within the unfettered discretion of the prosecutor to dismiss charges after a defendant has pleaded guilty, cannot be squared with his position before this Court — that a prosecutor cannot even seek a hearing when she determines an incarcerated person is innocent," her attorney, Daniel Harawa, wrote in a brief filed last week.
Schmitt, not surprisingly, doesn't want the Missouri Supreme Court to consider as evidence the brief he signed in the Flynn case. The issues are different he says. One, (Flynn) is about the U.S. Constitution. The other (Johnson) is about state court procedures.
"There are clear distinctions between the two cases, mainly state and federal law and pre- and post-conviction differences," said Schmitt spokesman Chris Nuelle.
The argument, of course, ignores that the U.S. Constitution underlies nearly every case argued before courts at the state or federal level, but never mind that.
Miriam Krinsky, a former federal prosecutor and founder and executive director of nonprofit Fair and Just Prosecution, says it's clear by the Flynn brief that Schmitt is simply playing politics.
"There is no other way to reconcile those positions except to conclude that the Missouri Attorney General values justice for political allies far more than he values justice for ordinary Missouri citizens, like Mr. Johnson," Krinsky says.
Here's what Schmitt's dueling arguments come down to:
In a case involving the president's ally, in which guilt is already established and agreed to by all parties, a judge should get out of the way and let voters decide at the next election if the action of the prosecutor is acceptable.
"The judiciary is supposed to function as a constitutional check on deprivations of liberty — it is not supposed to remove constitutional checks on deprivations of liberty. But that is exactly what the Court would do by second-guessing the prosecutors' decision not to continue pursuing this case," Schmitt and his fellow AGs wrote. "The People, no doubt, will still have their say at the ballot box — they can vote out of office the President or the State Attorney General whose prosecutorial decisions they disagree with."
But in the case of a Missouri prosecutor, a Democrat, trying to free a black man she believes was wrongly convicted?
Well, that's different, Schmitt says.
Gardner doesn't even get to ask for a hearing. The voters be damned.