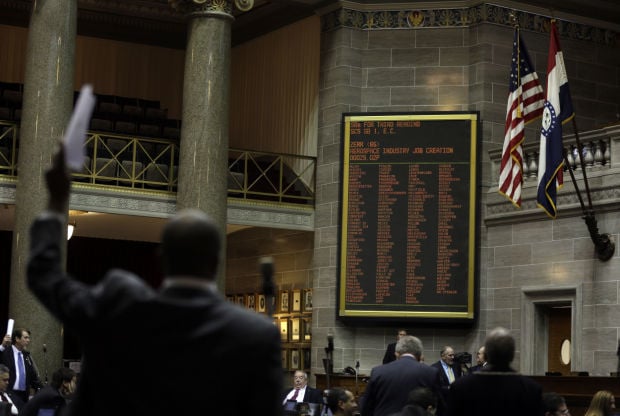 Eight years ago, Jason Crowell tried to do in the Missouri Senate what voters did last month.
The Legislature was debating an overhaul to state political ethics laws, and Crowell, a Republican from Cape Girardeau, sought to add an amendment to the bill that would create a two-year waiting period before state lawmakers could become lobbyists.
Many of his colleagues, one in particularly, took offense.
Sen. John Griesheimer, R-Washington, an affable man known outside the chamber as "Greesy," suggested current members of the Legislature should be exempted from the proposal.
"Do you want to be a lobbyist?" Crowell asked his Republican colleague.
"Well," Griesheimer said, "maybe."
The amendment failed. A watered down version of the bill passed and was later overturned by the courts. And that's why, in November, Missouri voters were presented with the opportunity to pass Amendment 1. Sponsored by the bipartisan coalition known as Clean Missouri, the constitutional amendment did many things contemplated by lawmakers over the years but never passed, including limiting gifts from lobbyists and closing the revolving door that in Missouri had become legendary.
Griesheimer never became a lobbyist. He returned to Franklin County and was elected presiding commissioner. But plenty of his colleagues did.
In 2005, a study by the Center for Public Integrity ranked Missouri fifth in the nation in the number of lawmakers who became lobbyists. There were 45 at the time, and many more have been added since then.
The biggest moves were at the top of the food chain: former Speaker of the House Steve Tilley, who still uses a massive campaign account to supplement his lobbying; and former Senate leaders Michael Gibbons and Tom Dempsey, who both ended up working with or for companies or individuals who were major donors to their previous campaigns.
In both parties there have been countless similar examples.
Some of those former lawmakers may end up becoming very good and knowledgeable lobbyists, but there's a reason that Congress has long had a one-year cooling-off period and Missouri will be joining many states with a two-year prohibition against lobbying. It reduces the opportunities for lawmakers to do the bidding of their biggest donors while in the Legislature and then go to work for them immediately after they've passed legislation to cut their taxes or benefit them in some other way.
This week, almost as a validation of what Missouri voters did in November, several state lawmakers resigned their seats before Amendment 1 took effect on Dec. 6, to preserve their right to cash in on their public service immediately.
In St. Louis there was Democratic Sen. Jake Hummel and in Ferguson there was state Rep. Courtney Allen Curtis, also a Democrat. Elsewhere, Republican state Reps. Kevin Corlew and Kirk Mathews hung it up early. In all, there are 13 openings currently in the House, and three more in the Senate, most because of the highest number of resignations since 1994.
Some of those lawmakers were awarded plum state jobs by new Gov. Mike Parson.
If you were among the 62 percent of Missouri voters who were on the right side of Amendment 1, lawmakers leaving the Capitol are seemingly validating your vote. Meanwhile, others are already trying to overturn it. A Missouri Republican Party committee has donated $150,000 to a hypocritically named political action committee called Fair Missouri that hopes to overturn at least some elements of that which voters just passed.
Apparently, the people in power are afraid of change.
"The way business gets done in the Missouri Capitol is changing, and for the better," says Sean Nicholson, who ran the Amendment 1 campaign. "A couple of years ago, legislators created a tiny speed bump for politicians who wanted to become lobbyists. But we could all see through that law for what it was. As former U.S. Attorney Catherine Hanaway said, it was 'lip service' to ethics reform — or more forcefully, 'Exhibit A of how our legislature is breaching the public trust.'"
"If that opportunity came in the future," he said, "I wouldn't necessarily say no."
Whoever replaces Curtis in the Legislature won't have the same opportunity. Instead, he or she will go to Jefferson City knowing that their public service won't necessarily lead to a payday on the back end, and they'll have to stretch their per diem a little bit to pay for their own meals.
"Voters created the chance to clean up their state government with hundreds of thousands of signatures last year, and then they made it happen last month at the ballot box," Nicholson says. "The revolving door is closed."
From City Hall to the Capitol, metro columnist Tony Messenger shines light on what public officials are doing, tells stories of the disaffected, and brings voice to the issues that matter.