It was the photo that caught James Rogers' attention.
There it was, in one of those triangle-shaped frames that often carry U.S. flags, visible on a table behind retired Cpl. Liz Roberts. Roberts, a retired Army veteran, was speaking in a video posted on the website of Missourians for Patient Care, which is seeking to put an initiative on the November ballot to legalize medical marijuana.
"I am retired due to a spinal cord injury," Roberts says, seated in a wheelchair. Medical marijuana, she says, "gives patients like me hope."
Rogers watched the video and focused immediately on the photo.
It is of the 82nd Special Troops Battalion. Rogers, who lives in Pevely and is a retired disabled veteran, was a platoon sergeant in that unit. The photo was taken in Afghanistan.
Liz Roberts isn't in it. Douglas Roberts is. That's who Liz was during her eight years in the Army. That's who served under Rogers' command.
The video that was used to promote a ballot initiative was misleading at best.
If this were a simple case of a transgender soldier transitioning after service, Rogers wouldn't care. But it's not. The problem is that Roberts' stories change depending on who she's talking to, about her gender, about her service, about how she ended up in a wheelchair.
So much of what Liz Roberts has told veterans, politicians, reporters and others about her background simply isn't true.
Hers is a case of stolen valor, say two men who served with her when she went by her given name.
"She was lying about everything," Rogers says. "It's a complete disgrace. I'm embarrassed to say I served with her."
A transition, of sorts
Liz Roberts is not transgender. She is not transitioning.
That is what she told me in a phone interview early this month.
"I've been a woman all my life," she said. "I was one of the first hermaphrodites in the military. The Army changed my sex for me."
There is no evidence that either of those last two sentences is true.
Because Roberts identifies as a woman, the Post-Dispatch is using female pronouns to refer to her throughout this story.
According to various copies of Roberts' military records, including her DD 214, the standard record of service issued to a soldier upon discharge, Douglas Duane Roberts served in the Army between 2006 and 2014. Roberts was a rigger — somebody who packed parachutes — who served one tour in Afghanistan. She was retired by the military because of a temporary disability.
Roberts' records say nothing about being born with both male and female genitals or undergoing sex re-assignment surgery. In fact, the Army's first such gender re-assignment surgery for a transgender soldier was in November 2017, more than three years after Roberts left the military.
By then, she was living in Missouri.
It was Rogers' wife, Jen, who drove her here.
James Rogers had reconnected with Roberts by Facebook, after hearing from a member of his platoon that Douglas was now going by Liz.
"She said she was being mistreated by the VA hospital in Maine, where she was living," Rogers told me. "She was a soldier of mine, so I opened my home to her."
In March 2017, Jen Rogers and her son drove to Augusta, Maine, to bring Roberts back to live with the family. She told the Rogers family that she was transgender now and was taking estrogen pills in preparation for gender reassignment surgery. She said a motorcycle accident in North Carolina had made her a quadriplegic, which led to her disability retirement from the military.
Soon, though, her story, particularly about her medical issues, started falling apart.
Jen Rogers was acting as Roberts' primary caregiver, but when she talked to officials at the VA, they gave her different medical information than Roberts did. After about a week living with James and Jen Rogers, Roberts ended up as a patient at John Cochran Veterans Affairs hospital in St. Louis.
A new friend
Roberts met John Grady at the VA. Grady, who lives in Wentzville, is a disabled veteran who tries to help other disabled veterans when he can. Grady also is an advocate for medical marijuana, a passion he found he shared with Roberts.
"We became friends," Grady says. "She became almost a part of our family."
Roberts moved in with Grady and his wife, Kara. The Gradys met in the Navy in 1996 at a base in Chicago. They were married within a month. When they met Roberts, they opened their home to her.
She spent Christmas with their family. They took her to their farm near Hermann.
"We gave her our bedroom," Kara says. "We slept on the couch."
It didn't take long for some of Roberts' stories to raise questions. She told the Gradys the same thing she eventually told The Missouri Times, in a story about her efforts to promote medical marijuana: that she had been injured by an improvised explosive device while serving in Iraq. She told Kara Grady that she was pregnant at the time.
Roberts was never in Iraq. She never served as a woman. According to Jen Rogers, who changed the adult diapers that Roberts sometimes wears, Roberts still has male genitals.
"She started saying things that weren't lining up," John Grady says.
Her stories about Iraq really bothered him. Grady did two tours in Iraq, and Roberts' stories didn't match his recollections. She kept talking about being the first woman to serve in various combat situations. At the time, Grady had no idea that Roberts had served as a man, and never in Iraq.
So he started checking out her story. He found Rogers, who filled him in.
The Gradys broke off their relationship with Roberts.
They didn't plan to tell anybody about what they believe is her "stolen valor," a term for people who claim military accomplishments they didn't earn.
Promoting a cause
The video was posted on the Missourians for Patient Care site, on YouTube and on Roberts' now defunct Facebook page, the one that had a photo of her with Lt. Gov. Mike Parson.
In the description of the video on Facebook, Roberts says she has a master's degree in aeronautical engineering. She says she is a pilot. Neither is true. "She is now a quadriplegic due to an IED blast she survived while serving her country in 2014," it says.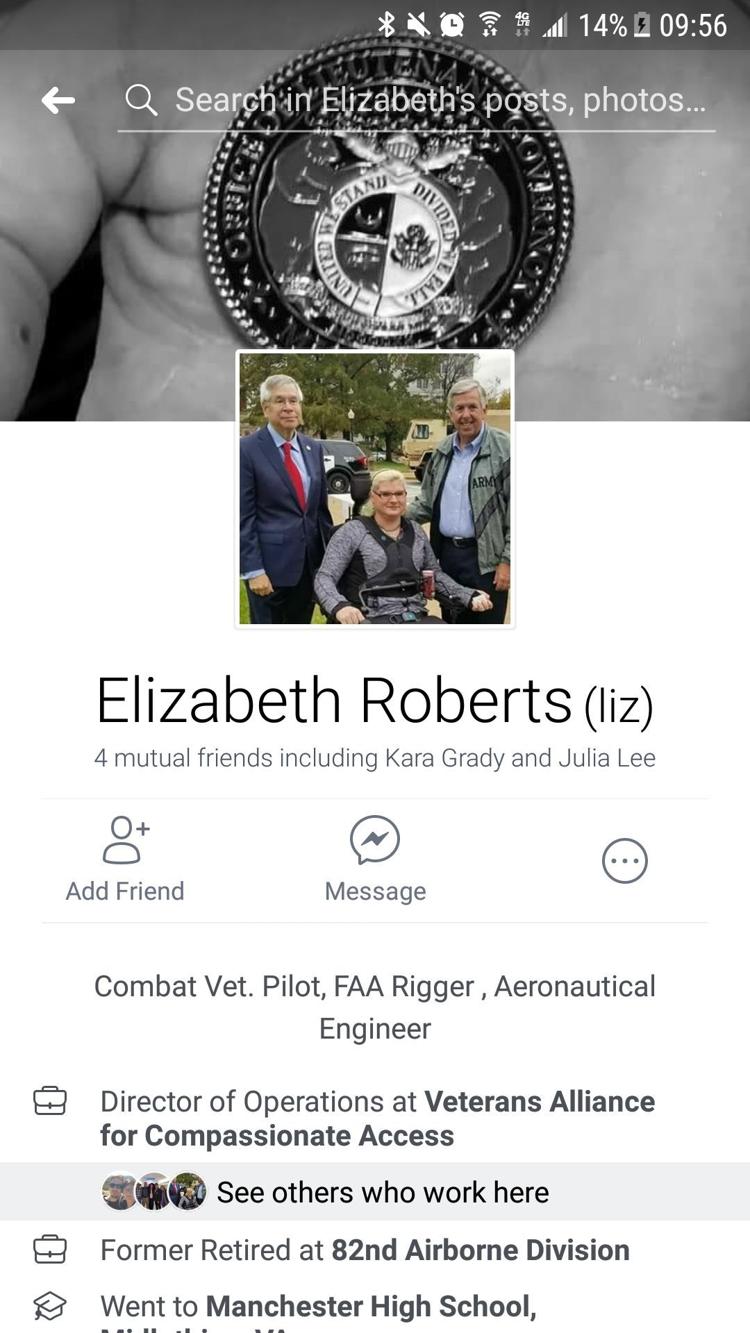 Her military records say she wasn't overseas in 2014.
When I talked to her, Roberts told me the blast was in Afghanistan, changing the story she told both the Gradys and The Missouri Times. She said she went to Maine from North Carolina to seek pain relief with medical cannabis. She was inspired to move to Missouri, she says, by the story of retired Sgt. Joshua Lee, founder of Veterans Alliance for Compassionate Access.
Lee is a medical cannabis advocate, well known to the community of veterans and political insiders who for years have been pushing Missouri toward legalization.
Roberts now lives with Lee and his wife. Both Lee and Roberts say they were attracted to Missourians for Patient Care because they say it was the best-written proposal among the three groups seeking to get medical marijuana on the November ballot.
"Of the various proposals, it would help the most veterans," Roberts says.
Both Roberts and Lee are vague about how they met the organizers of the initiative, but that's not surprising. Missourians for Patient Care is shrouded in secrecy.
In a proposal to donors that I reported on in February, organizers brag that they will keep donor information secret. They have done so, passing donations through a nonprofit organization by the same name that doesn't have to disclose its donors. That approach led to an ethics complaint filed in March against Missourians for Patient Care.
Among the organizers of the group are lobbyist Steve Tilley, a former speaker of the Missouri House; former state Rep. Mike Colona, D-St. Louis; and lobbyist Travis Brown, who runs political firms Pelopidas and First Rule, which are both funded primarily by mega-political-donor Rex Sinquefield, a retired investor living in St. Louis.
It was First Rule that shot the video of Roberts.
Until last week, it was one of three videos on the Missourians for Patient Care website promoting the initiative. The video was taken down after I started asking questions.
More secrecy
The organizers of Missourians for Patient Care won't answer questions. Neither Brown nor lobbyist Mark Habbas, who has acted as a spokesman, returned emails or phone calls for this column. Colona said in a text that the organization had a policy of making no public statements.
Then there's Mike Kielty.
When I started asking Lee and Roberts questions about Roberts' background, they both protested and said their lawyer would be in contact with me. Nobody called.
I asked Lee who the lawyer was and he said: "Mike." Knowing Kielty was involved in Missourians for Patient Care, I asked if he was the lawyer. No, Lee said, and he sent me the name of a firm that had two lawyers named Mike.
When I pressed for more information about Roberts' background, Lee said he wouldn't answer any more questions, and sent me Kielty's phone number.
Under the Missourians for Patient Care proposal, a board appointed by Stenger would control who received licenses in St. Louis County for marijuana dispensaries and growing operations.
Neither Kielty nor Rallo returned phone calls.
That doesn't sit well with the veterans unhappy about Roberts' videos being used to promote the cause of medical marijuana.
"I fully believe that Missourians for Patient Care should have known," Rogers says.
Hunt, of Tampa, Fla., was Douglas Roberts' squad leader in Afghanistan.
"I'm flabbergasted," Hunt says. "This organization should have also done the homework; the story changes every time she is asked or taken out of the limelight."
In the end, the various veterans are worried about the damage Roberts has done to multiple groups.
"She is doing damage to the medical cannabis movement, the LGBT movement, and disabled veterans," Kara Grady says. "I don't get it. We don't care one iota whether she's transgender or whatever. We care that she's lying about why she's in that chair."