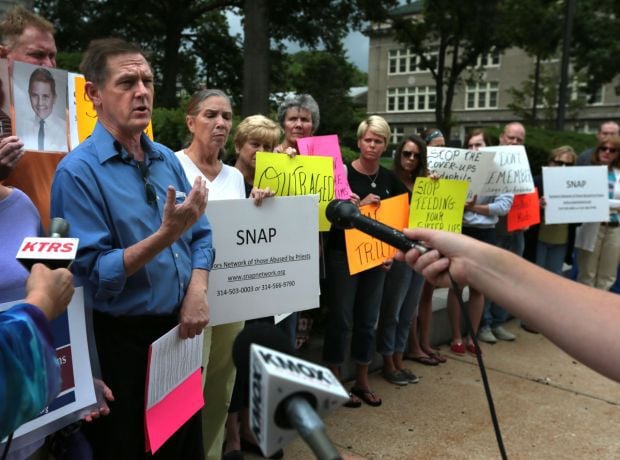 To say that Colleen Coble views the Missouri law that protects the confidentiality of sexual abuse and domestic violence victims as "her baby" is hardly an exaggeration.
"I don't have children," Coble says. "I have Chapter 455."
That is the section of Missouri law that says when a victim goes to a domestic violence shelter or rape crisis center to report a crime or seek help, the workers or volunteers there must keep the victim's information confidential.
The law also shields the confidential information and crisis center workers or volunteers from disclosure or testimony in court cases.
At least it did until late last month.
Jiang, a Catholic priest who was once associate pastor at the Cathedral Basilica in St. Louis, sued SNAP and two of its leaders, David Clohessy and Barbara Dorris, for defamation related to public statements they had made about alleged abuse reported to SNAP by victims. Jiang had faced criminal sexual abuse charges, but the criminal case against him was dropped in 2015.
In his lawsuit, Jiang and his attorneys sought victim information that SNAP and its attorney, Amy Lorenz-Moser, consider confidential under Missouri law.
In ordering SNAP to turn over confidential information, Lorenz-Moser said Judge Jackson put her clients in an impossible situation.
"It's an incredible Catch-22," she said. "Do you violate the order of the court or do you violate Missouri law?"
SNAP chose to be true to the state law to protect the confidentiality of victims' information.
But as a result, Jackson issued sanctions against the organization and ruled in favor of Jiang.
And that's what has Coble worried.
She believes the case will leave victims of sexual assault or domestic violence less protected if Jackson's ruling stands, and it will cause rape crisis centers to take the ruling into consideration when explaining their responsibilities to protect information to victims, as required by the law.
"We have a long history in Missouri of upholding the concept that the state has a duty to protect its citizens," Coble said.
That history is in jeopardy if Jackson's ruling stands, says Lorenz-Moser.
"This ruling doesn't just affect SNAP," she said. "It's about anyone who serves rape victims."
Lorenz-Moser plans to appeal the ruling, and she hopes the appeals court finds that Jackson simply got the law wrong when she dismissed the idea that the rape crisis center privilege found in Missouri law should apply to a federal case.
In her orders, Jackson based her determination that the rape crisis center privilege claimed by SNAP shouldn't apply in the Jiang lawsuit on a Missouri Supreme Court case titled Hope House vs. Merrigan.
In that ruling, written by Missouri Supreme Court Judge Richard Teitelman, the court determined that confidential information held by the domestic violence shelter should be protected. In fact, it determined that the level of protection on such information was even higher than other forms of confidential "privilege" such as attorney-client privilege.
"Although trial courts are generally vested with broad discretion regarding discovery, requiring Hope House to produce statutorily protected information is an abuse of discretion," Teitelman wrote for the court.
Jackson argued the Hope House case actually limited protection for victims.
Both the woman who was involved in writing the original law underlying the case — Coble — and the attorney for SNAP — Lorenz-Moser — think Jackson simply got it wrong.
"The Hope House case is very clear," Coble said. "The finding in the case is, 'No, you can't have the records.' The protection is beyond privilege."
For now, that interpretation doesn't apply in federal court in Missouri.
It means that Missouri victims of sexual abuse and domestic violence have less protection than they did before Jiang's lawsuit, and that could have a huge impact beyond a dispute involving one priest seeking compensation from the federal court for alleged defamation.
"If victims aren't guaranteed privacy, they won't come forward," Lorenz-Moser says. "It's a public safety issue. It's a victim's rights issue."