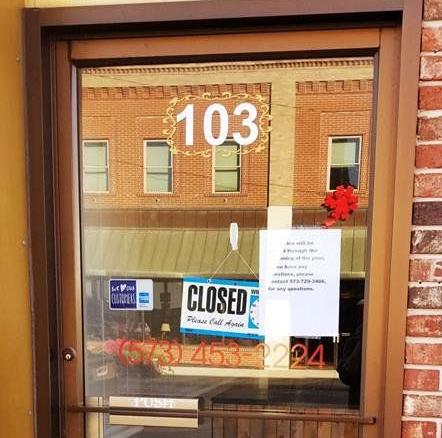 There is progress in the battle against debtors prisons in Missouri.
On top of a Court of Appeals ruling that says defendants can't be threatened with jail time for inability to pay "board bills" issued for previous jail stays, and state lawmakers filing legislation to make it harder for counties to use the courts as a debt collector, several of the people I've written about in recent months have received good news on their cases.
Here's a year-end update on some of them:
St. Francois County
Richard Clark is getting a new prosecutor. Early this month, Circuit Court Judge Wendy Wexler-Horn granted a motion filed by Clark's attorney, Jeffrey Ernst, to declare that Prosecuting Attorney Jerrod Mahurin had a conflict in the case and had to be removed. The reason for the conflict, according to Ernst's motion, was that Mahurin committed "prosecutorial misconduct" in the case. Clark, who is 59 and lives in Farmington, was charged with marijuana possession in 2015, and has already spent 495 days in jail, mostly because he couldn't afford to pay bail. Mahurin lost his election in November, and was offered an opportunity by Wexler-Horn to avoid a hearing on Ernst's motion, because come January, it would have been a moot point.
Instead, Mahurin chose to argue the motion, and lost.
In response, he filed a motion seeking to remove Wexler-Horn from the case. Why? Mahurin argues that Wexler-Horn had a conversation in the days leading up to the election with Judge-elect Patrick King about "accusations made about the prosecutor by former disgruntled employees during that race."
Steven Pritchett has a court date. For five years, Pritchett has been avoiding a warrant on a felony stealing case filed by Mahurin because he fears facing a fate similar to Clark's, ending up in jail on a bogus charge because he can't afford a high cash bail. After I wrote about Pritchett in October, St. Louis attorney Mark Bishop agreed to represent the 62-year-old ex-logger free of charge. Bishop filed motions to recall the warrant and dismiss the charges. Circuit Court Judge Tim Inman denied both motions but allowed a personal recognizance bond in the case. That means when Pritchett shows up for an arraignment in January, if the charge isn't dropped, at least he won't be going to jail.
Dent County
Lisa Blackwell is out of a job. The former head of the local private probation office no longer works for MPPS, the company owned by Community Services of Missouri. Blackwell used to have her own seat in the courtroom of Associate Circuit Court Judge Brandi Baird, who lost her election in November. She was a controversial figure in Dent County. Numerous defendants who ended up in jail based on drug tests or other alleged probation violations believe Blackwell often looked for opportunities to find defendants in violation, because it made more money for the private probation company and also increased board bills owed to the county.
In December, Blackwell posted a sign on the door of MPPS in Salem that said the office would be closed for a month. The phone number on the sign referred people to the local prosecutor's office, which in turn gave out the cellphone number of Judy Cowdry, owner of the private probation company.
In a phone interview, Cowdry, who lives in Lake Saint Louis, told me that Blackwell "just quit and left. I have no idea why."
Perhaps it's related to a tax lien filed by the state Department of Revenue against Blackwell and her husband in November. According to the court filing, the Blackwells owe the state $1,987 in back taxes.
Speaking of drug tests, those results are no longer being published online. Readers might recall the case of Janice Bote, who, after being arrested on her first drug possession charge, faced potential violations of her pretrial release because MPPS posted allegedly positive drug tests on the state's court case tracking website CaseNet. At the time, St. Louis University law professor Brendan Roediger called the practice "despicable" and said it likely didn't pass legal muster. In recent cases in Dent County, the drug tests are now posted on CaseNet as "drug screens" and no longer show whether they were positive or negative.
Lafayette County
Precious Jones has an attorney. Jones is the St. Louis woman who did 20 days in jail in Lafayette County on a speeding ticket, but faced a warrant for her arrest and a potential for an additional six months in jail, because on one of the weekends when she did her jail time, she was late to jail. Nonprofit public-interest law firm ArchCity Defenders is now representing Jones, and the firm has filed a motion asking Associate Circuit Court Judge Kelly Rose to recall the warrant.
In another case overseen by Rose, the judge has released Clifton Harris from any further "payment review hearings" for inability to pay the board bill he owes the county for time served in jail. Harris is indigent and represented by Matthew Mueller, the senior bond litigation counsel for the Missouri State Public Defender's Office.
Mueller is the attorney who won the Court of Appeals case that said judges can no longer call defendants back month after month for payment review hearings to try to collect board bills. As 2018 comes to an end, he'll be keeping an eye on judges across the state, many of whom still have full dockets of such hearings still scheduled for late this year and early next year.
Jailed for being poor is Missouri epidemic: A series of columns from Tony Messenger
Tony Messenger has written about Missouri cases where people were charged for their time in jail or on probation, then owe more money than their fines or court costs. 
From City Hall to the Capitol, metro columnist Tony Messenger shines light on what public officials are doing, tells stories of the disaffected, and brings voice to the issues that matter.