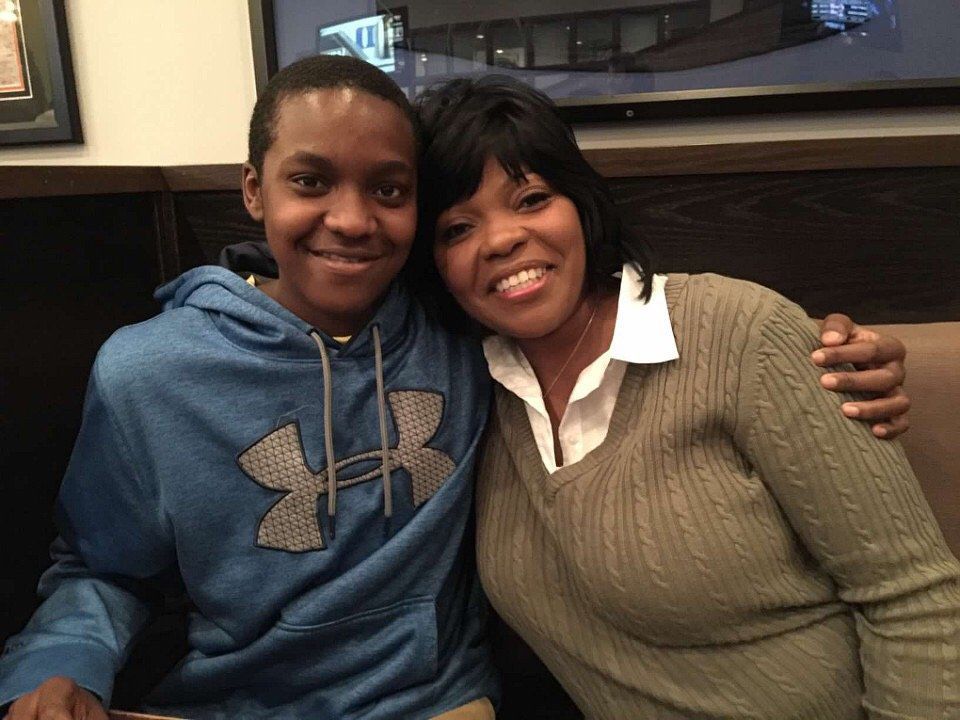 Later this month, Darquise Gowdy will find out when he goes to trial.
Before he was stabbed to death, Lawrence, 16, had just returned from a Florida vacation with his best friend, David Golder, and his family. The Golders live in Wildwood, where Lawrence had gone to school as part of the Voluntary Interdistrict Choice Corporation program that allows students from the city of St. Louis to be bused to suburban schools. Since first grade, Lawrence had attended schools in the Rockwood district.
He would have graduated from Lafayette High School last month.
On Thursday night, I thought about Lawrence.
I was in the ballroom at the Four Seasons Hotel, where generous donors were raising tens of thousands of dollars for the Access Academies program. A board member, attorney John Simon, had invited me as his guest. That unique program makes a seven-year commitment to students at three Catholic middle schools in the city of St. Louis, supporting their education, providing scholarships to some of the best private high schools in the city, and, in most cases, helping them get into the college of their choice.
The nonprofit organization currently supports 180 students at Most Holy Trinity Catholic School and Academy, St. Cecilia School and Academy, and St. Louis Catholic Academy. More than 90 percent of the students supported by the program come from low-income families. Nearly all of them are students of color. They live in parts of the city where avoiding violence, drugs and crime is a daily part of their routine. But with the support of the community, 99 percent of the students graduate high school on time. Nearly all of them go to college.
There was a serendipity to the event being held in a hotel connected to a casino.
When Missouri voters were asked to approve the expansion of casinos in the state, they were promised additional money would go to educate children in the state.
The riches never quite materialized.
Yes, some money was poured into education, but over time, lawmakers took from Peter to pay Paul. Every year the Missouri Legislature brags of passing "record" education funding, but it is a dubious achievement, as Missouri ranks near the bottom of state funding for education in a variety of categories. One of the results of that poor funding is that students in the city of St. Louis, and several school districts in St. Louis County, don't have access to the sorts of resources available to the David Golders of the world.
While celebrating on Thursday night the successes of the children supported by Access Academies, I glanced at the gray-and-purple bracelet I wear to remember Lawrence.
The bracelets were created by the Strawbridge Foundation, which was formed by David's mother, Melissa, and Shannon's best friend, Patricia Dees. Its goal, similar to that of Access Academies, is to support students who need some extra help to get through high school and on to college.
Last month, in only its second year of existence, it awarded 10 scholarships of $1,000 each to students from St. Louis who, as part of the voluntary transfer program, graduated from Lafayette High School.
It's inspiring to see the efforts of small groups such as the Strawbridge Foundation, and much more established ones such as the Access Academies, help dozens or hundreds of students seeking to climb out of poverty with the promise of education.
But it's also a stark reminder of the division in St. Louis that leaves tens of thousands of other students from similar neighborhoods without much of a chance to benefit from a rigorous academic program and the additional community support that might make it successful.
Because Missouri remains a state where the haves put their tax dollars in their well-funded local schools — in districts such as Rockwood and Parkway, Ladue and Clayton — school districts in other parts of the state, or St. Louis region, with smaller tax bases suffer.
In 1968, long before Lawrence Strawbridge was born, before Access Academies was formed, before the VICC program was conceived, a statewide commission composed of some of the nation's foremost education experts proposed a solution: Significantly reduce the number of school districts in Missouri, including merging the St. Louis and St. Louis County districts into one. Create an atmosphere in which every St. Louisan is invested in the success of every student.
It didn't happen, of course.
Investing in students, master of ceremonies Terry Mehan told the audience Thursday night, isn't just about the kids, it's about us. It's about investing in a city's future workforce. It's about changing the trajectory of a community that has accepted educational mediocrity in low-income communities for too long.
It's about getting a kid like Lawrence Strawbridge to walk across the graduation stage before it's too late.