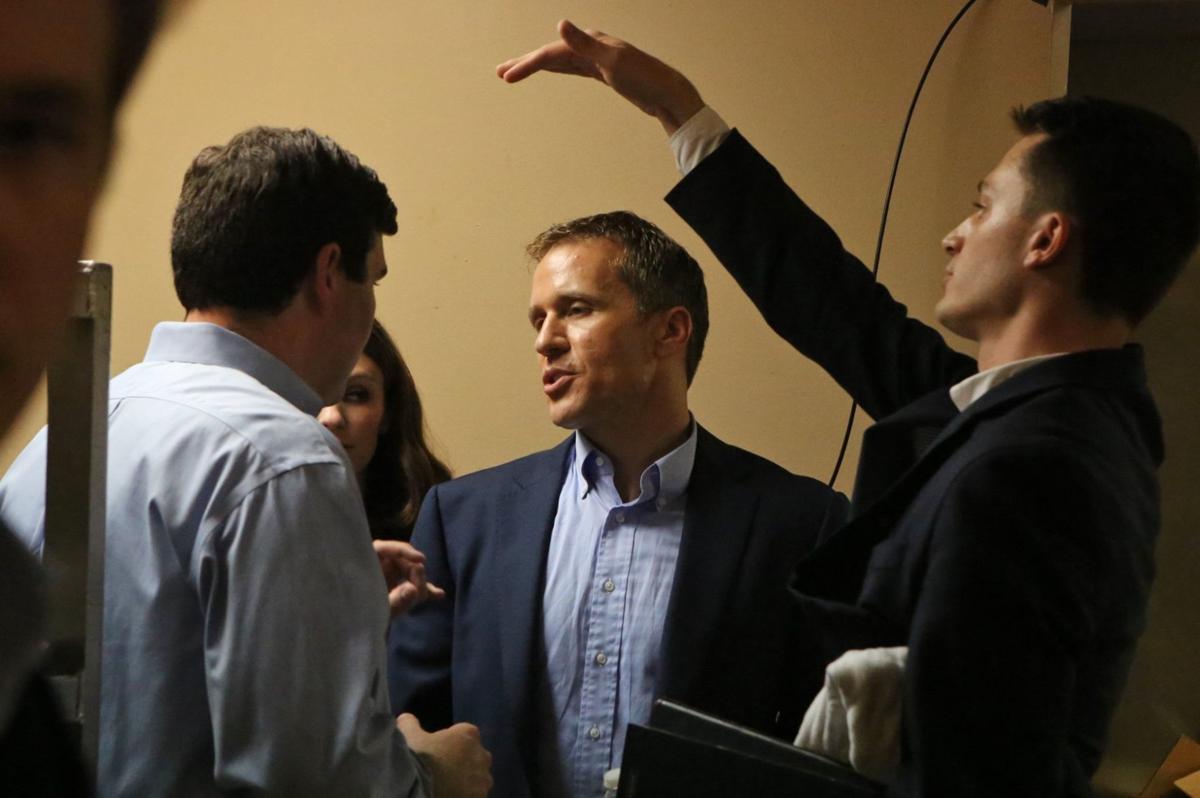 In what could be the final act of his tenure as a state lawmaker, Jay Barnes declared war on dark money.
On Tuesday, the Republican state representative from Jefferson City filed a 25-page complaint with the Missouri Ethics Commission alleging that former Gov. Eric Greitens violated multiple campaign finance laws by using a nonprofit committee called A New Missouri to intentionally obscure the identity of his donors.
The complaint is rife with testimony and documentary evidence that came out of the investigation Barnes led in the Missouri House that likely would have led to Greitens' impeachment had he not resigned. It includes evidence that Nick Ayers, currently the chief of staff of Vice President Mike Pence, played a direct role in the process by which donors were hidden from public view.
The complaint, if the Missouri Ethics Commission conducts a serious investigation, could turn the state's political world upside down.
That's because two months ago, the commission issued an opinion adding teeth to the state's long-standing prohibition in both statute and the constitution against trying to conceal the true source of political donations. If a nonprofit — such as A New Missouri — contributes money to a candidate or campaign with the intent to influence an election, ethics commission executive director James Klahr wrote, then the nonprofit becomes a political committee and would have to disclose its donors.
Here's why that matters so much:
Every day — every single day — somebody is spending money on political campaigns with the direct goal of trying to influence the public policy decisions that affect our daily lives.
Whether it's pocketbook issues like how much you pay for cable television or to heat your home, or more human ones, like whether it's legal to rip immigrant children from the arms of their parents and separate them, possibly forever, decisions made by elected officials from state representatives to the president are affected by those who give money to their campaigns.
Don't take my word for it. Take President Donald Trump's. Here's what he said about big donors and politicians when he was running for president:
"Somebody gives them money, not anything wrong, just psychologically when they go to that person, they're going to do it," he added. "They owe them. And by the way, they may therefore vote negatively toward the country."
He got more specific when talking about one opponent, Sen. Marco Rubio of Florida:
"Sheldon Adelson is looking to give big dollars to Rubio because he feels he can mold him into his perfect little puppet," Trump tweeted. "I agree."
Sheldon Adelson is looking to give big dollars to Rubio because he feels he can mold him into his perfect little puppet. I agree!

— Donald J. Trump (@realDonaldTrump) October 13, 2015
The man who would become president might have been a hypocrite on this issue, but he wasn't wrong.
And that's where the big "if" comes in.
If the ethics commission seeks to enforce the opinion issued in May, it's not just A New Missouri that has something to worry about. The fact is, donors and politicians in Missouri are constantly working to conceal their identities in order to make it harder for voters to know who is trying to influence public policy.
On Wednesday, a PAC called Committee for Accountable Government in Missouri gave $219,383 to the House Republican Campaign Committee, which works to elect Republicans in the Missouri House. All the money in the so-called "accountable government" PAC comes from the family of David Humphreys, the southwest Missouri roofing magnate who is one of the state's most prolific GOP donors. In effect, his money has been washed, so when representatives do his bidding, they can say they weren't influenced by the billionaire trying to make it harder for consumers to sue his company.
Then there's St. Louis County Executive Steve Stenger. Last year, when I reported that Stenger, a Democrat, was getting around corporate donation limits by having many companies that do business with the county give large donations to an obscure fire district PAC, which then passes them on to Stenger, his spokesman scoffed.
"To suggest any impropriety over $36,000 in campaign contributions is reckless and irresponsible propaganda," Ed Rhode said.
A year later, the MACFPD committee has washed the donor transparency off of more than $160,000 in donations to Stenger. It is one of several committees, some of them controlled by Stenger consultants Show Me Victories, playing the same game.
The recklessness in these transactions is the intentional work by politicians of both parties to make it easier for donors to influence politicians and harder for voters to see through the fog.
Thanks to Barnes' detailed complaint, the Missouri Ethics Commission has an opportunity to hold Greitens accountable for not playing by the rules. But in doing so, it can also set the stage for a massive cleanup of the dark-money scourge that besets Missouri politics.