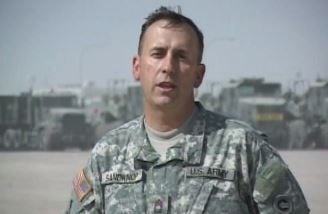 Michael Sandknop isn't the sort of whistleblower who will end up in a Hollywood movie.
He didn't report his corporate bosses for, say, cheating the U.S. auto emissions program, or hiding studies showing their product to be deadly to children. He didn't uncover millions of dollars in government waste.
Sadly, he's an all-too-typical example of how an arrogant and powerful government organization can sometimes treat employees who raise a righteous voice of complaint.
Nearly two years after being fired from his job as a contractor with the Missouri National Guard, Sandknop, himself a veteran who did a tour in Iraq, is still seeking answers as to why the Guard violated its own policies in firing him and an assistant.
Sandknop was hired to produce a half-hour television show on the Missouri Guard, highlighting the work of its more than 11,000 soldiers. He was fired shortly after top brass, including Maj. Gen. Steve Danner, the adjutant general, had previewed the first show and publicly lauded it.
"I really don't know what happened," Sandknop said. "One day we were the golden boys, then we got transferred to different bosses and lost our jobs."
He has enlisted the help of U.S. Sen. Claire McCaskill and Congresswoman Ann Wagner. He has filed a defamation lawsuit against the Guard. He has lost his girlfriend and found himself struggling for money.
These days, Sandknop lives in a run-down shack of a mobile home on the edge of Arnold. It's quiet, and it's near his boys, but it's a long way from his previous life serving as a videographer for Ambassador Paul Bremer or working on a film production crew in Los Angeles, as he did earlier in his career.
Here's what Sandknop does know: The Guard screwed up when it fired him. He's got a letter from the Army Inspector General to prove it.
In January 2014, when Sandknop feared that his bosses in the Guard's Public Affairs Office were out to get him for some reason, he went to the inspector general to file an official complaint. Generally speaking, such an action in the military is supposed to institute certain employee protections from reprisal, at least until an investigation takes place.
But that's not what happened to Sandknop.
He went to the inspector general on Jan. 27, 2014. That was a Monday. By Friday, he was fired.
Six months later, he received a letter from the inspector general validating his complaint.
"We conducted a thorough inquiry into your request for assistance," wrote Col. Bruce Sones, of the U.S. Army Inspector General's office. "Our inquiry determined you were working within your contract, proper video equipment was not provided and you were not afforded opportunities to use your system of redress … It was also determined there was an unhealthy work environment in the Missouri National Guard (public affairs office). Appropriate action will be taken to address these issues."
Sounds like a win for Sandknop, right?
Except for this: To get the full investigative report that explains what happened, he had to file a Freedom of Information request with the federal government. He was denied access to the full document and given a redacted one that was useless to him, basically just summarizing some of his testimony.
The Guard didn't respond to the inspector general report by offering him his job back. Instead, they stonewalled. Sandknop went to several attorneys to seek redress, and many of them told him the same thing: Come back when you get the investigative report.
He still doesn't have it.
So in November, without an attorney, he filed a defamation lawsuit in Cole County against the Guard's leadership; Gov. Jay Nixon; the contractor who hired him, Biomedical Personnel Services Inc. of Severna Park, Md.; and the two public affairs officers who were his bosses, John Quinn and Tammy Spicer.
That's the same month when McCaskill's office said the Guard admitted during a phone call that Sandknop's complaint had "fallen through the cracks."
According to staff notes from McCaskill's office, the Guard said in November that Sandknop's complaint was supposed to lead to discipline for two people, but months after the investigation had been closed, nobody had been punished.
One of the people who was supposed to be disciplined had already retired, the Guard told McCaskill, and the other was finally disciplined as a result of the senator's inquiry. Also, more training for dealing with contract employees was instituted, the Guard told McCaskill's office.
None of that, of course, helps Sandknop. He is still unemployed. He hasn't received an explanation from the Guard about how its own investigation could validate his original complaint, but he is offered no recourse.
The Guard refused to answer questions about Sandknop's case, referring me to the attorney general's office, which is defending the lawsuit. The attorney general's office declined to comment.
Sandknop still wants answers, and justice, and he doesn't plan to stop his lonely quest until he has both.
He wasn't enamored with the response he received from McCaskill's office when he took his complaint to the senator. He figured that by now he might have at least received a copy of the investigation. But according to McCaskill's spokesman, the senator's office hasn't stopped its quest for information.
"There are many troubling aspects to how Mr. Sandknop's case has been handled," said spokesman John LaBombard. "He deserves answers."