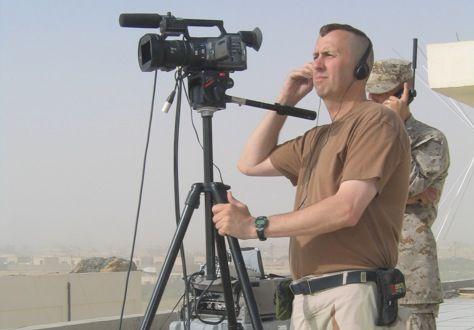 It took 710 days for Michael Sandknop to receive the documents from the National Guard Bureau that contained those three words, but seeing them in an email from Lt. Col. Larry Crowder made the wait almost worth it.
They are in an email Crowder sent to Sandknop's contract employer, BPSI, during his time working for the Missouri National Guard as a video producer.
"We are good," Crowder writes. "His production has increased and he is on track."
The timeline of the email tells an interesting story.
• On Nov. 5, Crowder took control of Sandknop's team, which was supposed to be producing a monthly television show about the Missouri Guard. There had been conflicts between Sandknop and the then-head of public affairs at the Guard, Major Tammy Spicer.
• Ten days later, even though Sandknop didn't work for her anymore, Spicer wrote a memo to his contract employer complaining about his performance.
• Crowder's email, suggesting Sandknop was doing fine, was dated Dec. 4.
• Sandknop and his team would work for Crowder, without incident, until Jan. 27, when, for some reason, they were returned to Spicer's command.
• Four days later, Sandknop and another member of his team (who has asked that his name not be used), were fired.
Spicer would fire him even though Sandknop had complained days earlier about various work issues to an inspector general and should have been protected from reprisal. Ever since that day, Sandknop has been trying to clear his name and get his job back.
When I first met Sandknop in December, his biggest frustration was that he knew there was a document that cleared him — the inspector general's investigation into his complaints — but that no lawyer would take him seriously without it.
The tide started to turn in February for the retired Army Reservist and Bronze Star winner when two U.S. senators, Democrat Claire McCaskill of Missouri and Republican Chuck Grassley of Iowa, asked the Army's inspector general to look into Sandknop's case.
Now a new investigation into his firing has begun, and last week, Sandknop finally received a heavily redacted copy of the first investigation — the one he had asked for in a Freedom of Information Act request nearly two years ago.
That investigation offers key details to the summary Sandknop and the U.S. senators had already received, the one that said Sandknop worked in a "toxic" environment, wasn't provided the proper equipment, and wasn't given the appropriate opportunities to challenge his firing as required in federal regulations.
Armed with those details, Sandknop finally has a lawyer. Last Friday, that attorney, James Wyrsch of St. Louis, filed a wrongful termination and defamation lawsuit against Gov. Jay Nixon, in his capacity as commander in chief of the Missouri National Guard; Maj. Gen. Stephen Danner, the adjutant general; Gen. David Newman; and several other officers, including Spicer.
"The records draw conclusions that seem pretty straightforward," Wyrsch said in an interview. "It seems like the rules were not followed."
Among the rules not followed were the ones set forth by Danner in a memo to all Guard employees the very month that Sandknop was fired.
"Upon information and belief, General Danner and General Newman were aware of the decision to terminate Sandknop and either approved it or failed to prevent it," the lawsuit alleges, "despite the assurance just weeks earlier that National Guard employees 'are prohibited from taking any disciplinary action or adverse action against (contract employees) for filing a complaint' with the Inspector General."
It's the point of that memo — that whistleblowers are not to face reprisal as punishment for bringing issues to light — that is also at the center of the Grassley-McCaskill investigation into whether the Army nationally has a problem.
The statistics suggest there are a lot of Sandknops being tossed aside by the nation's military. Between 2013 and 2015, there were 295 whistleblower complaints from military contractors alleging reprisal similar to what Sandknop endured. Only one was substantiated.
Nixon's office said the governor would have no comment on the lawsuit. The Guard has refused to make Danner or anybody else available for an interview.
Sandknop, on the other hand, won't stop talking until some form of justice comes his way.