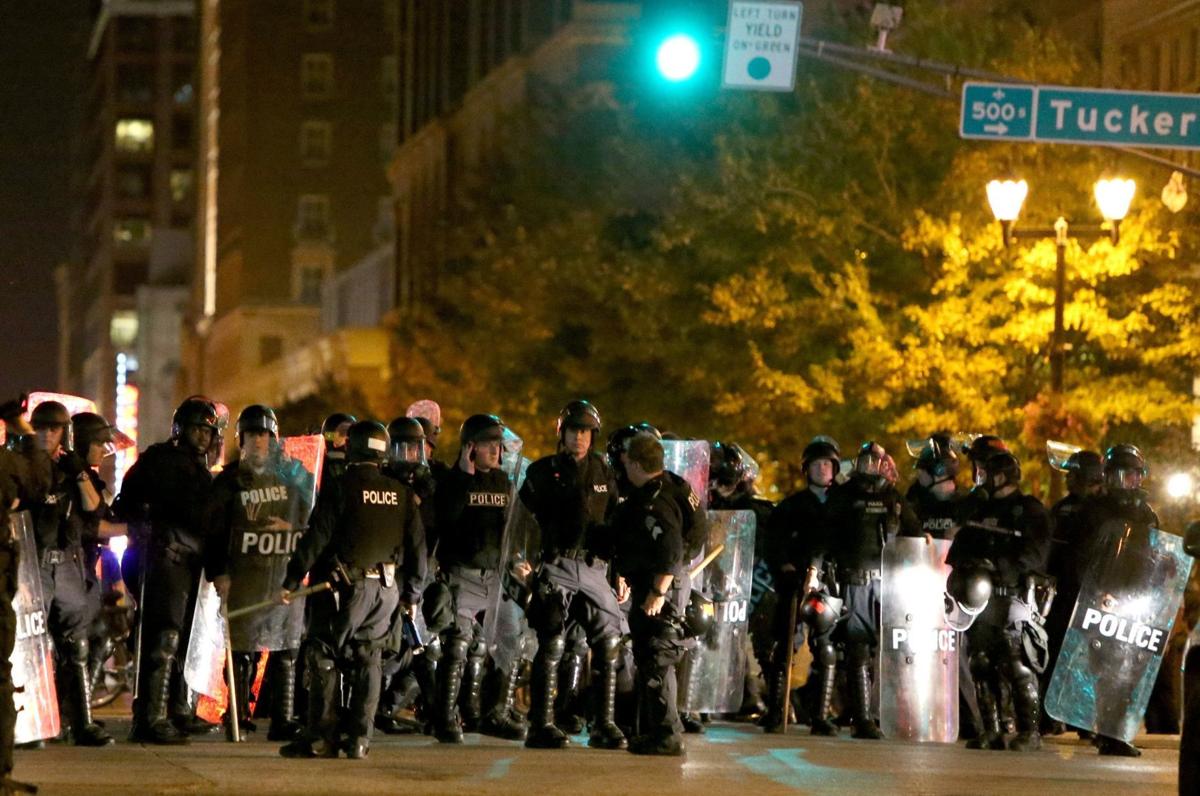 That's what he wrote to Nikki Brown a couple of months ago.
Belmar, the chief of the St. Louis County Police Department, was letting Brown know that he was ending the investigation into racial discrimination against her, spurred by her complaints when she was an instructor at the county police academy. A 10-year-veteran of the department who now works as a police officer in Illinois, Brown said she became isolated, and her path to promotion blocked, after she had complained of a hostile work environment, including a fellow officer who spoke openly of "skinning coons."
After a nearly two-year internal affairs investigation, Belmar dismissed nearly all of her complaints. Despite validation from one of her fellow instructors, Belmar found "conflicting versions." The workplace harassment, though? It happened.
"I hope you will accept my sincere apology for any aggravation caused by his actions," Belmar wrote to Brown. "Steps have been taken," he wrote, to make sure it doesn't happen again.
Perhaps the offending officer underwent sensitivity training.
That's the solution Jimmie Edwards is instituting in the St. Louis Metropolitan Police Department, after a multiyear-investigation by a Philadelphia lawyer uncovered hundreds of racist and Islamaphobic social media posts by about 40 current and former city police officers.
Yeah, that will do the trick.
"Like training sessions will make you non-racist," a black officer in the city texted me this week upon seeing Edwards' prescription for the 21 current city cops whose offensive social media posts have been documented. I won't mention the officer's name, of course, because when black officers talk to the press, they get punished.
That's what happened a couple of years ago when Sgt. Heather Taylor, president of the Ethical Society of Police, spoke to me for a column. The ethical society is an association that represents mostly — but not entirely — black officers in both the city and county police departments. It exists because both departments have well-recorded histories of not doing much to drum out the racists in their midst.
One of those racists, according to the Plain View Project database, is a former "officer of the year," Sgt. Ron Hasty. He loves the Confederate flag, hates Black Lives Matter, considers Muslims less than human, and has demeaned and demonized black people in Facebook posts regularly.
Hasty feels free to talk to the press: "Last I checked I had First Amendment rights. I'm not a racist," Hasty he told the Post-Dispatch. "You can talk to any of my friends."
Don't count the ethical society among Hasty's friends:
"This training will never work for officers like Det. Thomas Mabrey or Sgt. Ronald Hasty," the society tweeted on Tuesday. "The only option is to fire them."
Nikki Brown, the former county cop, knows that's not likely to happen.
So does Luther Hall. He's the black undercover city of St. Louis police officer who was beaten "like Rodney King" by his fellow white officers in the wake of 2017 protests after the Jason Stockley acquittal. Late last year, four of those officers were indicted in federal court on various charges related to his beating. Some of their own text messages were filled with racial innuendo and bragged of plans that night to beat "the hell out of these (expletive) once the sun goes down and nobody can tell us apart!"
Hall hasn't returned to work. Neither has Milton Green, the black officer shot in a friendly fire incident two years ago by a white officer. Green was near his own home, responding while off-duty to activity in his neighborhood.
They're just black cops, whose lives, it seems, don't matter as much as those who protect the blue wall of silence.
The coverage of Ferguson unrest — and its impacts — has been going on since the day of Michael Brown's death. See it collected here.