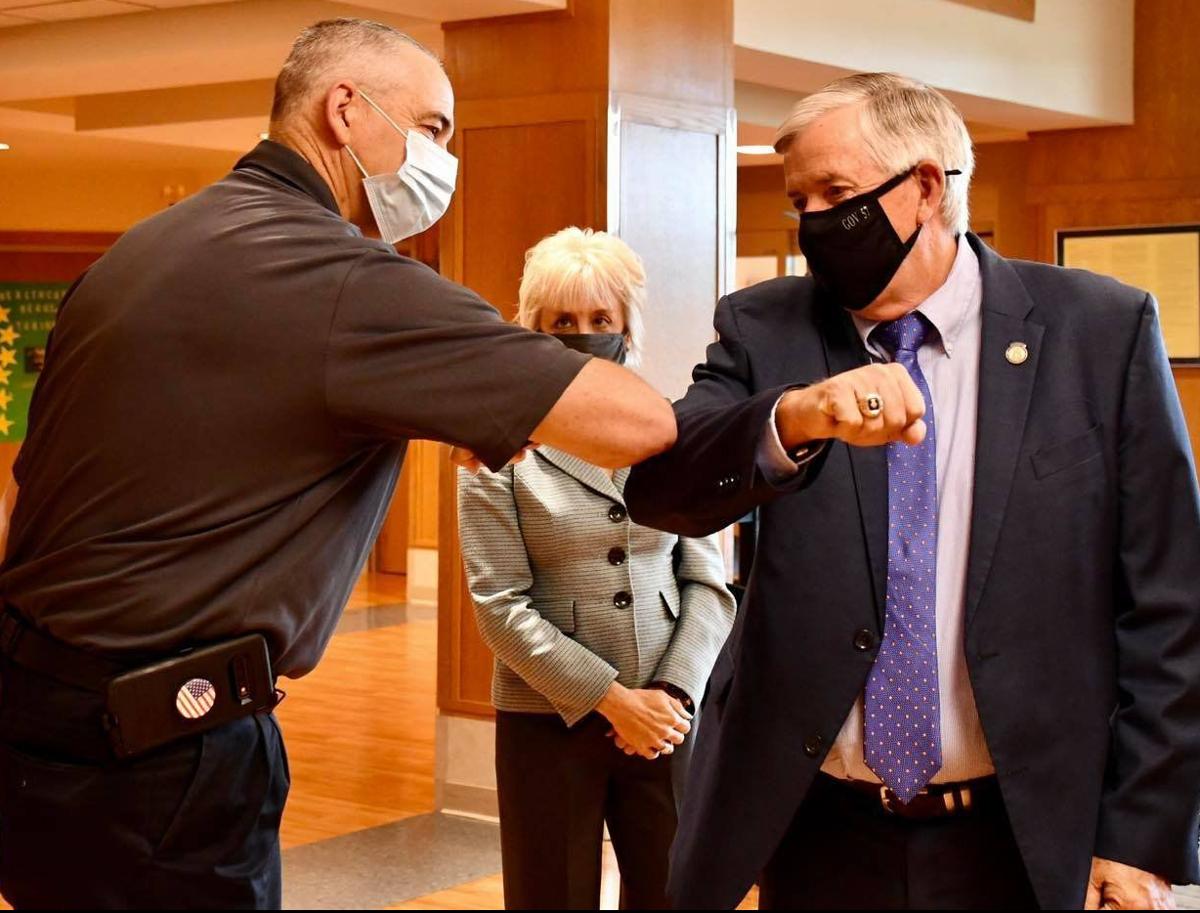 For his closing argument, Gov. Mike Parson is turning his attention, again, to Cori Bush.
Bush, for the uninitiated, is not Parson's opponent. The Republican incumbent is running against Auditor Nicole Galloway, a Democrat, to see who gets to occupy the governor's mansion for the next four years. But Parson, who became governor when the previous Republican in office resigned in disgrace, has turned his attention to Bush, who will be the first African American woman elected to Congress from Missouri.
In August, Bush, who rose to prominence as an organizer and protester against police brutality, won a landmark victory against incumbent St. Louis Congressman Lacy Clay, whose family has been in power now for two generations. Last week, Bush grabbed Parson's attention with a tweet.
"If you're having a bad day, just think of all the social services we're going to fund after we defund the Pentagon," Bush tweeted.
If you're having a bad day, just think of all the social services we're going to fund after we defund the Pentagon.

— Cori Bush (@CoriBush) October 20, 2020
Mon dieu! Parson and other Republican operatives rushed to their own social media platforms to express their mock disgust. Bush hates the military! She's against the troops! She's a radical socialist! Why won't Nicole Galloway denounce the radical socialist who hates the troops?
In reality, Bush was reviving a long-standing bipartisan debate about Pentagon spending. It's as old as the first stories about $10,000 toilet seats, failed attempts to audit defense spending, and regular attempts by Democrats and Republicans to establish better spending priorities, so that Social Security and Medicare for seniors can be funded, or Medicaid for poor people and children.
Donald Trump Jr. and Kevin McCarthy are attacking me. A local editorial board calls me ignorant.

As a Black woman running for office, I'm used to these kinds of attacks.

But let's talk about ignorance. Let's talk about what actually keeps our communities safe.

— Cori Bush (@CoriBush) October 21, 2020
But she used that word — "defund" — that Republicans, and some of their compliant friends in the media, want to turn into a straw man for opposition to first responders and now, the Pentagon. God forbid we ever let a Black woman set the terms of the debate.
The irony, of course, is that Parson's best buddy, President Donald Trump, who has called the nation's level of defense spending "crazy," has already defunded the Pentagon. He did it earlier this year when he diverted $3.8 billion from Pentagon spending, money that should have gone to American troops, to pay for his wall along the border, the one he said Mexico was going to pay for.
The move was opposed by Congress, yes, even Republicans. Many of the projects defunded were designed to shore up defenses against Russia.
Why does President Trump hate the troops? Why won't Parson denounce President Trump?
See how this game is played?
There's a reason, of course, that Parson wants to talk about Bush. It's not just that she's Black and his campaign has used her and other Black activists to round up rural, white votes in cynical and racist advertisements.
It's because of 68 dead veterans.
That's the death toll, as I write this, of veterans who have died in rural Missouri Veterans Homes from COVID-19 under Parson's watch. It will surely be a higher number by Election Day. Only one of those deaths, by the way, has come from the veterans home in Bush's congressional district. The rest are in rural areas that don't have mask mandates or social distancing mandates, that have followed Parson's lead of not implementing the sort of coronavirus pandemic restrictions that have been called for even by the White House.
Those veterans, theoretically, should have had access to millions more dollars of funding this year than in past years because of the constitutional amendment passed by voters that made medicinal marijuana legal and dedicated much of the licensing revenue raised to veterans.
But Parson has defunded veterans. That's probably not the word he would choose, but it's what happened. Because the medical marijuana program under Parson's administration has been rife with problems, causing multiple lawsuits alleging "inappropriate and unlawful" action by the state, more than $1.6 million of money that was supposed to go to the veterans fund, perhaps to shore up their health care, is paying attorneys instead.