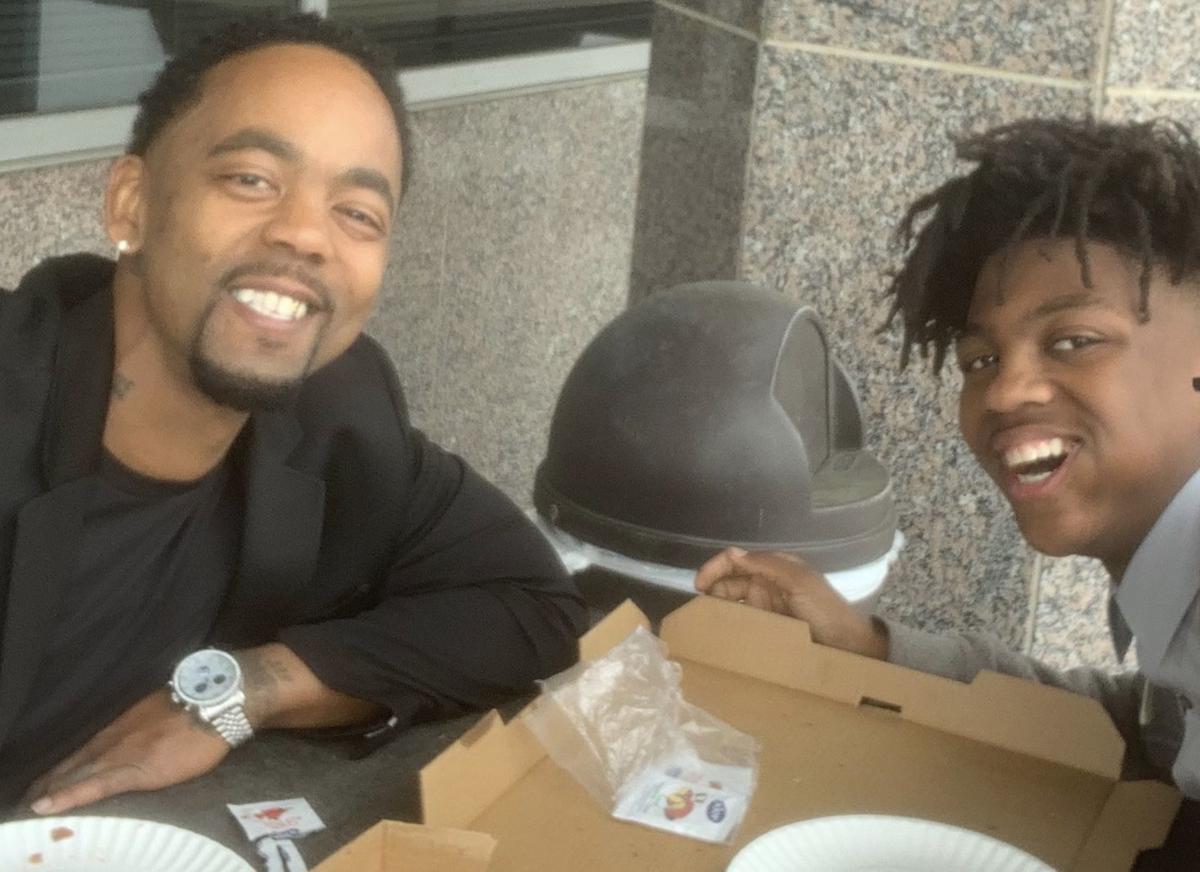 Dimetrion Woods misspoke.
You can't blame him for being nervous.
There he was on Wednesday, in the office of Gov. Mike Parson on the second floor of the stately Missouri Capitol, and the governor of the state of Missouri was asking him a question.
"How old are you?" Parson asked.
His father corrected him. The Columbia teenager had turned 15 just a week before, three days after his dad, Dimetrious Woods, turned 41. It was the third birthday in a row the elder Woods has spent as a free man.
On Wednesday, Parson commuted the rest of Woods' prison sentence, allowing him to continue living in Columbia, operating his window-tinting and auto detailing business, and not having to head back to the Jefferson City Correctional Center to finish his long sentence for drug possession.
It was the first time since he became governor that Parson had used the power of clemency.
"This was an act of mercy for a man that had changed his life," Parson, a Republican, said in a news release.
Indeed, Woods, a St. Louis native, has become a poster child for rehabilitation, and the fact that the criminal justice system all too often isn't set up with that lofty goal in mind.
In 2007, Woods was sentenced to 25 years in prison without the possibility of parole after he was caught driving a trunk full of drugs across the state. He had done about seven of those years when the Missouri Legislature changed the law that allowed judges to sentence nonviolent offenders to prison without considering a future parole date. Woods asked Cole County Circuit Court Judge Dan Green to apply that new law to his case. Green agreed. Woods, who had been a model prisoner who had turned his back on his youthful crimes, received a parole hearing and the state parole board set him free.
All was right in his life again, until former Attorney General Josh Hawley appealed Green's decision. After Hawley won his race to the U.S. Senate, and former Treasurer Eric Schmitt was appointed as the new attorney general, Schmitt continued the appeal. Earlier this year, the Missouri Supreme Court said that Green got it wrong.
Within days, Woods got a call from the state Department of Probation and Parole telling him to prepare for a return to prison. His attorneys, Kent Gipson, Taylor Rickard and Daniel Hunt, delayed the action while they put on the full-court press to keep Woods out of prison. They asked Schmitt to drop the appeal. He didn't. They asked the court to reconsider its decision. It didn't. They asked Parson to commute Woods' sentence.
He did. Woods doesn't believe it will be the last time Parson uses that immense power that, so far, he had been hesitant to use.
"The governor's very human," Woods told me Wednesday. He was sitting on a park bench outside the Missouri Capitol with his son, eating pizza, breathing in the air of freedom. "He's a man of second chances," Woods says of Parson. "He said he's giving me a chance to help him gain confidence in the parole process."
That process is in need of help. Few Missouri governors in either political party have taken much advantage of the power they have to show mercy to people in prison who have served sentences that were too long, or, like Woods, learned from their past mistakes. There is a backlog of more than 3,000 cases of people in Missouri prisons seeking parole, some claiming innocence, some facing sentences that in today's age seem cruel and unusual, some seeking to live their final elderly days at home surrounded by family.
But it's more than the backlog that plagues the back end of Missouri's criminal justice system. More than half of the people in state prisons are there on probation or parole violations, a higher percentage than every state except for one. The nonprofit MacArthur Justice Center has a class-action lawsuit pending against the Missouri Department of Corrections alleging widespread failure to consider due process rights in how parole is managed in the state.
And that should temper the Woods decision at least somewhat, attorney Amy Breihan says.
"While it's great that Mr. Woods is not going back to prison, Gov. Parson's actions don't merit sainthood," Breihan says. "Mr. Woods is still not free. And there are thousands upon thousands of other Missourians who remain on supervision unnecessarily, or who sit in jails and prisons across the state on alleged violations of their parole, caught in the web of an unconstitutional parole revocation process."
As it is, Woods will continue to be under state supervision until 2036. But, for now, he's home with his son. He is operating his business. He's looking forward to being able to sleep through the night again without wondering if it will be his last day of freedom.
"It's a great feeling," Woods says. "I'm ready to just be normal."
From City Hall to the Capitol, metro columnist Tony Messenger shines light on what public officials are doing, tells stories of the disaffected, and brings voice to the issues that matter.