The Rev. Spencer Lamar Booker sat a few rows back at Apostles Church in the Lewis Place neighborhood in north St. Louis.
It was the day after, and the day before.
On Tuesday, Ferguson Councilman Wesley Bell "shocked the world" with his upset victory over St. Louis County Prosecuting Attorney Robert McCulloch in the Democratic primary.
On Thursday, it was four years since Michael Brown lay dead in the street for more than four hours after being shot by Ferguson police Officer Darren Wilson.
The two events — Bell's victory over the man who chose not to prosecute Wilson — are threads in the same civil rights story that started in the streets outside the Canfield Green apartments.
So, too, was the event on Wednesday that drew Booker to the church.
He was there to support the family of Louis "Lynn" Payton, 48, who died Aug. 2 after collapsing at the City Workhouse. The Workhouse is a medium-security institution targeted by activists and legal scholars as a disgrace to the criminal justice system for 30 years. Payton's family members say they don't know how or why he died. At a news conference set up by the Close the Workhouse movement, they decried the city's alleged insensitivity in dealing with Payton's death in custody.
"I just want justice for my brother," said Janice Washington. "We still don't know what really happened."
Booker, who is the pastor at St. Paul AME Church just a few minutes west on Page Boulevard in the West End neighborhood, knows the pain Washington is feeling.
Marvin was a homeless street preacher, who, like Payton, was arrested on drug charges. While in detention, he was stopped by a deputy on the way to pick up his shoes, which he had taken off. There was a scuffle. Marvin ended up on the ground, held there in a choke hold with the weight of five officers on his malnourished body. He was hit with a Taser after he had been handcuffed.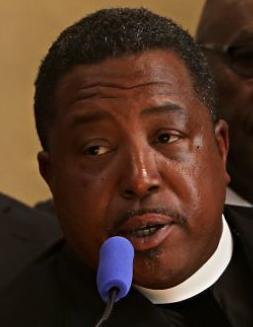 "All he wanted was his shoes," Booker says of his brother.
The Denver prosecutor at the time didn't file any charges. The Taser in question never made its way to evidence. A documentary — "Marvin Booker Was Murdered" — detailed the efforts of the Booker family to achieve justice. They won a $6 million civil settlement. Last year, a new prosecutor opened a grand jury investigation into the case.
Prosecutors make a difference.
It's one reason why Inez Bordeaux, one of the organizers of the Close the Workhouse movement, is so excited about Bell's victory on Tuesday. "I feel like things are falling into place," says Bordeaux, a nurse who spent a month in the workhouse a few years back, and just got her nursing license returned to her after her own battles with the criminal justice system and its propensity for punishing poor people.
Bell's campaign of getting rid of cash bail in the county fits right in with the attempts to close the workhouse, which houses mostly men and women being held before trial, some on serious charges, many not. It is a symbol of how the criminal justice system works to help keep people in poverty, jailing the poor as those with money go free.
Four years ago, thousands of young people from all over the county descended upon the St. Louis region and marched and chanted and protested and stood eye-to-eye with armored police vehicles to bring attention to that issue.
The Ferguson Commission was formed to study it, and in the end, a group of diverse community leaders issued 47 priority calls to action to improve racial equity and the state of the criminal justice system in the region.
We're failing, members of the renamed Forward Through Ferguson organization told St. Louis on Wednesday morning, just a couple of hours before the Payton family pleaded for justice for their dead brother, cousin, uncle and son. There has been serious action on only five of the commission's calls to action, with progress being made on some transportation, housing and financial empowerment issues.
Short of some municipal court reforms, there has been little progress in the area of criminal justice.
Bell's stunning victory — fueled by activists who got their start in Ferguson, including Kayla Reed of Call to Action — could bend the arc of history closer to justice.
"I feel hopeful about St. Louis," Bordeaux says. It might take another three years. Maybe five years. "But we're going to get somewhere."
Booker got an email from the Denver prosecutor on Monday. There will be no charges in the death of his brother.
Like the Payton family, he still wants answers.