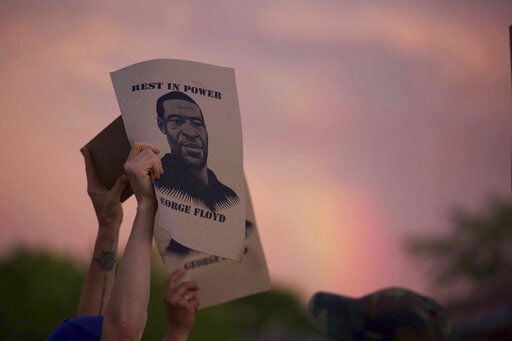 There's an indelible moment from the last batch of widespread police brutality protests in St. Louis that I can't get out of my head.
It was September 2017, three years after the killing of Michael Brown in Ferguson by a white police officer. This time, a judge had acquitted another white police officer in the shooting death of another black man. There were serious questions about the possible planting of a gun by the police officer. The image that forever marked those protests was the kettle action by riot police at the corner of Washington Avenue and Tucker Boulevard, when police pepper sprayed and brutalized more than a hundred protesters, bystanders and journalists. At the time, the former acting police chief bragged, "Police owned tonight."
Three years later, civil rights lawsuits that are going to cost the city millions of dollars in settlements are still making their way through the courts. But that's not the moment that comes back to me time and time again.
It's the one a few days later, at Kiener Plaza under a blazing hot sun when Catholic Archbishop Robert Carlson turned the words of protest into a prayer:
"When there is no justice," said the leader of hundreds of thousands of Catholics in the St. Louis region, "there cannot be peace."
Carlson grew up in the Twin Cities of Minnesota, where the nation's attention has turned after a white police officer knelt on the neck of a black man named George Floyd for several minutes as he was cuffed and on the ground, while three other police officers watched and Floyd begged for his life, uttering the words "I can't breathe," over and over.
The cities where Carlson first served as a bishop burned Wednesday and Thursday nights as protest turned to riot, as so often happens when the unheard demand in the most visceral way that the nation listen to their weary voices.
The protest chant that I heard over and over in Ferguson, and then three years later in downtown St. Louis, echoed again in the streets of Minneapolis and St. Paul, and in other cities across the country, in Denver, in Louisville, in Los Angeles.
After Carlson turned those words into a prayer for action and a prayer for peace, a group of religious leaders from multiple faiths joined protesters in a march from Kiener Plaza to City Hall. An image of that march is the background of my Twitter profile page.
Carlson isn't in it. The most visible religious leader in White St. Louis helped calm tensions that day, but he didn't take part in the march. I didn't write it at the time, but I think it was a missed opportunity from a cleric who I believe takes the cause of social justice seriously.
Imagine the lasting message of unity that image could have sent.
In his Letter from a Birmingham Jail, the Rev. Martin Luther King Jr. offers a path forward from what the nation has seen since 2014 in Ferguson, in Baltimore and now in Minneapolis. The target of his letter was not racists, not blacks, but white people, especially white religious leaders, men like Carlson, who express a legitimate disgust with racism, but aren't quite willing to do enough about it. At the time, many of those white religious leaders thought that King, even as he modeled nonviolent civil disobedience, was an extremist.
"I have been gravely disappointed with the white moderate," King wrote. "I have almost reached the regrettable conclusion that the Negro's great stumbling block in the stride toward freedom is not the White Citizens Councillor or the Ku Klux Klanner but the white moderate who is more devoted to order than to justice; who prefers a negative peace which is the absence of tension to a positive peace which is the presence of justice; who constantly says, 'I agree with you in the goal you seek, but I can't agree with your methods of direct action.'"
Decades after King, this is the pattern of protest we've seen over and over since 2014.
March in the streets, White America says, but don't shut down our highways during rush hour.
Conduct your sit-ins, but not in our suburban malls.
Hold your hunger strike at the University of Missouri to protest decades of systemic racism, but don't mess with our football schedule.
Protest police brutality, if you must, Colin Kaepernick, but don't you dare take a knee.
In the '60s, King said the riots would end when White America chose justice over peace.
George Floyd died because the knee of white oppression stole his last breath.
This column has been updated to say that a judge, not a jury, acquitted the police officer in September 2017, and to correct the race of two of the police officers in Minneapolis.