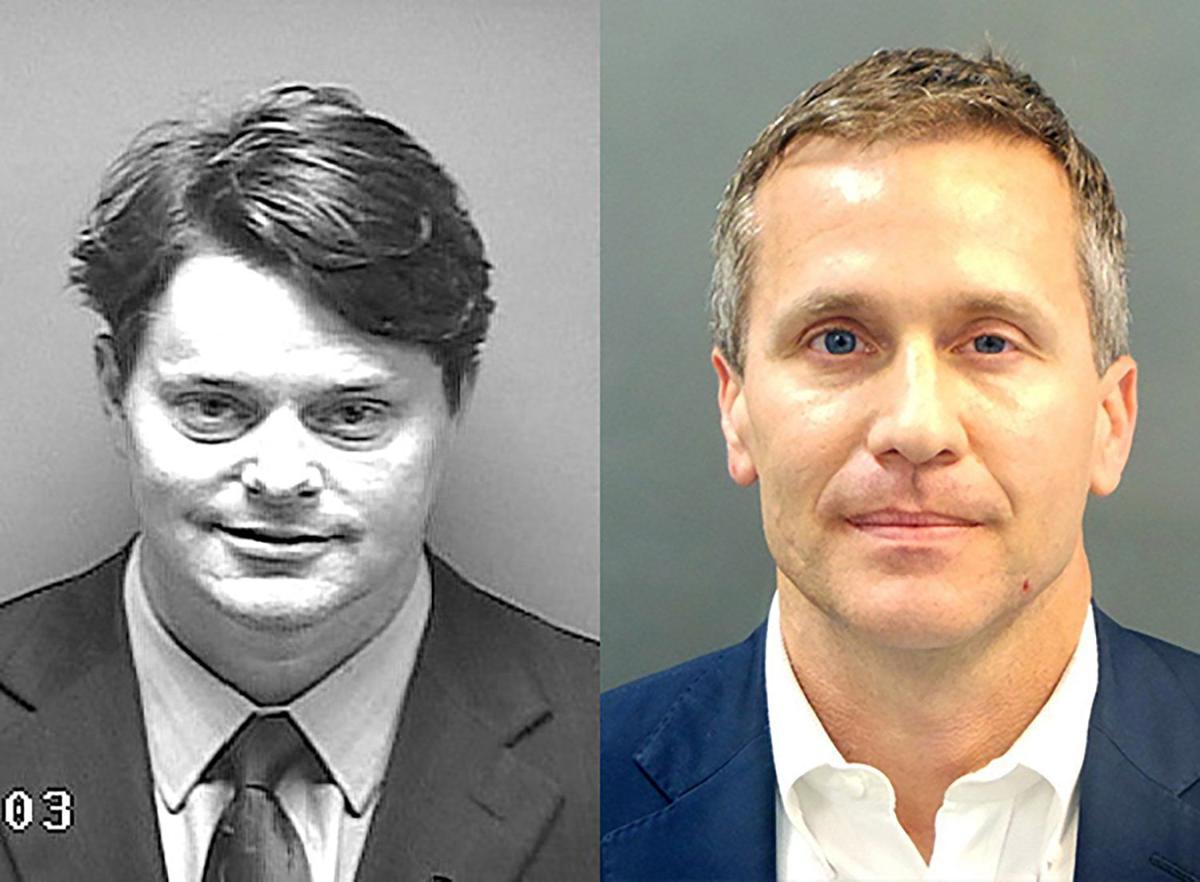 At his lowest, Rod Jetton couldn't get a job driving a garbage truck.
That's what he told me eight years ago, when the former speaker of the House was reeling from what, at the time, was the biggest sex scandal to hit Missouri politics. We sat in an empty restaurant off Interstate 55 near Cape Girardeau, and the former rising Republican star who opened up a political consulting shop after leaving office bared his soul.
"I got an application in to drive a garbage truck, and I got turned down to sell appliances," Jetton told me. "I've got no reputation. I have no money. I've got nothing."
Jetton was 42 at the time, about a year younger than Gov. Eric Greitens, the current Missouri governor, also a Republican, who is reeling from his own sex scandal at the moment. Jetton's fall was fast. His redemption would come.
At the core of both criminal cases that engulfed the two former military men is a single word.
Last month, Greitens, who is married and has two children, was charged with felony invasion of privacy by St. Louis Circuit Attorney Kim Gardner, a Democrat, after a grand jury issued an indictment. The charge stems from an incident in March 2015 when Greitens allegedly tied his lover to an exercise machine in his basement, partly undressed her, blindfolded her and took a photo of her without her knowledge. According to a recording made by the woman's ex-husband, Greitens was going to demonstrate to the woman how to do a "proper pull-up."
Greitens has not denied taking the photo. But in a motion to dismiss the charges, the governor's attorneys argue that the law is being misapplied by Gardner:
"The law does not apply … (when) the 'victim' was in the home of the other person to engage in private sexual activity with that other person," the motion reads.
It's a version of the age-old "she wanted it" defense. The woman who was raped, or assaulted or harassed shouldn't have dressed like that. She shouldn't have flirted in the bar. She shouldn't have been in the man's hotel room, or the basement of his home.
When Jetton and his former lover got together in November 2009, there was little question that they were going to have sex.
They had exchanged text messages talking about "rough sex."
They even had a safe phrase the woman was to use if she wanted to stop: "green balloons."
Consent to have sex, the Scott County prosecutor would later argue, is not consent to physical violence. The woman went to police after Jetton allegedly choked her and slapped her while at her home in Sikeston. She said she drifted in and out of consciousness after drinking some wine. Jetton was charged with felony assault but eventually pleaded guilty to a misdemeanor.
It wasn't long after he was charged with assault that news of another sort broke: Jetton was under investigation by an FBI grand jury looking into his handling of anti-pornography legislation that involved campaign donations being shared among multiple political committees to obscure the source of the funds. It was "dark money" several years before author Jane Mayer's book of the same title turned the phrase into a national understanding of how some politicians hide the source of their funding.
It's yet another parallel the Jetton story shares with the Greitens one.
With ethics, it is often the original sin that leads to others. First, it is a donor list or a lobbyist gift. Free tickets to Cardinals games. Fancy hotels. Nice meals. A hunting trip. Then a flirtation. And then …
Jetton knows where that road can lead. The trappings of power isolated him from the person he says he once was. As speaker, he turned an old vault in the Capitol into a hideaway office where he could work or meet with allies in secrecy. Greitens had a donor buy a building across from the Capitol that he turned into an office for his dark-money committee and another one for his campaign office.
Jetton says he became "prideful and cocky" before his fall.
That's where, for now, the parallel stories diverge.
Greitens is still denying he has done anything wrong, short of cheating on his wife and kids.
Jetton, on the other hand, remarried and working on a master's degree, shares his walk down the political and personal road to ruination in talks before state legislators and in his post-conviction book: "Success Can Kill You."
The book is meant as a guide for other politicians, Jetton says, so they will avoid the pitfalls caused by hubris on hyperdrive. Its title recalls a verse in the Book of Proverbs: