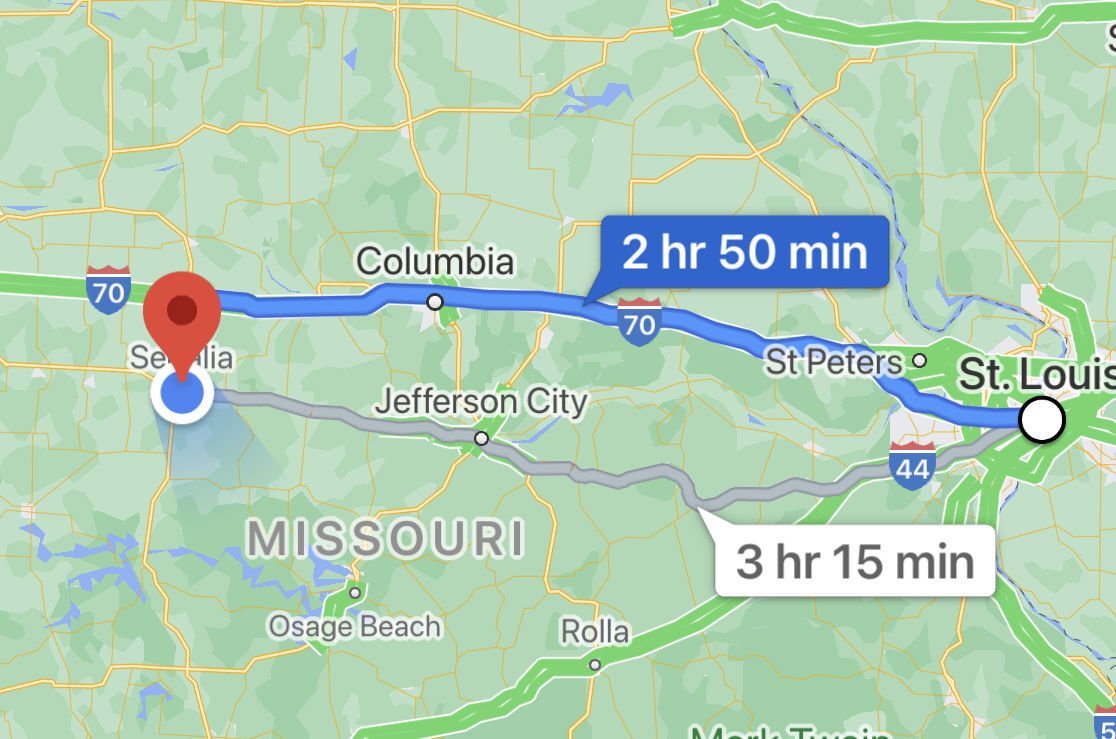 SEDALIA — Elinor Schmidt sat in a folding chair in the back of the CVS Pharmacy on Broadway in this historic railroad town in central Missouri. She read a paperback to pass the time.
We were vaccine tourists.
Schmidt is 66 and lives in Webster Groves. She has diabetes. I'm 54 and live in Wildwood. I'm a cancer survivor with a body mass index that hovers in the 40 range. We found ourselves driving more than 2½ hours on a Sunday afternoon because this is where we could get an appointment to get the life-saving vaccine. Over the past three months it has been significantly more available in sparsely populated rural areas in Missouri than it has been in the population centers of St. Louis and Kansas City.
"I'm pissed at the governor," Schmidt told me, referencing Gov. Mike Parson, who has acknowledged creating vaccine deserts in Missouri's cities, but has not yet done anything to rectify it, let alone apologize for the missteps of the state's vaccine rollout plan. "I think he's prioritized all the red parts of the state over urban areas."
When Schmidt says "red," she means Republican, the areas of the state that voted for Parson. Whether or not the governor intended to penalize those folks who voted against him, and the areas of the state with the heaviest Black population, that's what it looked like from Pettis County on Sunday. The old country sheriff had laid down the law, and told those city slickers that if they wanted any vaccine, they'd have to come and get it.
During the coronavirus pandemic, I've been on a Western movie kick, watching and rewatching all my old Clint Eastwood favorites, from "Unforgiven" to "Two Mules for Sister Sara." As I drove down North Ohio Avenue into Sedalia, past the J.A. Lamy Manufacturing Co. (established in 1866) and the railroad tracks that brought the city to life, and into the historic downtown that looks in some ways like it hasn't changed in more than a century, I imagined this is where William Munny used to hang out, perhaps at the Hotel Bothwell, drinking whiskey and playing poker after his latest shootout across the street in front of the courthouse on the square.
I hadn't stopped to look at this part of Sedalia on my previous visits. My last time here was the same as every other visit: Drive down Highway 50 to the state fairgrounds for the governor's ham breakfast, that political staple of the Missouri State Fair. During big election years that was the best place to get a quote from any big name running for statewide office. Last year, there was no fair; there was no ham breakfast. They were casualties of the pandemic, though Parson insisted even as states all around the country were canceling their fairs that the agricultural celebration in Sedalia would go on, right up until the last minute when grim reality forced his hand.
So it has been in the pandemic under the leadership of Parson and his health director, Dr. Randall Williams. No mask mandates. Few statewide directives at all. Deadly outbreaks in state veterans homes and prisons. A massive split between urban and rural areas in terms of efforts to control the pandemic. And now, the slow, skewed vaccine rollout that is causing people in the state's two biggest cities to drive hundreds of miles to make sure precious vials of vaccines don't end up in the trash.
Schmidt didn't plan to be a vaccine tourist. But the more she waited, the more she found herself on various vaccine spotter or health care websites, trying to find appointments, no matter where they were. She retired from a Schnuck's pharmacy, which is now run by CVS, and a friend who still works there suggested she check that company's website. She found the appointment in Sedalia on Saturday for the next day and took it.
"I'm retired. I have a car. I'll drive," she said.
She got her first shot of Pfizer vaccine right before me. Two people ahead of us was a man from Columbia. Right behind me was a woman from Warrenton. My pharmacy tech was from Excelsior Springs, outside Kansas City. She works at a CVS there, but they haven't had any access to vaccine.
Nearly everybody in Sedalia that day to get vaccinated, she told me, was from St. Louis.
Many of us will be headed back to get our second shots over Easter weekend. I left the CVS just as sheets of rain began falling from the mid-Missouri sky. I tugged on my collar and put on my ballcap for the trip home. Just 174 miles to go. At least I wasn't on a horse.