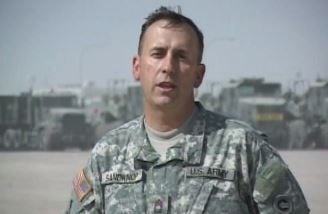 Michael Sandknop went to court last week empty-handed.
Fired two years ago from a civilian contract job with the Missouri National Guard, the Arnold man asked a Cole County Circuit Court judge to delay ruling on whether to dismiss his defamation lawsuit against Gov. Jay Nixon, Adjutant General Steve Danner, and several other current or former Guard employees.
The reason Sandknop wanted a delay is that he doesn't have the one document that might make his case. The government is keeping it from him.
The document is the full Army 15-6 investigation into allegations Sandknop brought to an inspector general before he was fired. Those allegations, outlined in my first column on Sandknop in late December, are that he wasn't provided the proper tools and equipment to do the job he was hired to do and that the working atmosphere at the public affairs unit of the Missouri Guard was toxic.
Within a week of filing what he considers a whistleblower complaint, Sandknop was fired by the Guard on trumped up charges that he wasn't doing his job.
His job was to produce a half-hour monthly television show highlighting the Guard's work throughout Missouri and the world. His first show, produced shortly before he was fired, earned rave reviews from Gen. Danner and other top officers. I'm no TV critic, but I've watched it, and it's a high-quality, television newsworthy production.
So why did Sandknop get fired? "I really don't know what happened," he said.
Its investigation into Sandknop's complaints has been complete since at least June 5, 2014. That's when Sandknop received a one-page letter from the Guard's inspector general telling him the investigation had verified his complaints. Sandknop was working "within his contract," and wasn't allowed "to use your system of redress." The inspector general found "an unhealthy working environment" in the public affairs unit. "Appropriate action will be taken to address those issues," the letter said.
To get the full 15-6 report, Sandknop was instructed to file a federal Freedom of Information Act request. He filed it the next day. On July 1, the government denied "expedited processing," which would speed the process up. That was just the beginning of the delays.
Sandknop asked the federal government for the report, and it told him the Missouri Guard had it.
He asked the Guard for the report, and was told it was with the National Guard Bureau in Washington. On April 3, 2015, the National Guard Bureau told him it had the report, and it estimated it would respond to his FOIA request by Nov. 30, 2015.
In November, the Guard pushed the date it would fulfill the request to Dec. 31.
In December, the last time Sandknop heard from the government, it told him his request wouldn't be fulfilled until March 31 of this year.
By then, his next hearing in his defamation suit will have come and gone.
The reality is, Sandknop has virtually no chance to win his defamation case. He has no attorney. The top government officials named in the suit will likely be dismissed, and the contractor he worked for went out of business. But that's not the point.
For the government to keep from him the one piece of evidence that gives him a shot at justice is the real travesty.
The office of U.S. Sen. Claire McCaskill, D-Mo., says it has been working since late 2014 to help Sandknop get a copy of the 15-6 investigation. More important, McCaskill's office has expressed dismay that punishment of Guard employees as allegedly called for in the investigation either didn't take place or was delayed until one or more of the officers implicated could retire.
And none of that helps Sandknop, who is still unemployed and hasn't been offered the redress he was due as a federal contractor.
For $55,000 a year, Sandknop was hired to help put a good public face on the Missouri Guard.
Instead, the Guard treated this veteran like his service was meaningless and now is stonewalling the release of a public investigation that no doubt will put an ugly face on the Guard's treatment of any employee who chooses to complain.
"We're still waiting for an answer as to why Mr. Sandknop was not offered his job back," said John LaBombard, a spokesman for McCaskill.
It's been two years since Sandknop has been fired. It's been 598 days since he first asked for the report that clears his name.
The government he served has failed him.