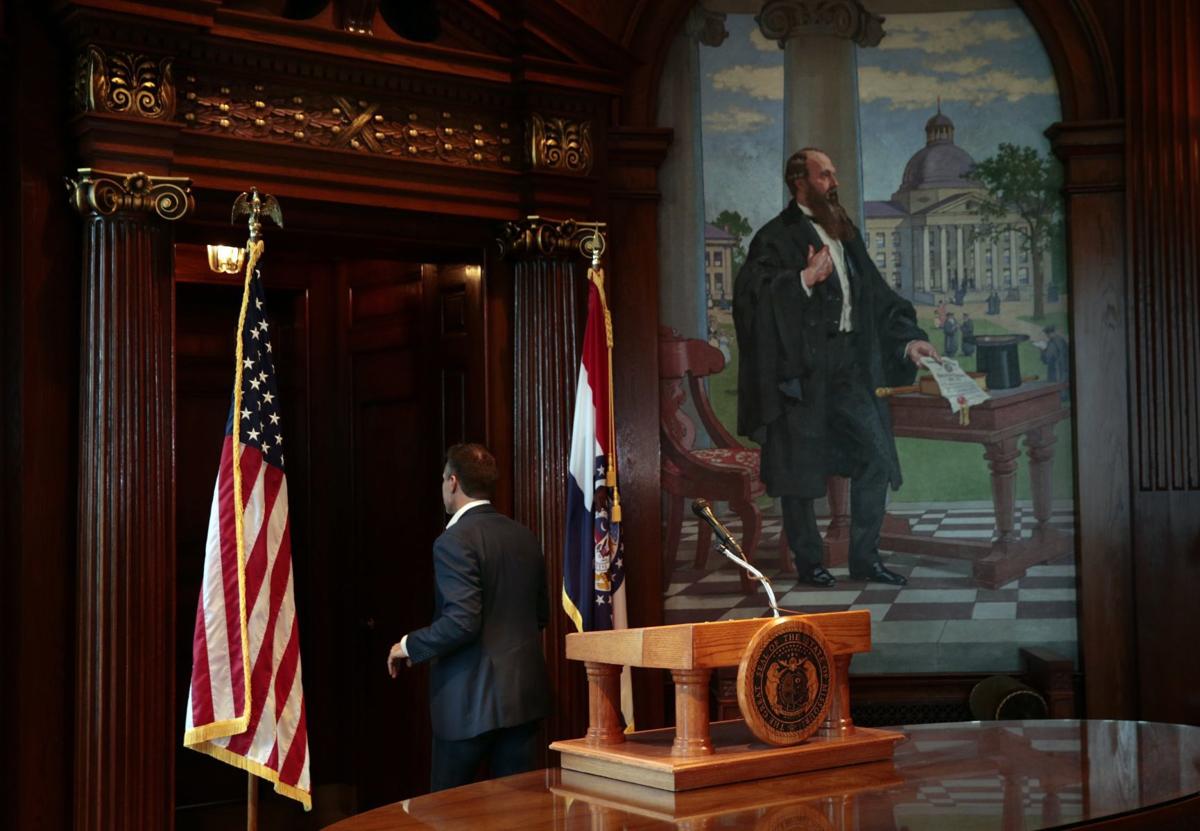 JEFFERSON CITY • The Missouri Capitol is getting a face-lift.
A bronze statue of Thomas Jefferson stands guard over floor upon floor of scaffolding covering the limestone columns and exterior walls undergoing some painstaking cleaning and preservation work.
Inside, the government is literally falling apart.
Republican Gov. Eric Greitens announced his resignation Tuesday, unable to bear the weight of the criminal cases, civil lawsuit and impeachment hearings progressing against him.
The announcement came at a hastily called news conference at which he turned his back on reporters and walked away without taking questions. Greitens blamed his opponents for waging a monthslong attack on his administration.
"The past few months have been incredibly difficult," he said. "This ordeal has been designed to cause an incredible amount of strain on my family."
Indeed, it has caused much strain. The first governor to ever have his family picture serve as an official portrait, hanging in state office buildings around Missouri, went out without his wife, Sheena, or their two boys, by his side. He was alone, as the other two branches of government closed in.
Not quite 17 months into his term, Greitens is going out the way he came in, haunted by the specter of dark money.
Earlier in the morning, on the day that would signal a sudden end, Cole County Circuit Court Judge Jon Beetem ruled that Greitens would have to turn over documents from his campaign, and those from his dark-money committee, A New Missouri, to the House committee investigating the governor's various alleged misdeeds.
That committee met on Tuesday, hearing from former Greitens staffer Michael Hafner, who laid out the case that the early days of Greitens' campaign, in 2014 before he ever filed a campaign committee, might have run afoul of Missouri ethics laws.
Hafner's testimony wasn't new. He previously spoke to the committee behind closed doors, and was questioned by Attorney General Josh Hawley, who was investigating whether the governor broke the law by taking the donor list from the nonprofit he founded — The Mission Continues — and using it to raise money for his political campaign.
One question, though, elicited the sort of answer from Hafner that has had big-money state and national Republicans scared to death about where this investigation might lead. After Hafner discussed the advice he gave Greitens in early 2014, that he should form a committee with the Missouri Ethics Commission as soon as he started spending money on political activities, state Rep. Jeannie Lauer, R-Blue Springs, asked about the nature of the activity of some of the committees that the governor eventually did form.
One of them, A New Missouri, is a 501(c)(4) nonprofit organization that hasn't disclosed its donors like other political action committees. It is this committee that — long after Hafner was no longer working for Greitens — raised most of the governor's money and continues spending it, in a way that leaves taxpayers in the dark about who is funding the governor's activities.
"What is the purpose of a (c)(4)?" Lauer asked Hafner.
"To conceal the identity of donors."
This is hardly a revelation.
Author Jane Mayer wrote a best-selling book on the topic in 2016 called "Dark Money: The Hidden History of the Billionaires Behind the Rise of the Radical Right." Some of the characters in that book have figured in the rise and fall of Greitens.
National politicians of both major parties have used (c)(4)s and other similar groups to conceal donor identity for years. Plenty of Missouri politicians, too, have moved money from committee to committee to either get around donation limits or allow some donors a certain amount of anonymity, or at least plausible deniability.
But nobody played the game with the fervor of Greitens.
He did so, Hafner testified, methodically, having a plan to target certain big donors, some of them potentially from other countries, and taking their money in a way that would get around various disclosure laws.
"There were conversations we had where foreign money was discussed," Hafner said on Tuesday.
It wasn't the first time he made such a statement. When he did so previously, in a closed session, Barnes took the information to the FBI, suspecting a potential federal crime.
That earned him a verbal lashing from Catherine Hanaway, the former speaker of the Missouri House and U.S. attorney who now represents A New Missouri and the Greitens campaign.
On Tuesday, Hanaway got her comeuppance, as Beetem told Greitens' committees that they had a couple of days to comply with a subpoena for documents issued by Barnes' committee.
That day — June 1 — will be Greitens' last as governor of the state.
As he began his race, the former Navy SEAL threatened to toss lobbyists down the steps of the Missouri Capitol. Instead, it is his administration and dark-money scheme that came tumbling down.
More