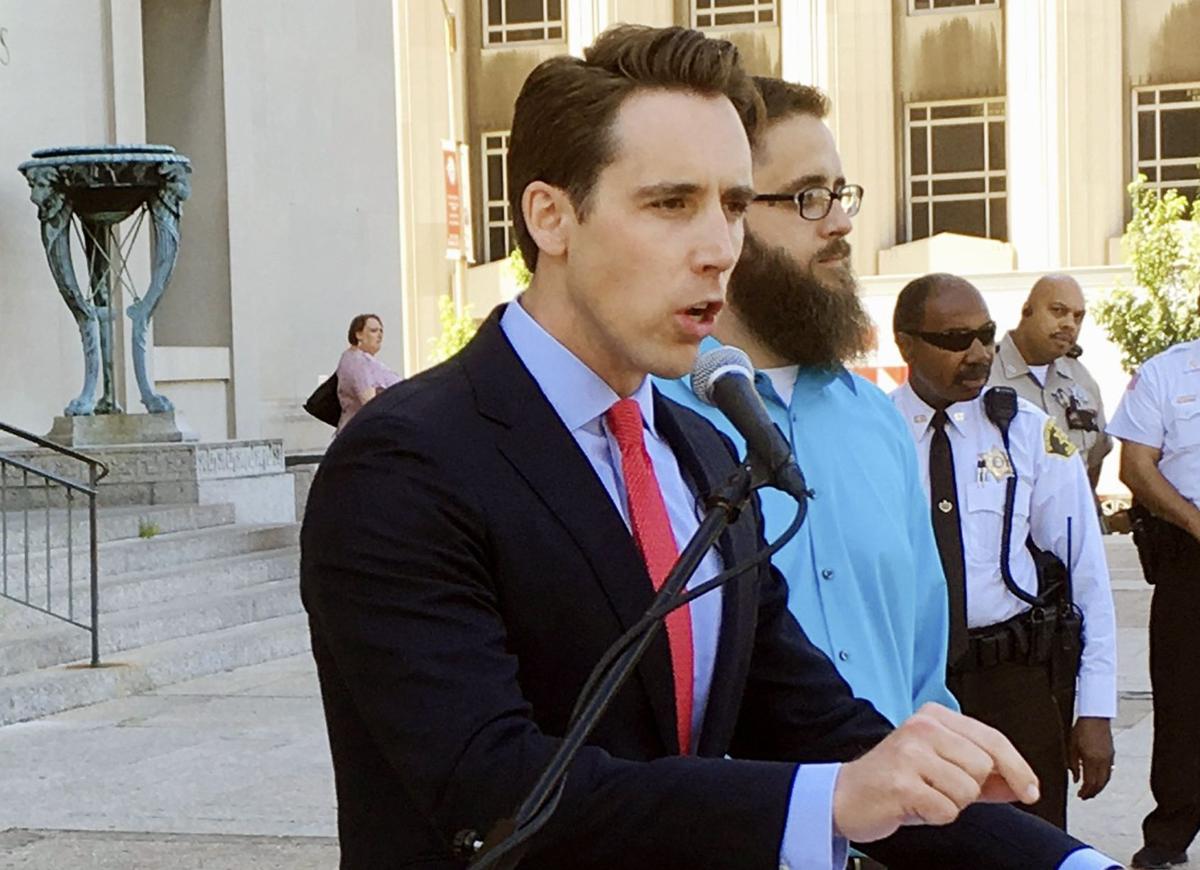 The dark clouds that cast a shadow over the people's business in Missouri might be breaking. A sliver of sunshine is breaking through.
On Thursday, Attorney General Josh Hawley filed two open records lawsuits alleging that government officials in St. Louis County and Jefferson County were breaking a law intended to allow citizens to track the decisions government officials make on their behalf.
Hawley, a Republican, says in his lawsuit that St. Louis County Executive Steve Stenger "has repeatedly failed to disclose public records in a timely fashion; failed to disclose the identity of the Office's records custodian; and failed entirely to disclose certain important public records."
The lawsuit recounts numerous examples of Stenger and his employees consistently avoiding public disclosure on requests filed by reporters and citizens.
Hawley's lawsuit against former Jefferson County Council Chairman Renee Reuter, a Republican, alleges she ordered destruction of public documents related to a contract with a law firm.
It is rare that the attorney general — charged with enforcing the state's Sunshine Law — goes to court to uphold the people's right to know. More often than not, previous attorneys general would respond to such complaints by reminding public officials of the importance of the Sunshine Law, sending pamphlets, or occasionally requiring extra training.
Hawley's lawsuits signal a welcome change.
They come on the heels of his investigation into Gov. Eric Greitens' use of the Confide app on his phone, which destroys text messages after they are read. Two St. Louis lawyers, Mark Pedroli and Ben Sansone, have also sued the Republican governor, alleging violation of Sunshine Law and records retention laws by using an app that would destroy messages before it could be determined whether the records were public.
For years, Missouri residents and reporters have found elected officials to be increasingly bold in their disrespect for the Sunshine Law. With little risk of enforcement from the attorney general, there has been no incentive to follow the law.
But if Hawley — who as a law professor fought Sunshine Law disclosure — wants these lawsuits to be the beginning of a new era of compliance, and not just a quick headline in his nascent candidacy for U.S. Senate, he's going to have to address a nagging problem:
His office is standing in the way of resolution of another Sunshine Law case.
In 2016, Brooke Ganz, who runs a California based genealogical nonprofit called Reclaim the Records, filed two simple Sunshine Law requests with the Missouri Department of Health and Senior Services. Basically, she was seeking birth and death listings in the state from 1910 to 2015.
No problem, the state said, after months of delay. But the records would cost $1.4 million.
Astonished — Ganz was filing similar requests across the country, which her nonprofit is compiling and posting on the Internet for free searches — she hired Bernie Rhodes, a Kansas City lawyer who is a partner at Lathrop Gage.
Rhodes called the state and researched what it would take to retrieve the records.
"It was literally a couple of keystrokes," he says.
The state relented and offered the records for $5,000. Still too much, Rhodes said. So the state changed its mind again.
"Out of the blue they came back and said the request for records was denied, period, end of discussion," Rhodes said.
So, in late 2016, on Ganz's behalf, Rhodes filed a Sunshine lawsuit.
Hawley's office is defending it. But not very well. When Hawley was elected, there was a fair amount of turnover of attorneys in the office. Rhodes kept finding himself not being able to get responses from the attorney general's office on the lawsuit. He couldn't get calls back or answers to simple discovery requests.
Early this month, after he couldn't get the fourth attorney from the state to handle the case to even return calls or emails, Rhodes filed a motion with the court seeking to compel disclosure of documents in the case.
"For more than a year Ganz has attempted to get DHSS to produce documents which the agency concedes are directly related to her claimed violations of the Missouri Sunshine Law," Rhodes wrote in his motion. "Rather than providing those documents, DHSS has repeatedly stonewalled Ganz. That this would occur in any lawsuit is a shame, but for it to happen in a lawsuit which seeks to enforce the public's right to access public records is utterly shameful."
Indeed, it's as shameful as a governor destroying his texts, or a county executive refusing to provide the public access to documents that show how he is rewarding his biggest campaign donors.
"We have lost track of the perspective that the government is supposed to be working for us," Rhodes says. "Too many public officials view everything they do as none of our business. It's the exact opposite of what the Sunshine Law says."