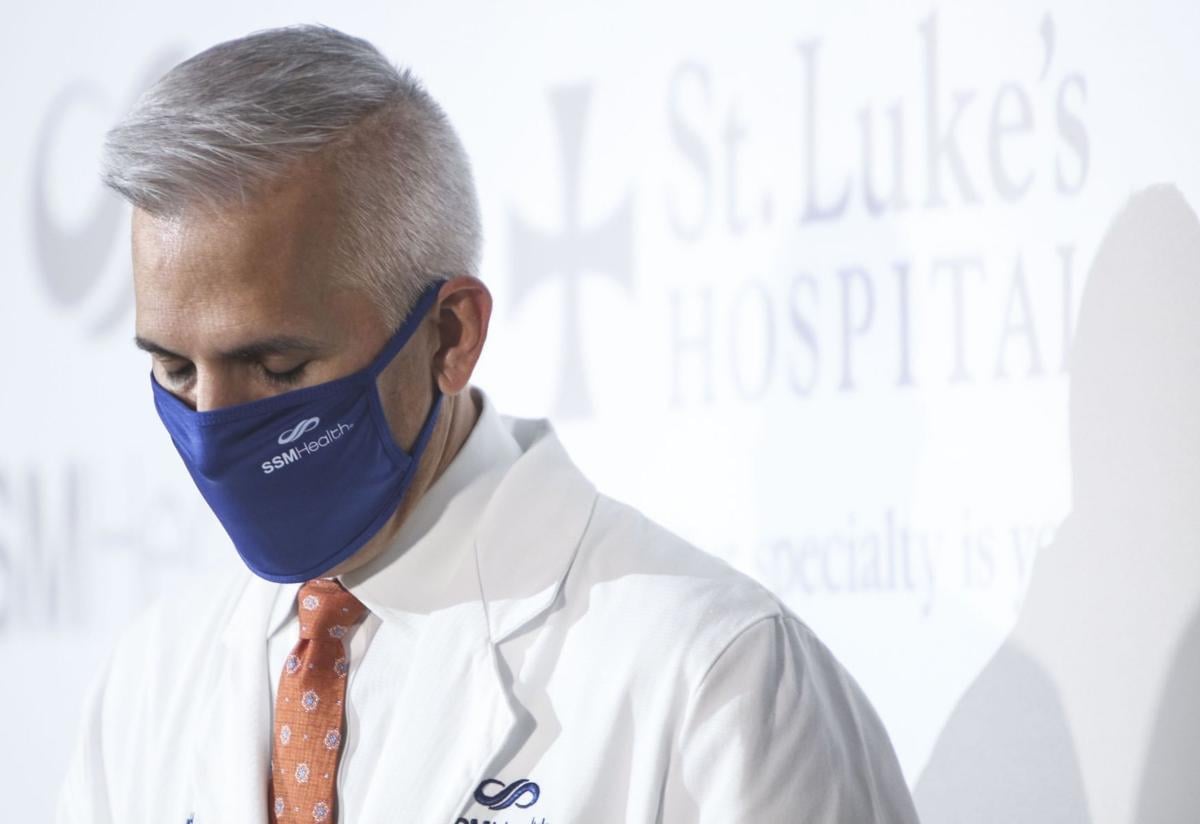 It's an attribute that in my family seems to skip a generation. Something about sons rebelling against their fathers.
Take my father. He's not a pessimist, per se, but he leans toward worry. Likely, it's a result of his chosen profession, as a coach, always worried about preparing his team, about what his opponents are planning.
I went the other way. The sky is always blue. Everything is going to be OK. My youngest son, on the other hand, is like my father. "Great game," I'll say to him as he walks off the court or field after a ballgame, even if the game wasn't so great. He'll harumph at me and let me know the skies are gray. He'd rather have somebody not named Dad tell him the truth, so he can learn from his mistakes and get better.
These days, as it relates to the coronavirus pandemic, my son is rubbing off on me.
I don't know where we go from here. My sense of optimism is fading.
Starting Tuesday, St. Louis County goes back on a "stay at home" order that is similar to the shutdown, though not quite as restrictive, that we experienced at the beginning of the pandemic, oh so many months ago. I think my son would like St. Louis County Executive Sam Page, the man whose health department issued the order, because he tells it like it is.
"I wish this wasn't where we had to go," Page said Tuesday, "… But this is where we are today."
My optimism wanes not because of Page's order — it was clear it was coming, and I tend to think it's the right thing to do — but because in the state of Missouri, he seems to be going it alone. The unfortunate collision of COVID-19 with the most divisive political era of my lifetime means that getting an entire metro area to move in the same direction is impossible, not to mention a whole state or the United States.
Page referenced that in his bleak announcement on Friday. "A national strategy on COVID-19 would have helped us a great deal," he said. He's probably correct. But closer to home, the issue of political division isn't just a Republican-Democratic divide.
As has been the case for most of the pandemic, the county restrictions announced by Page are different from the ones announced in the city of St. Louis by Mayor Lyda Krewson. Both Page and Krewson are Democrats, and they, mostly, are singing from a similar hymnal on COVID-19, generally following the advice of the St. Louis Metropolitan Pandemic Task Force. But they rarely appear together and they can't quite get in sync with each other.
I suspect politics is at play. Page and his allies tend to be supportive of city Treasurer Tishaura Jones, who is running for mayor next spring against Krewson. The mayor is aligned with people who have been on a political rampage against Page. COVID-19 restrictions have become their proxy war.
Meantime, in Franklin and St. Charles and Jefferson counties, few restrictions are in place. And at the state level, Gov. Mike Parson continues to eschew the advice of hospitals across the state, begging him to implement a mask mandate.
On Friday morning, the head of the St. Louis Metropolitan Pandemic Task Force, Dr. Alex Garza, was in tears as he offered the most pessimistic view of the pandemic yet. He said he was "scared," and that a statewide mask mandate and stay-at-home order was the only way to avert disaster.
"We are past the time where individual behavior alone can address this disaster," Garza said. "We need the state to act if we want to assure our hospitals both rural and urban won't have to turn away sick patients."
Hence my dwindling optimism. Unless Parson reverses everything he has said and done, Missouri isn't getting a mask mandate. Residents of the metro area will continue to operate under a patchwork of different rules that make combatting the pandemic that much more difficult. Our ability to set aside differences and work together toward the common good appears irreparably damaged, at least for now. The result is a dire one. People are dying.
"When it comes to the virus, we are all one big county now. The lack of a mask mandate in one county has implications for residents and health care professionals in the rest of the state. No locale is safe anymore," Garza said, without a hint of optimism in his voice. "We're at war, and right here, right now, the virus is winning that war. There is no safe harbor anymore. There is no rural vs. urban. It is everywhere."