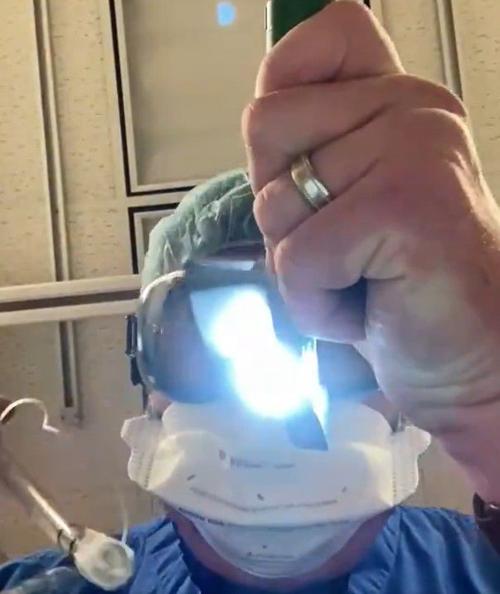 Dr. Kenneth Remy was a desperate and exhausted man.
It was early Saturday after an overnight shift in the intensive care unit at Missouri Baptist Medical Center. For the past week, he had been caring for the sickest COVID-19 patients, there and at Barnes-Jewish Hospital, as cases throughout Missouri skyrocketed and hospitals across the St. Louis region neared capacity.
Remy is often the person family members hear from when their loved ones have died of the disease that has taken more than 240,000 lives in the U.S. since the coronavirus pandemic began earlier this year. Your loved one's heart stopped, Remy will say. We did everything we could do.
"It's the worst way to ever start a conversation," he says. In the past week, he's had 12 of these conversations, 11 of which were COVID-19 related.
In the past 10 days, as St. Louis hit record after record for cases, hospital stays and deaths, Remy and his fellow health care workers noticed the exhaustion in each other's eyes, and the frustration building. Why won't some people wear masks? Why are they still going to big gatherings? What will it take to break this deadly cycle?
So Remy, who is dually trained in critical care for pediatrics and adults and runs a lab at Washington University, held his phone in front of his face. Still fully clothed in the personal protective equipment of an emergency room doctor, he grabbed a Macintosh Laryngoscope Blade and an 8-millimeter cuffed endotracheal tube, and he made a video.
Remy mimicked the heavy breathing of a COVID-19 patient who was about to be placed on a ventilator, his voice tinged with exhaustion and the passion of a man trying to save lives.
"This is what it looks like when you breathe 40 times a minute," he said, "I hope that the last moments of your life don't look like this."
Remy displayed the medical tools in his hand and slowed his speech. "Because this is what you'll see at the end of your life if we don't start wearing masks when we're out in public, when we don't practice social distancing, when we don't wash our hands frequently. Because I promise you, this will be what you see. I promise you, this is what your mother, or your father, or your children, when they get COVID disease, will see at the end of their lives. This is serious. I beg you, please practice the precautions to reduce transmission of COVID disease so that we can effectively prevent disease for you and your loved ones."
Remy posted the video to his Twitter and Facebook accounts at about 6:30 a.m. Saturday. More than 5,000 people had viewed the video within 24 hours. For the physician and scientist, it was an act of desperation to try to reach those who have turned wearing a mask or walking into a crowded bar into a political statement of "freedom." To try to convey the realities facing the region if all of us, including those in surrounding counties, don't find the courage, or humility, or just common decency to work in the same direction battling the spread of the disease.
"We can't build any more capacity," Remy says. "You can't grow medical staff if they're getting sick."
Indeed, the wide community spread is one of the factors that makes the situation so dire, as compared to the early days in the pandemic, when doctors issued similar warnings, but shutdowns were able to flatten the curve.
Remy is no stranger to conservative politics. He's a councilman in the city of Wildwood. He understands the desire to protect personal liberties, but he is tired of hearing from people who right before they die tell him they wish they just hadn't gone to that one big party full of unmasked people.
"Wearing a mask and not getting the disease is the best way for you to protect your personal liberties," Remy says. "Your personal liberty won't matter to you when I put a breathing tube in you, and then you die."