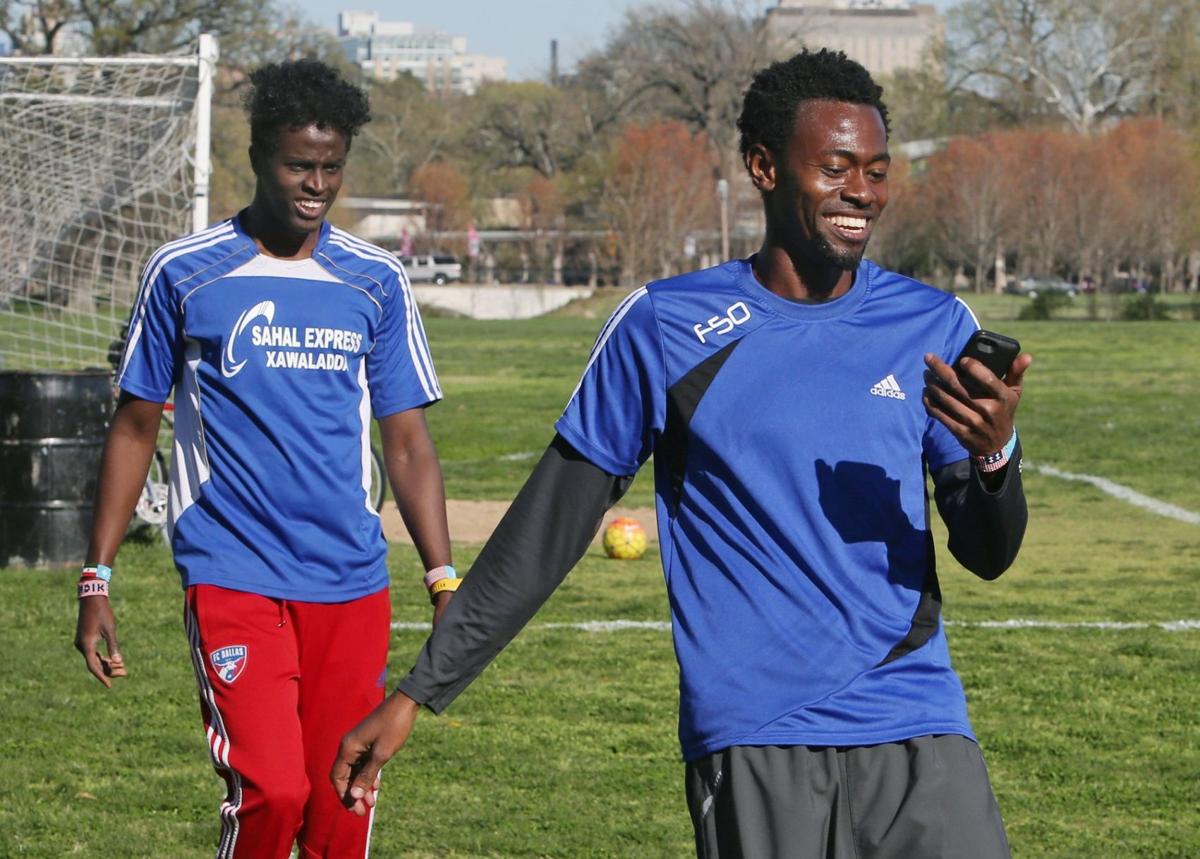 Sa'ad Hussein came to the United States to escape war.
On Monday, the 27-year-old delivered some of the first doses of vaccine that will help the country escape the grasp of the killer virus that has taken more than 300,000 lives.
It's an American journey of love nearly five years in the making.
You might have read about Hussein, and his better known best friend, Saadiq Mohammed. They are the subjects of St. Louis native J.R. Biersmith's documentary, "Men in the Arena," a film about two Somali national soccer players trying to survive in a war-torn country.
Both had been threatened with death. They escaped first to Kenya, and eventually, America, where they ended up in St. Louis living with Biersmith's sister, Jessica Herschend, and her husband, Jacob. Mohammed enrolled at St. Louis University and played on the college soccer team, though after a coaching change a promised scholarship dried up, so he transferred to Bradley University. He graduated on Saturday. He plans to go to graduate school and maintains an extra year of soccer eligibility at Bradley because of the mostly lost season of 2020.
Hussein got to work almost the moment he arrived in the U.S., coaching some soccer on the side, as the two men waited for their requests for asylum to be approved. That's a process that should have taken a couple of months, but instead took years. "I am doing what I have to do to take care of my family and myself," Hussein says.
The International Institute in St. Louis helped Hussein get his first job, at a biscuit factory, but he had to ride a bus an hour each way to work. He got a job working at Pi pizza for a while, in the Central West End, but Hussein wanted a career. He decided he wanted to be a trucker.
For Herschend, his American "mother," there was serendipity in the decision. Her grandfather had been a trucker. Hussein went to driving school, got his commercial driver's license, and for the past three years has been driving loads from coast to coast.
We talked on the phone after he finished an overnight trucking run. He was in Hebron, Kentucky, the same place where he had picked up one of the first loads of Pfizer vaccine last week to deliver to a warehouse in New York.
Film maker brings Somali soccer stars to St. Louis
Film director and St. Louis native J.R. Biersmith made a documentary film about two Somali soccer stars - Saadiq Mohammed and Sa'ad Hussein, who are also best friends. Biersmith was able to bring Mohammed to St. Louis a year ago and in March he was able to bring Hussein over to join him. Mohammed is busy taking classes while Hussein is learning English at the International Institute. The two men practice soccer in Forest Park in hopes of making a team soon. Photos by J.B. Forbes
The gravity of the moment didn't pass him by. "It's very important," Hussein says. "I was worried about it. It's a big responsibility."
He was beaming with pride when he got on FaceTime with Herschend and her family to tell them about his run to New York. Indeed, getting the vaccine — which has very specific refrigeration needs — from point A to point B to be delivered from warehouse to warehouse and warehouse to hospital is a logistical challenge, with drivers like Hussein playing an important but unseen role in bringing an end to the coronavirus pandemic.
On Monday in a hospital in Queens, nurse Sandra Lindsay, 52, became the first American to receive the COVID-19 vaccine. She, too, is an immigrant, having grown up in Jamaica. The two immigrants will be tied inexorably to this moment in American history, in the shadow of the Statue of Liberty, two representatives of the huddled masses, yearning to breathe.
When he came to the U.S., Hussein was happy just to be alive. He had been whipped and beaten by soldiers connected to the violent al-Shabab terrorist group. After becoming a national hero by scoring the winning goal in his country's soccer national championship, Hussein was living in squalor in Kenya, hiding from terrorists who had threatened to kill him.
He was a man without a country, which, to some degree, his friend Mohammed still is. Hussein came to the U.S. as a refugee and now has obtained permanent resident status. Mohammed came earlier, seeking asylum, and has been stuck in a backlogged and broken immigration system. The Herschends, with the help of attorney Javad Khazaeli, and a host of friends and supporters, were persistent. So were both Hussein and Mohammed, as they pursued their unique versions of the American dream.