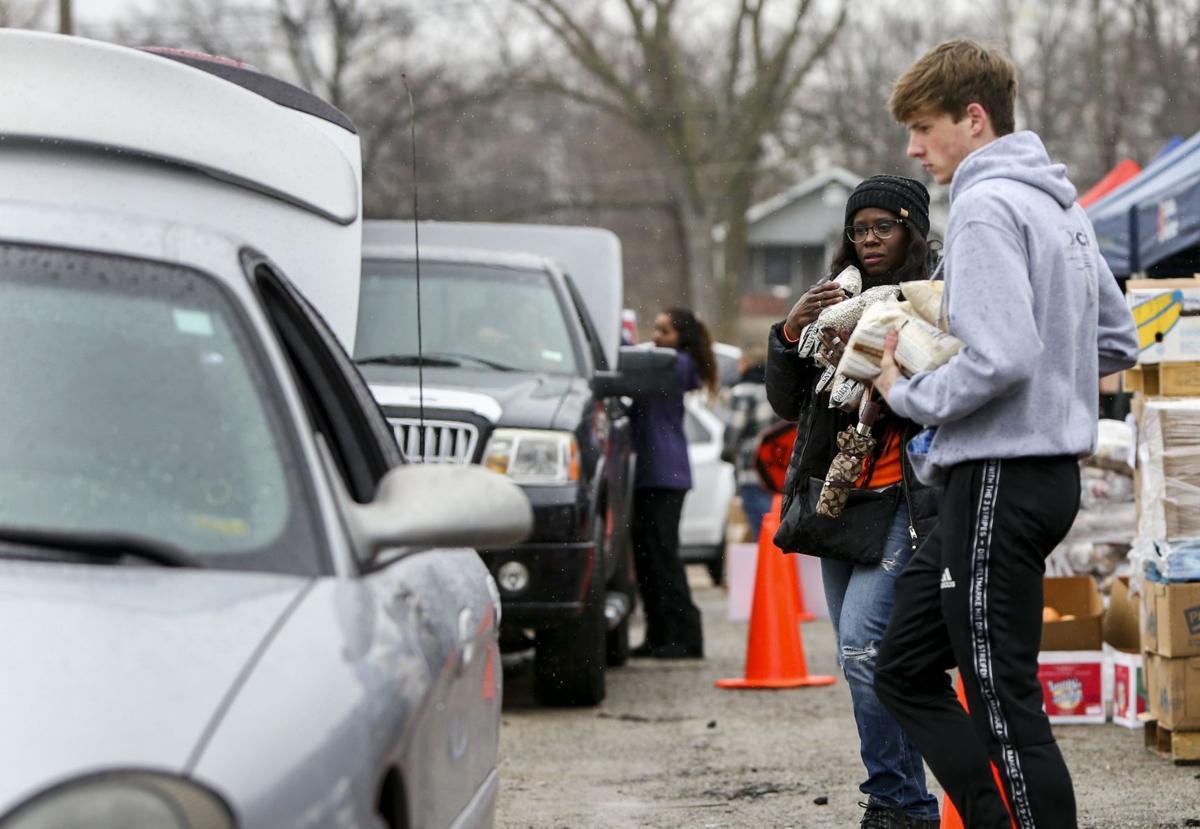 Like many people caught in the dual health and economic disaster that is the 2020 coronavirus pandemic, Brenda Christy never imagined herself filing an application for food stamps.
But that's what she did this month, after a long year of financial decline that started with the death of her father. Robert Betts, a longtime teacher in the Rockwood School District, died in February. He was 82. His death certificate says his heart failed, but Christy blames COVID-19. It was early in the pandemic, before most of us were even aware of what was happening. But looking back, Christy says he had the classic symptoms, including shortness of breath and a lost sense of taste.
Christy and her husband, Brooks, were living rent-free in a home Betts owned in Ballwin. They paid for all the utilities. The house needed to be sold as part of the estate, so they ended up moving to Florissant in July.
Upside down
In September, Christy, who has training in information technology, lost her job working for an online school. Her husband works at a convenience store. The pay is more than minimum wage, and the job provides health insurance, but they began to struggle to make ends meet.
"I have not been able to find employment," Christy says. "We're upside down."
She emailed me because of trouble she was having completing the food stamps application. After filling out the first part of the application, there is a federal requirement for an interview with a case worker. Historically, such interviews would take place at a local office of the Missouri Department of Social Services, but because of COVID-19, those offices have been closed most of the year.
Now, all the requests for interviews go through the state's call center. For more than two weeks, Christy couldn't get through. Then she got a letter that told her without the interview, her request for food stamps would be denied.
"We've been calling back multiple times, multiple days, and every time we get stuck in the circle," Christy told me. Indeed, with me on conference call, she called the state's number Monday morning. She typed in her Social Security number so it would recognize her, which it did. When the system got near the last step before the live interview, answering eight yes-or-no questions, the system hung up on her. It's the same thing every time, she says.
"There is just no way to get through their system," Christy says. "We're just kind of stuck."
It turns out, she's not alone. This is a massive statewide problem, says Katherine Holley, a lawyer with Legal Services of Eastern Missouri. Holley and other lawyers at the nonprofit have been helping clients navigate the system and advocating on their behalf to the state.
On hold
"We've been working on issues related to the call center for years," Holley says. "Since COVID, we're seeing huge problems. … Because of the sheer need, I don't think it's staffed enough to handle all the calls."
A spokeswoman for the Department of Social Services declined to answer questions about deficiencies of the call center. She sent me a link to monthly reports that showed a spike in food stamp usage when the pandemic began, and then recent drops. Holley believes the dropped calls and inability for people to get to the interview process is a major reason for the recent decline in food stamp use.
People commenting on the Department of Social Services Facebook page have plenty to say about the issue. "I've been on the phone for 6 days," one woman wrote.
"I have probably called about 200 times."
Like many people in their circumstance, the Christys have found help in the community as they navigate their current hardship. They've received financial aid from their church, and food from the Harvey Kornblum Jewish Food Pantry. Area pantries and food banks are having a hard time keeping up with the demand, with unemployment still high and thousands of people having simply left the workforce. The St. Louis Area Foodbank says that about 70% of its current clients are using such services for the first time in their lives.
Christy thinks the problems with the state food stamp line are a symptom of a larger problem in state government in Missouri. She read previously about the more than 100,000 children and senior citizens who were dropped from Medicaid rolls in the state, in part because of bureaucratic failures, and the trouble many jobless folks had obtaining aid early in the pandemic.
"I'm so disappointed in the state of Missouri for how badly they treat people who are in tough straits," Christy says.
Bad news
On Monday afternoon, Christy got some good news followed by bad. She dialed the system again, and this time used the state-generated DCN number, rather than her Social Security number, when entering the automated system. She was able to complete the questionnaire before the system hung up on her. A state worker called and conducted the food stamp interview.
She and her husband don't qualify for aid. His income puts her over the qualification limits, in part because his job provides a health insurance benefit. So they'll make another trip to the food pantry next week, and hope the help from church doesn't dry up before the pandemic ends and she has more success in her job hunt.
"We're in a pickle," Christy says. "There are a lot of us who never expected to be in a position like this. I'm feeling pretty scared."