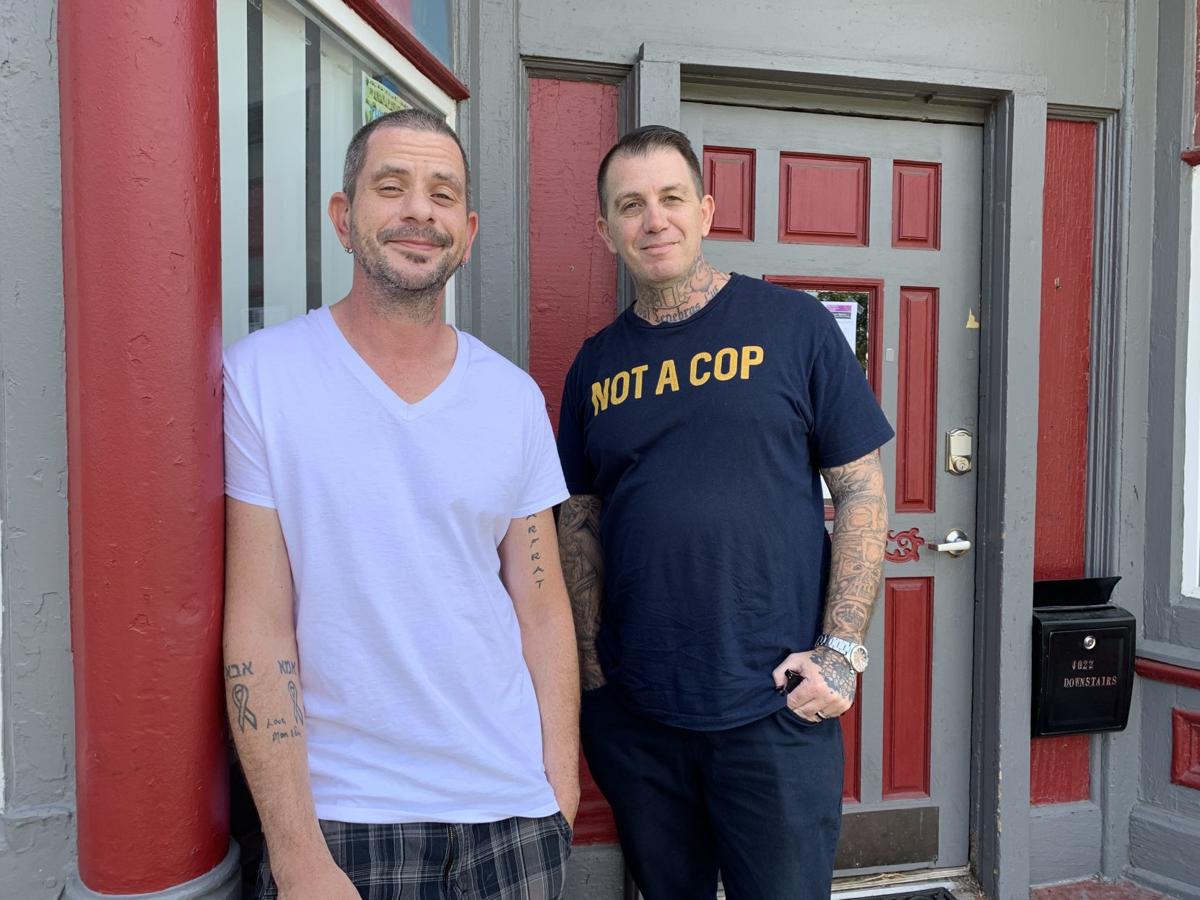 Search for the highest distribution of opioids by pharmacy in Missouri, and the answer is the Three F's.
Florissant. Festus. Farmington.
The information is found in a Washington Post database of opioid sales in the U.S. The newspaper obtained the data after a long battle with the Drug Enforcement Agency, which sought to block public release of the database.
It should come as no surprise that in each of those areas — St. Louis County, Jefferson County and St. Francois County — there is a strong connection between drug addiction and the criminal justice system.
"There is no way to separate drug use from the criminal justice system," says Chad Sabora.
Sabora has been clean for eight years.
In the last few years, he and his good friend Robert Riley II — clean for 13 years — have become warriors on the front lines of the battle to help men and women kick the addiction habit. The two men met through a Facebook recovery page, and ever since they have been applying their knowledge to helping St. Louis and Missouri learn what it really takes to help addicts kick the habit.
They operate out of a small storefront on South Broadway. There, they hand out Narcan to keep addicts alive. They introduce them to services and lead them on a path to rehab and recovery. They talk. They love their neighbors. They run a series of sober homes so recovering addicts have a safe place to stay as they try to get off the streets. They challenge convention, going to the Missouri Legislature every year and pushing for policies they know will save lives, like clean needle exchanges.
Sabora used to be a part of the system he is now trying to change.
He was a prosecutor in Chicago, tasked with putting people, some of them drug offenders, in jail.
Now he and Riley are trying to turn the tide.
The solution isn't to keep waging an expensive and unwinnable "War on Drugs," they say, but to introduce addicts to services, keep them alive and give them the possibility of getting off the streets.
A few years ago, they sought a radical change in St. Louis: an overdose prevention site, a place where addicts could come to shoot up in a clean environment. There would be health care workers and clean needles. The center would create an access point to conversations about rehab and other services.
Now, the first such site in the country — in Philadelphia — is the subject of a litigation battle.
There, where the drug overdose death rate is three times the homicide rate, a nonprofit called Safehouse is trying to open an overdose prevention site. Such sites are popular as harm reduction facilities in Europe. The prosecutor in Philadelphia, Larry Krasner, supports the opening of the facility. So do more than 60 prosecutors, police chiefs and other law enforcement officials who signed an amicus brief in the federal case supporting the opening of the Safehouse. It is being blocked by the federal government. Among the prosecutors to sign the amicus brief is St. Louis County Prosecuting Attorney Wesley Bell.
Sabora shakes his head when he thinks about such a facility opening in Missouri.
He's been to the Legislature too often to know that this state isn't truly ready to face its drug addiction problem.
That's one reason why Sabora and Riley are taking matters into their own hands.
"We have to meet the individual where they are at," Riley says. "We have to do the things that we know are effective."
Last month they opened their own recovery and rehab center in Jefferson County. Knowing there was a need for more beds, and tired of trying to convince other programs to adjust their methods, or sending Missouri addicts out of state, they found investors to help them open Sana Lake Recovery Center.
"We're only here because so many other facilities have failed," Sabora said.
The 55-acre facility has 20 detox beds, where most addicts will enter the facility. It has a total capacity to serve 90 patients, most of whom will be residential patients for four weeks or longer.
What separates it from other facilities, the two men say, is that it will not adopt one specific philosophy to battle drug addiction. Some people respond to Alcoholics Anonymous-type programs; others need suboxone to wean them off drugs. Some people relapse during treatment. They won't necessarily be kicked out of the facility.
"When there's a reoccurrence of use, that's when people need more care," not less, Sabora says. It's the sort of care model that Sabora says would be applied to any other medical issue. But not drug abuse. Not yet anyway. "If we compare how we treat drug addiction to any other medical condition, it's just a shame."