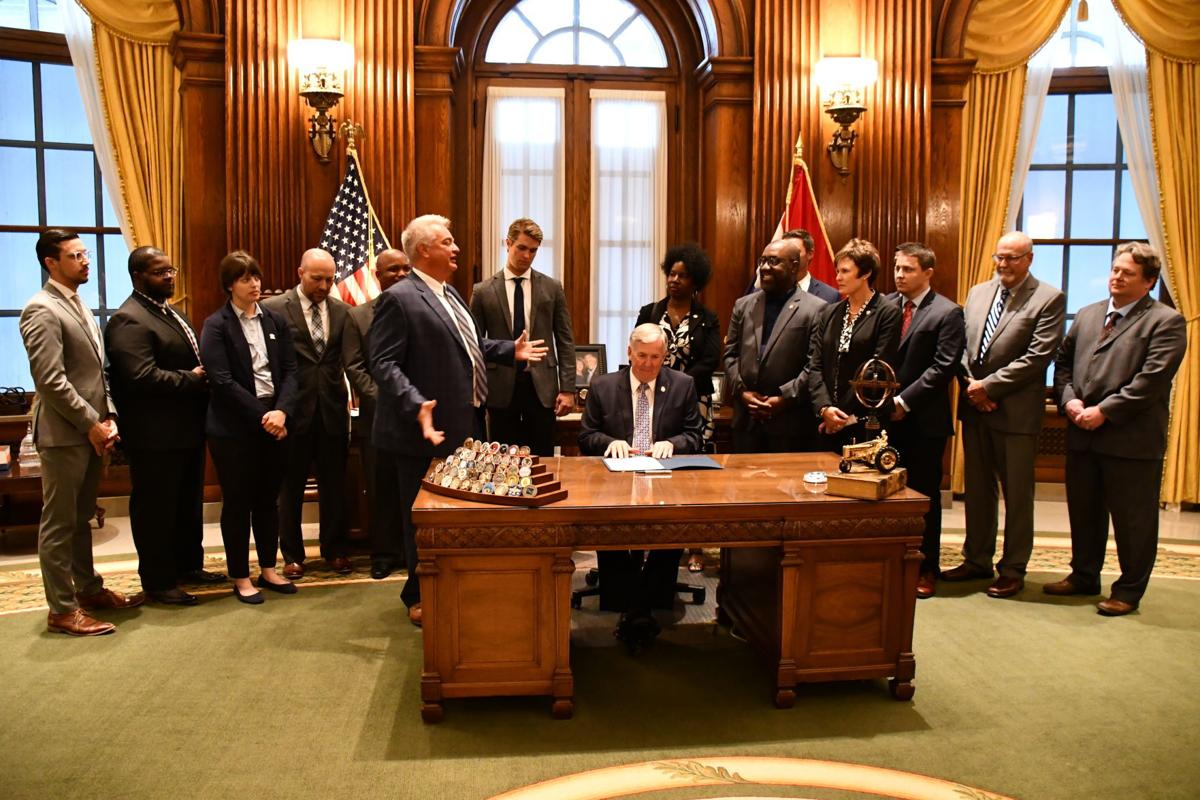 Last week, state Rep. Bruce DeGroot received an alarming phone call from the office of Attorney General Eric Schmitt.
DeGroot, a Republican from Chesterfield, was told that a fellow lawmaker had slipped an amendment onto a bill in the Missouri Legislature that could rekindle a debtors prison scheme that he and Schmitt, a fellow Republican, had a hand in stopping last year.
"What the heck?" DeGroot thought. Nobody had talked to him about it. There wasn't a stand-alone bill. There was no hearing. It just appeared in a floor substitute on an underlying bill, House Bill 1450, that increases penalties for fentanyl trafficking.
"They snuck it in when nobody was looking," DeGroot said.
There's a lot of that happening in what is perhaps the oddest, and most dangerous, legislative session in Missouri history. Amid a coronavirus pandemic that is leaving thousands of Missourians battling the deadly virus, with more than 350 deaths, lawmakers returned to the Capitol under the auspices of passing a budget, as is constitutionally required.
Legislative leaders asked staff to stay home, and encouraged residents to do the same. Then they got to work loading up omnibus bills with all sorts of amendments, many of which had not been vetted by lawmakers, staff, lobbyists or taxpayers.
The amendment that has DeGroot hopping mad would reverse last year's unanimous Missouri Supreme Court decision that said it was illegal to threaten indigent defendants with jail time if they couldn't afford to pay "board bills" for their previous stays in a county jail.
For years, Missourians who had been convicted of misdemeanors, and already served their time, would be brought back to rural judges month after month in places like St. Francois and Dent and Caldwell counties to pay down board bills reaching into thousands of dollars, or face more jail time. The law didn't allow that, the judges said, because board bills are not court costs.
Now, Sen. Bill White, R-Joplin, wants to change that. Sheriffs have felt the budget crunch of the court's ruling, he says without providing any evidence, and he wants things to go back the way they were.
"I have a small county in my district that is going to have to lay off a deputy," White says. "There's a lot more flexibility to collect money if board bills are classified as court costs."
The fentanyl bill is sponsored by Rep. Nick Schroer, R-O'Fallon. He did not return a call seeking comment.
White is unapologetic about his bill not getting a hearing or being filed as a stand-alone bill.
That's not how his fellow Republican, DeGroot, sees it.
Last year, DeGroot filed a bill, sought bipartisan support, ran it through the committee process, saw it passed overwhelmingly and signed by Gov. Mike Parson. That bill requires that board bills can't be collected by threatening defendants with jail time; they must be collected through civil means.
It was supported by the American Civil Liberties Union, the conservative Americans for Prosperity, the Missouri Catholic Conference, public defenders and a slew of bipartisan organizations.
DeGroot is grateful that Schmitt's office flagged the amendment for him.
If passed, the bill would contradict the amicus brief the attorney general filed last year supporting the two cases brought by the Missouri Public Defender's Office to undo the debtors prison scheme that had been practiced for decades in various rural counties.
"No statute authorizes this practice," Schmitt wrote in his amicus brief, "and it lends itself to abuses that threaten the constitutional rights of Missouri citizens … It does little good, and potentially much harm, to threaten indigent persons with more jail time and debt when they are unable to pay."
The Missouri Supreme Court agreed. Lawmakers added to the ruling with more protections.
And now, with hardly anybody watching, White wants to bring the debtors prisons back so that a sheriff's office doesn't have to ask local taxpayers for more money.
It's a bad idea all the way around, DeGroot says. He believes he has an agreement from Majority Floor Leader Rob Vescovo, R-Arnold, to send the bill to a conference committee if it passes the House, so that White's amendment could potentially be stripped out.
DeGroot compares White's bill to a pitcher coming into a game in the 10th inning and getting one out and claiming victory. But, really, it's worse than that.
Lawmakers are playing a game with no fans in the stadium, and there is no umpire calling balls and strikes.
White is on the pitcher's mound throwing a bean ball at thousands of Missouri residents who fear going back to jail simply because they're poor.
From City Hall to the Capitol, metro columnist Tony Messenger shines light on what public officials are doing, tells stories of the disaffected, and brings voice to the issues that matter.